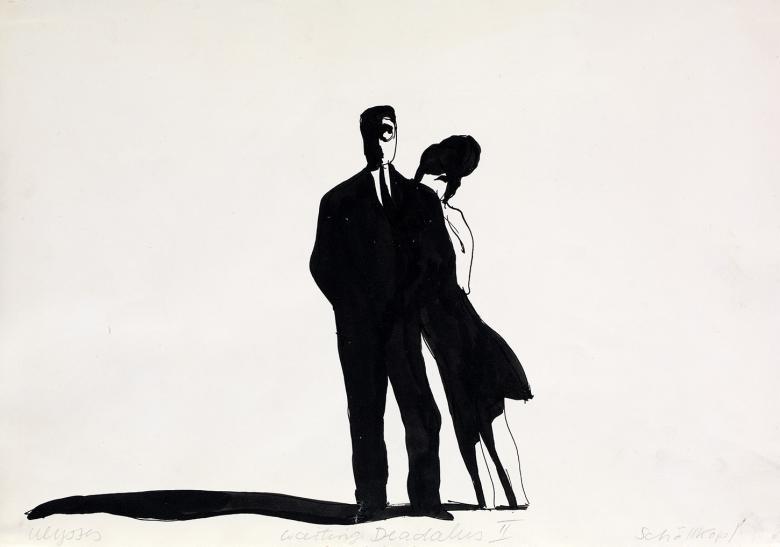 Günter Schöllkopf (1935-1979), Waiting Dedalus II, 1964. © The Estate of Günter Schöllkopf. Photo © National Gallery of Ireland.
Credit
Published in Paris on 2 February 1922 – on James Joyce's 40th birthday – Ulysses is a ground-breaking, monumental book. This summer, the National Gallery of Ireland marks the important centenary of its publication with a free exhibition of works inspired by the novel, that have never before been on display in Ireland. Celebrating Ulysses features 34 drawings and etchings by German artist Günter Schöllkopf (1935–1979), which bring to life much-loved moments from the famous novel. The exhibition opens on 21 May 2022.
Presented by Schöllkopf's sister to the National Gallery of Ireland to become part of the national collection, the selection of 34 striking drawings and etchings in this exhibition were made in the 1960s and 1970s. The Stuttgart-born artist and illustrator held a lifelong fascination with Joyce, and these artworks offer a new context in which to view Leopold and Molly Bloom, Stephen Dedalus and Buck Mulligan.
Exhibition curator Niamh MacNally, Curator, Prints & Drawings Study Room, at the National Gallery of Ireland, commented: "Joyce's Ulysses, published in Paris by the visionary bookstore owner Sylvia Beach 100 years ago, is celebrated in this in-focus exhibition through the striking drawings and etchings of German artist, Günter Schöllkopf. These intriguing and often humorous artworks, in response to Joyce's rich prose, offer a unique interpretation of various episodes and characters in the book. They reveal his interest in the book's exploration of the unconscious mind, where sexual fantasies flourish, hallucinations abound, and bizarre events unfold. This centenary exhibition is the perfect opportunity to showcase Schöllkopf's work in Ireland for the very first time."
Hardly anything is known about Günter Schöllkopf in Ireland. A number of events and activities will take place online and at the Gallery alongside the exhibition, including talks, workshops and opportunities for visitors of all ages to learn more about the artist and Joyce's famous novel. A walking and sketching tour of Dublin will take place on 11 June 2022. For further information, see the What's On calendar on the Gallery's website.
Many connections exist between the National Gallery of Ireland and Joyce. The Gallery's Millennium Wing entrance is located directly opposite the site of Joyce's initial encounter (outside what was Finn's Hotel) with his future wife Nora Barnacle. A number of portraits of the writer are part of the national collection, as well as paintings and sketches featuring landmarks in Ulysses and short story The Dead. These newly acquired works by Günter Schöllkopf enrich the national collection and highlight the strong connections between art and literature, with Joyce's words providing inspiration to the German artist.
Celebrating Ulysses runs in the Sir Hugh Lane Room at the National Gallery of Ireland from 21 May 2022 to 21 August 2022. Free admission. See the Gallery's website for more details.
Exhibition listing:
Celebrating Ulysses
21 May – 21 August 2022
Sir Hugh Lane Room, National Gallery of Ireland
Free admission
Opening hours:
Monday: 11am – 5.30pm
Tuesday – Wednesday: 9.15am – 5.30pm
Thursday: 9.15am – 8.30pm
Friday – Saturday: 9.15am – 5.30pm
Sunday: 11am – 5.30pm
About the National Gallery of Ireland:
The National Gallery of Ireland is one of the country's most popular visitor attractions housing the nation's collection of European and Irish art from about 1300 to the present day, and an extensive Library & Archive. Entry to the collection is free for all to enjoy, learn and be inspired.