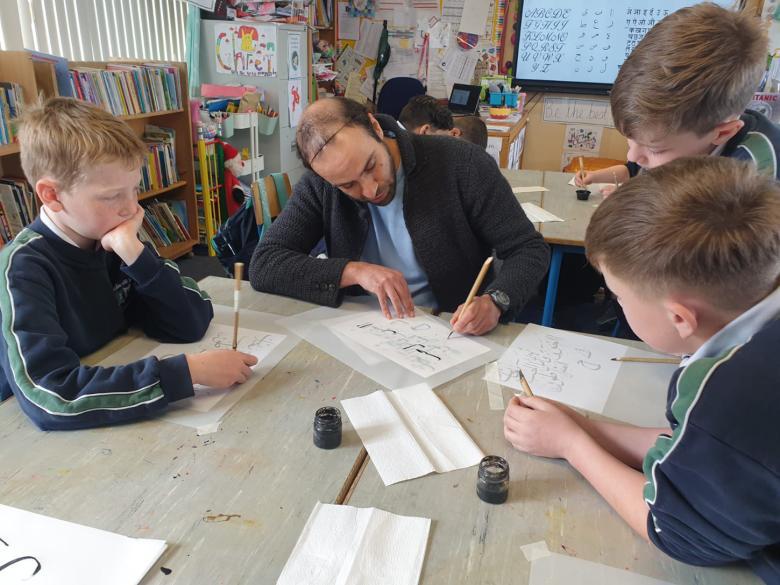 The National Gallery of Ireland once again invite schools to apply to participate in Your Gallery at School, a holistic outreach programme supported by global aircraft leasing company SMBC Aviation Capital. The initiative, which brings the Gallery directly to schools across the country aims to break down the barriers that prevent children and young people from engaging with the arts.
Over the course of 2022 and 2023, the Gallery will work with selected schools by creating a tailored programme of activities. Each school will then be paired with an artist who will develop a package of three workshops appropriate for the students' age and school level.
Participating schools will be selected via an open application process and will be from one or more of the below three key groups:
DEIS schools to address socio-economic barriers to accessing culture
Boys schools to address the gender barrier to accessing culture
Schools geographically far away (over 2 hours away from Dublin) to address the geographic barrier to accessing culture
Please note that only schools who have not visited the National Gallery of Ireland over the past three years are eligible to apply
The second round of applications opens on Monday, 29 August 2022 at 10am for workshops taking place between November 2022 and June 2023. The deadline to apply is 5.00pm, Thursday 15 September 2022.  Selected schools will be notified by Monday 3 October 2022.
Areas covered will include; Learning through and about art: a practical workshop inspired by the National Collection, Wellbeing: a sensory session focusing on slow looking and mindfulness and Creative Careers: an informal talk and Q&A with Gallery staff, enabling students to learn about a variety of arts careers.
Peter Barrett, CEO of SMBC Aviation Capital said, "SMBC Aviation Capital is delighted to continue to support Your Gallery at School. It has been wonderful to see how the programme has developed over time and to see the impact that participation in the programme has on children and young people. SMBC Aviation Capital, through its CSR committee, is committed to giving back to the communities in which we operate, with a particular focus on projects involving children and those involving education. Your Gallery at School impacts both of these areas and continues to give children and young people the chance to engage with the National Gallery of Ireland."
For further details on how to apply and on the initiative itself, please see www.nationalgallery.ie
Media contact:
Ciara Mooney, Communications Officer, National Gallery of Ireland, E: [email protected] / 086 267 0574
Notes to Editor:
Images are available on request
Catherine O'Donnell (Education Officer: Teachers, Schools & Youth) is available for interview
About the National Gallery of Ireland:
The National Gallery of Ireland is one of the country's most popular visitor attractions housing the nation's collection of European and Irish art from about 1300 to the present day, and an extensive Library & Archive. Entry to the collection is free for all to enjoy, learn and be inspired. Find out more at www.nationalgallery.ie
About Your Gallery at School:
Your Gallery at School aims to break down the barriers that prevent engagement with the arts through holistic programming that ensures children transition to adulthood equipped with the life-changing benefits of art. We also aim to build in students a sense of ownership of their National Gallery so they have a positive place to turn to in adulthood. Engagement occurs in three key strands: learning through and about art, wellbeing, and creative careers.
As children transition through school and on to adulthood in their personal and professional lives, creativity and innovation are transferrable and valuable skills. Art education also offers hope, the confidence and belief that children can create a life of curiosity and engagement with the world.
Art can help to give young people all of these skills and attitudes. However, many children in Ireland today experience barriers to engaging with the arts. If a child does not engage with art in their childhood, studies show they are unlikely to do so as adults.
About SMBC Aviation Capital:
Based in the IFSC in Dublin, Ireland, SMBC Aviation Capital is one of the world's leading aircraft operating lease companies. In operation since 2001, SMBC Aviation Capital has an owned and managed fleet, comprising 720 owned, managed and committed aircraft.  Established in 2001, the company was acquired in 2012 by a consortium comprising of two of Japan's biggest companies SMFG and Sumitomo Corporation. SMBC Aviation Capital has a dedicated Corporate Social and Responsibility programme. See SMBC Aviation Capital website for further information.