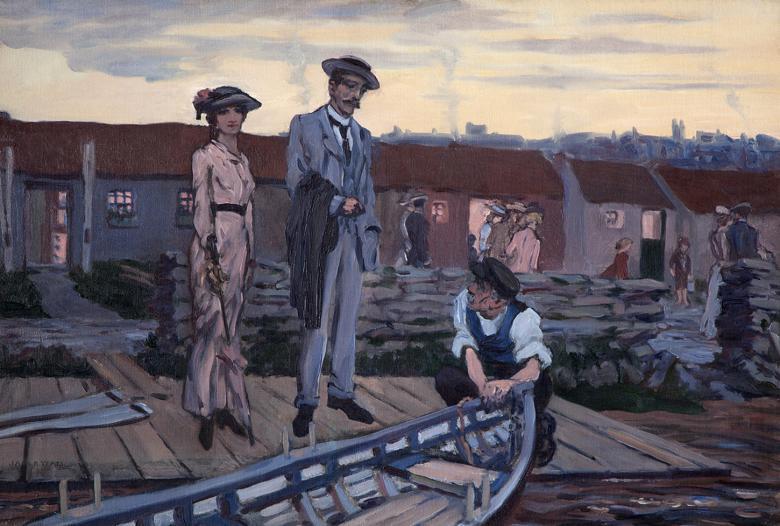 Jack B. Yeats, The Riverside, Long Ago, 1922.
Courtesy of Board of Trustees of National Museums Northern Ireland. Collection Ulster Museum.
© Estate of Jack B. Yeats, DACS London, IVARO Dublin, 2021.

Credit
Yeats: An Artistic Family begins 7 October 2021
Tickets on sale to public from 1 September 2021 | Early bird tickets for Friends of the Gallery available now
The story of the extraordinary Yeats family is the theme of a new online art appreciation course at the National Gallery of Ireland. Beginning on 7 October 2021, the course is part of the education programme for the Gallery's landmark autumn exhibition Jack B. Yeats: Painting & Memory, which is happily supported by Key Capital.
This eight-week online course with art historian Jessica Fahy explores the artistic production of three generations of the Yeats family. It's the story of John Butler Yeats, an extraordinary portraitist who could capture a likeness in minutes; his daughters Lily and Lolly, who helped found an Irish arts and crafts guild; and his sons William and Jack, one better-known as a poet but with ambitions to be an artist, and the other who remains perhaps the best-known Irish artist to this day. The course will also examine the fascinating work of Anne Yeats, granddaughter of John, a versatile artist who, like the rest of her family, played an important role in the art world in Ireland. 
Taking place on Thursday evenings, the eight-week course is suitable for beginners and experts alike. The exhibition Jack B. Yeats: Painting & Memory, happily supported by Key Capital, opens on 4 September 2021.
Limited tickets are available for this course, following two sold-out courses which ran earlier this year at the National Gallery of Ireland. Early bird tickets are available exclusively for Friends of the National Gallery of Ireland from 18 August 2021. Membership at the Gallery starts from €35 and sign up can be completed in minutes on the Gallery's website. Friends of the Gallery enjoy exclusive benefits such as free unlimited entry to all ticketed exhibitions including Jack B. Yeats: Painting and Memory. Tickets for Yeats: An Artistic Family go on general public sale on 1 September 2021.
Media contact:
Kate O'Leary, Communications, National Gallery of Ireland [email protected] / 087 334 1587
Notes to Editor:
Images are available on request. 
The Education Team at the National Gallery of Ireland and Jessica Fahy (art historian) are available for interview.
Jack B. Yeats: Painting & Memory is happily supported by Key Capital.
Course information:
Title: Yeats: An Artistic Family, with Jessica Fahy
Price: €150 (20% discount and early bird booking for Friends, 10% discount over 65s/unwaged/students)
Dates and time: Thursdays, 18:00-19:15; 7 October – 25 November 2021 
Format: This course will take place live online via ZOOM webinar, and each week will feature a Q&A session at the end. Each session will be recorded and made available for one week to enable participants to take part or catch up at their leisure. Recordings cannot be kept for longer than one week due to rights reasons.
ZOOM details: Once you have booked your ticket, you will receive a confirmation email. The link for the ZOOM event will be sent the day before the first session.
About the National Gallery of Ireland:
The National Gallery of Ireland is one of the country's most popular visitor attractions housing the nation's collection of European and Irish art from about 1300 to the present day, and an extensive library and archive. Entry to the collection is free for all to enjoy, learn and be inspired.
About Jessica Fahy:
Jessica Fahy is a freelance Art Historian, and is on the lecturer and guide panels for the National Gallery of Ireland, the Hugh Lane Gallery and UCD School of Access and Lifelong Learning. Jessica gives both private and public talks and tours across Ireland, abroad and online covering all areas of Western art from the 14th century to the present day. She has a MLitt in Art History from UCD where she also received her undergraduate degree with English as her joint major. She completed her MA in Italian Renaissance Art at the Courtauld Institute of Art in London in 2007.
About Key Capital:
Key Capital is a full service Corporate Finance and Wealth and Investment advisory firm that was founded in 2001. Its association with the National Gallery of Ireland goes back to its earliest days and this marks Key Capital's third sponsorship of a major exhibition; the previous two being A Time and a Place in 2006, and Leonardo da Vinci: Ten Drawings from the Royal Collection in 2016. Key Capital continues to place emphasis on the role business has in supporting arts and culture in our community.