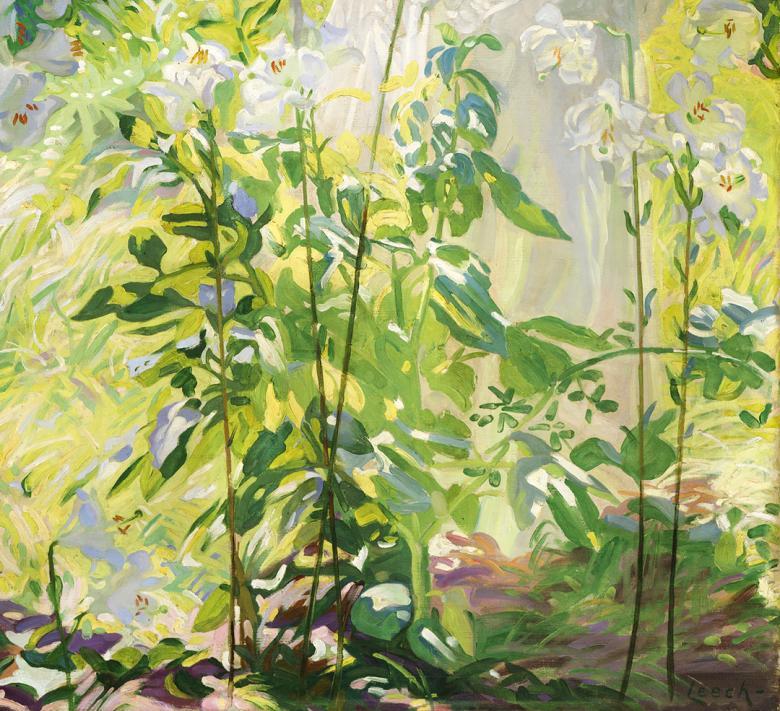 William John Leech (1881-1968), 'A Convent Garden, Brittany', c.1913 - detail. © National Gallery of Ireland.
Credit
Here at the National Gallery of Ireland, in part inspired by our 2019 exhibition Shaping Ireland: Landscapes in Irish Art which looked at the significant role artists have played in visualising aspects of human impact on the environment, we have become increasingly mindful of the impact that even the smallest of changes can have on our environment and the physical world around us. Here are just a few of the ways in which we are trying to be more environmentally conscious.
Getting to the Gallery
Travelling to the National Gallery of Ireland via public transport or by bike has never been easier! We are well served by nearby bus routes, and the recent extension of the LUAS line means that our nearest LUAS stop (at Dawson Street) is now only a five minute walk away. For cyclists visiting the Gallery, we have ten bike racks located on the forecourt of our Merrion Square entrance.
Pollinator Strip
When we were replanting the forecourt at our Merrion Square entrance, in advance of the reopening of our historic wings in summer 2017, we enlisted the help of The Garden Project to plant a pollinator strip to help to promote some much needed biodiversity. Happily, the strip is thriving, and regularly buzzing with bees feeding on the nectar!
Our pollinator strip was planted by participants on the New Growth Project at Marlay Park, Rathfarnham, Dublin, using plants they have propagated as part of their horticultural education. The plants are a mixture of annuals that will self-seed and perennials that will survive for many years, and the beautiful flowers provide nectar for insects!
Paper waste
We are trying to reduce the amount of printed material we produce here at the National Gallery of Ireland. For the most up-to-date information about what's happening in the Gallery, take a look at our online What's On calendar. You can sign up to receive our free monthly newsletters via email too, or follow us on any of our social media channels (links at the foot of the page).
We are making similar efforts with our printed maps. While they are still available in the Gallery space in multiple languages, we would like to encourage visitors to download them to their phones instead, and have made them available online in all languages. If you do take a printed map while visiting the Gallery, and would like to have it recycled after your visit, just hand it in to one of the team at any of the information desks as you are leaving.
Exhibition tickets
For visitors who book exhibition or event tickets online, we issue digital tickets. For those buying tickets in person, we have recently changed our tickets and credit card rolls to Bisphenol (BPA) free versions.
Education Workshops
Our Education team recently ran a series of cross-curricular workshops for Primary Schools inspired by our Shaping Ireland exhibition, which had a strong environmental theme to them. As well as including a visit to the exhibition, the participants took a trip across to Merrion Square to creatively explore the local environment, and discover the importance of bees and other pollinators. Students also made seed-bombs to take home to help spread flowers across Ireland and promote biodiversity. 
Behind the Scenes
Behind the scenes at the Gallery, we are working hard on making small, incremental and sustainable changes which can have a lasting impact. We're looking at reducing our waste, increasing the level of recycling in our office spaces, and creating more of an awareness around environmental issues among staff through workshops and open discussion and knowledge sharing.