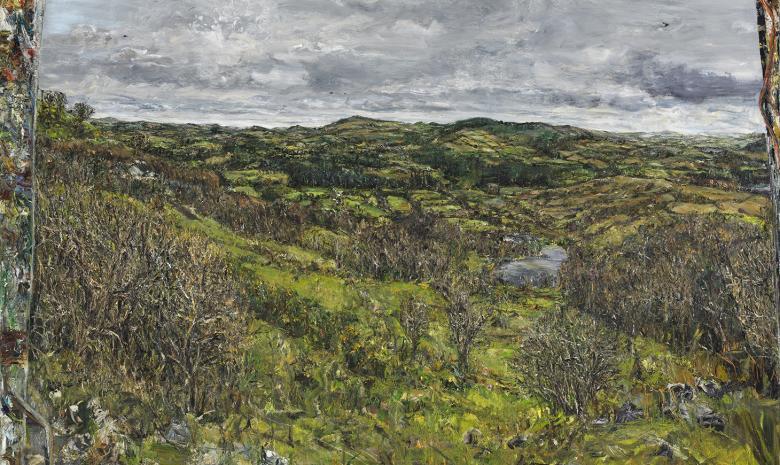 Nick Miller (b.1962), From Cogan's Shed, 2004. © Nick Miller Photo © National Gallery of Ireland

Credit
Shaping Ireland: Landscapes in Irish Art was an exhibition, on view in 2019, that explored the relationship between people and the Irish landscape, as visualised by artists over 250 years. This is the first in a series of short texts exploring themes from the exhibition.
Looking at the works of art in Shaping Ireland, you are reminded of the natural beauty of Ireland, from boglands and mountains, to rolling green fields, to the rugged coastline. But, what do we mean when we say natural beauty? Do we mean untouched? Or wild? Or pristine?
In fact, very little of the Irish landscape is unaffected by human activity. For thousands of years, we have been modifying our environment through deforestation, farming, settlement and transport networks, and these human interventions have shaped the land into what we see today.
Some experts now say that we are living in the Anthropocene: the age of humans. According to this theory, humans have made a greater impact on the planet than any other force in the past 12,000 years. Later this month, a committee of scientists will decide whether to formally add the Anthropocene to the Geological Time Scale. They will also vote on a start date for this new epoch, with 1950 being proposed as the tipping point.
All of the works of art in Shaping Ireland can be enjoyed purely from an aesthetic point of view: each painting, photograph, sculpture and video is arresting and beautiful. Spanning over 250 years, the display comprises a range of landscapes, from the remote to the industrial, showing the significant role artists have played in shaping our perception of the Irish landscape.
However, each work of art in the exhibition can also be viewed as a reminder of the human influence on Earth's ecosystem, from Thomas Robert's view of Ballyshannon, Co. Donegal (c.1770), to Amelia Stein's black and white photograph of a hand cut bog (2010).
The exhibition catalogue explores this theme further, with short essays by Paula Meehan (poet), Mary Reynolds (landscape designer), Duncan Stewart (environmentalist) and John Tuomey (architect), among others.
Two events in the Gallery also explored art in the Anthropocene: a free Sunday lecture with Dr Yvonne Scott from Trinity College Dublin, and an evening talk with artist Willie Doherty in conversation with exhibition curator Donal Maguire.
Shaping Ireland: Landscapes in Irish Art was on view from 13 April to 7 July 2019.