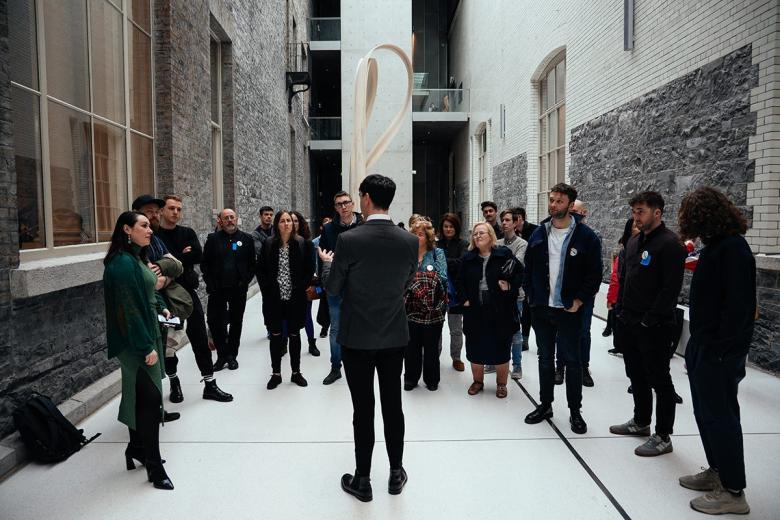 OUTing the Past Festival 2019, National Gallery of Ireland
Credit
The Adult and Lifelong Learning Programme is designed to engage the adult public in the broadest sense from first-time visitors to regular attendees, from local audiences to international tourists, from those who are new to art to art practitioners, academics and professionals. Through inspiring events and activities we encourage debate and dialogue around arts and culture and support self-motivated lifelong learning through art.
In Focus: Adult Learning
The In Focus series from our Education team links works from our collection with key art historical, theoretical or philosophical texts. Aimed especially at third-level students, but accessible to all, this series aims to support in-depth engagement with our collection and the selected texts.
What do we do
We work with a wide range of artists, performers, writers, broadcasters, designers and more to create collaborative events encouraging participation, engagement, response and creativity. We run a broad programme of tailored tours and talks in addition to practical and performative strands and balance lighter 'drop-in' strands with more structured and facilitated activities. While we programme seven days a week, our general activities for adults are primarily scheduled for lunch-times, Thursday evenings and Sundays in order to facilitate as wide an audience as possible. Our lifelong learning programme focuses on quieter periods such as Tuesday mornings and Wednesday afternoons.
Types of activities
Pop-up talks
Lectures and talks
Film/Art documentary screenings
Study mornings
Performances
Public tours, private tours, tailored tours
Workshops
Courses
Online resources
Online audio and video content – talks, podcasts etc.
Outreach activities
Find out more:
For queries about programmes for adults, contact Joanne Drum T: 01 6633505 E:

[email protected]

For queries about private tours, contact Kate Drinane T: 016633510 E:

[email protected]