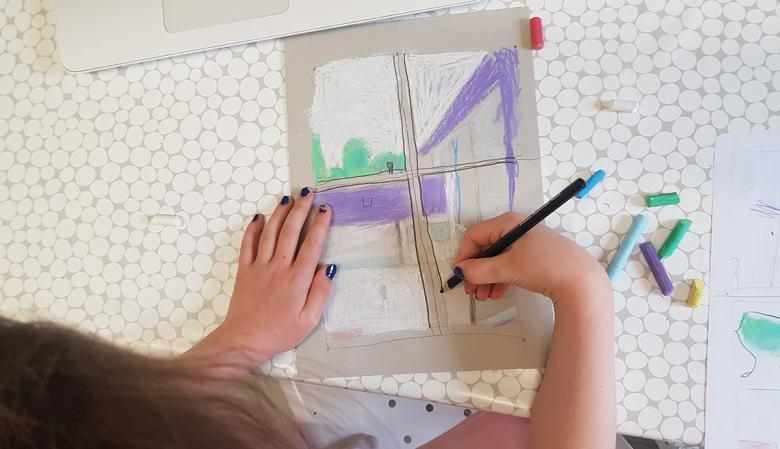 Our Education team are bringing some of their family workshops to you online so that you can get creative at home!
Follow along with these simple steps to create your own picture of the view out your window, inspired by Vincent van Gogh's painting Rooftops in Paris.
Van Gogh painted the view from his window in Paris, using perspective to show buildings close up and far away. He painted the muted colours of the buildings and sky on an overcast day in Paris.
Choose a window in your house with an interesting view, and let's get started!
To watch the video: Due to new e-privacy measures on our site, you'll need to click on the cookie symbol in the bottom-left corner of this page and tick the boxes to accept statistics and marketing cookies in order to watch the video embedded on this page. Alternatively, you can watch it on YouTube.
National Gallery at Home
Van Gogh's Rooftops in Paris
Play
Materials:
Grey card e.g. a cereal box
A pencil
Colours! We used pastels, but you can use crayons, pencils, paints - whatever you like.
A view out a window! You can take a photo of it, or set yourself up to draw in front of it.
Instructions:
To begin, use your pencil to mark out the lines of the window frame and the view outside.
Use chalks, crayons, pencils, or whatever you have available, to colour in sections of your drawing.
Blend the colours, like Van Gogh, to create depth in your picture. If you're using chalk, you can use your fingers to blend the colours.
Use blues, purples and white in layers to fill in the sky.
Using black chalk, charcoal, or pencil, add in some final details.
Credits:
Thank you to Ciara Lawlor, aged 7!
You can share your creations with us on our online channels using #NationalGalleryIRLAtHome, or email them to us at [email protected] - we'd love to see how you get on! 
This activity, which would normally have taken place in the Maples Group Creative Space, is now brought to you online.