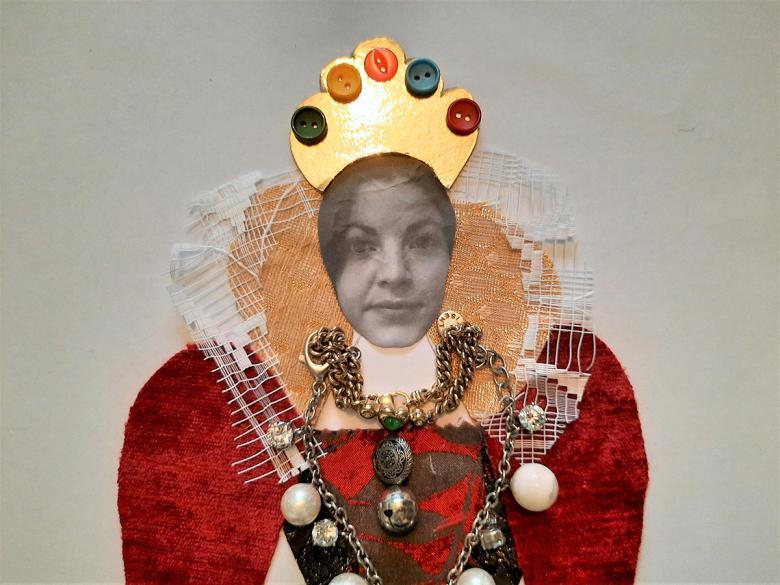 We all love to take selfies, but have you ever thought about how the clothes you choose to wear in a selfie can express your personality? 
Take a look at this portrait of a man called Robert Devereux. Look closely at his clothes. Based on his costume, can you guess anything about Robert's personality, or what he did for a living?
Now, watch the video below to learn how to make a collage self-portrait using materials you can find around the house. You can design and make a fantastic costume for yourself to express your personality.
Let's get started!
Because of new e-privacy measures on our site, you'll need to click on the cookie symbol in the bottom-left corner of this page and tick the boxes to accept statistics and marketing cookies in order to watch this video. Or, you can scroll down to read the instructions instead, or watch the video on YouTube.
National Gallery at Home
Collage Costumes
Play
Materials:
A photo of yourself - use a photocopy if you don't want to damage the original photo, or you can simply draw a picture of yourself!
A3 paper
Scissors
Glue stick
Pencil
Black marker
Collage materials: see what you can find around the house. Maybe some old pieces of fabric, scraps of coloured paper, wool or old jewellery, bits of tin foil or (clean) sweet wrappers, buttons, a lollipop stick - whatever you can find!
Instructions
Cut out the head from your photograph/photocopy.
Place the piece of paper on the table in portrait format (that's the short edge of the paper at the top and bottom).  
Glue the head close to the top of the page. Or, draw a head, if you prefer!
Make sure you leave lots of room on the page for your costume. 
Design and draw the outline of your costume.
Draw the shapes of your costume onto pieces of paper or fabric.
Cut them out and glue them to the page to create your costume collage.
You could decorate your costume using old buttons.  
Or, accessorise yourself with jewels made from old costume jewellery or bits of foil.
Don't forget your crown (or hat or headband!).
What does your costume reveal about your personality?
Credits: Activity by artist Sarah Ward for the National Gallery of Ireland.
This activity, which would normally have taken place in the Maples Group Creative Space, is now brought to you online.