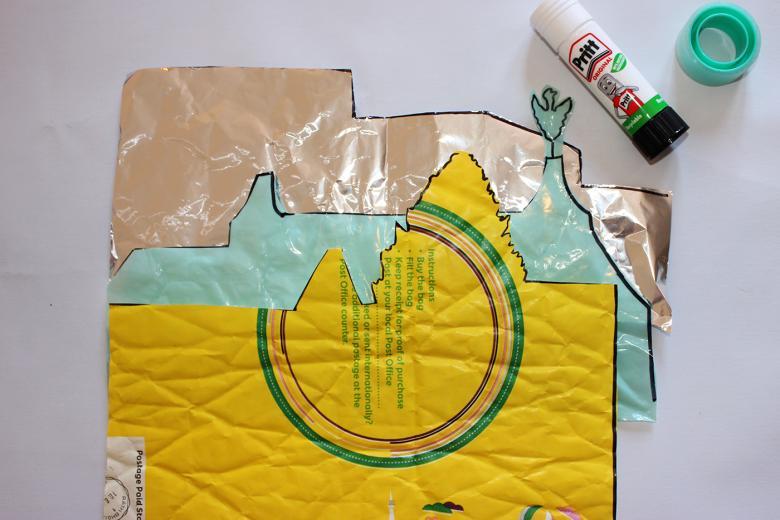 The challenge!
The challenge, if you choose to accept it, is to make your own collage cityscape or landscape using materials salvaged from the rubbish bin!
Watch the video and then try it out yourself. You'll find all the materials listed below. This activity is for children (most suitable for ages 5 and up).
Send us a photo of your artwork
Would you like to see your engraving featured on the Gallery's website in our new online Creative Challenge Gallery? Take a photo of your collage, and send it to us by email ([email protected]) or using this online form to upload your picture. We'll feature a selection of pictures in the Creative Challenge Gallery, so check back to see if yours is included!
Upload a picture of your artwork using this form
Share your thoughts with us
Parents and guardians, we'd love to know what you and your children think of our Creative Challenge activity videos for kids! Can you spare three minutes to complete a short questionnaire? It's completely anonymous, and the information we collect will help us to understand how children and their parents/guardians use our activity videos so we can continue to develop exciting and engaging content. Thank you! Complete the short questionnaire here
Watch the video
Creative Challenge
Video: Make a collage cityscape or landscape
Play
Materials you will need:
Scraps of paper, light plastic, card, cardboard or foil - whatever interesting materials you can find around the house.
Pencil or marker
Glue or tape
Scissors
A picture of a landscape or cityscape. You can take your own photo using a phone or camera, or find one you like in a magazine or book.
 Inspired by...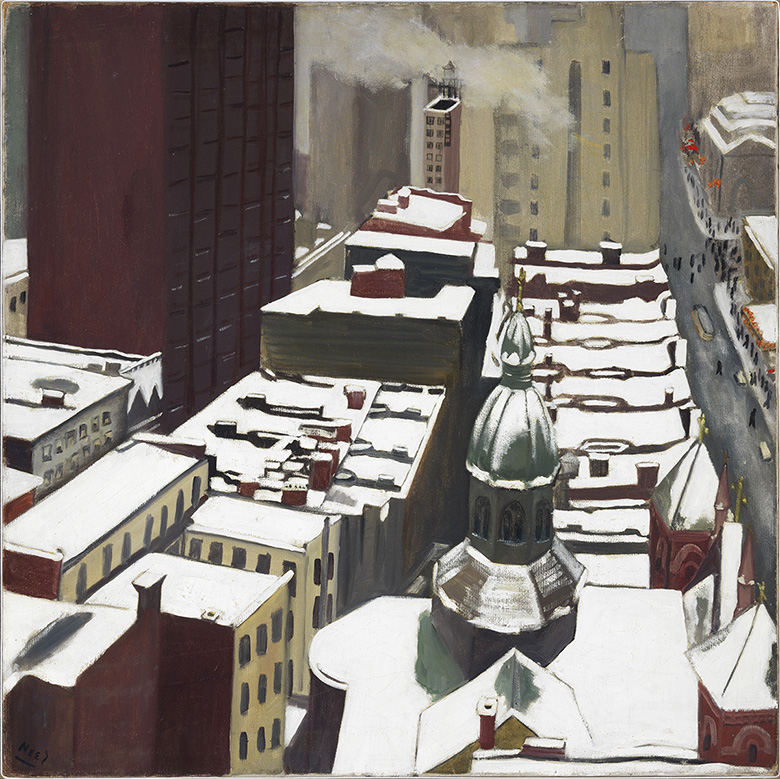 Alice Neel (1900-1984), Cityscape, 1934. © The artist's estate.
Credit
This is a painting called Cityscape by American artist Alice Neel. She painted it in 1934 in New York. She was staying in a hotel in Manhattan and decided to paint the view she could see through the window. There is a church spire in the foreground, a blanket of snow covers the roofs of the buildings in the middle ground, and a cloud (maybe smoke or steam) floats in the background.
Can you see people walking along the street, and the bright lights of theatre signs?
Instructions
If you'd prefer to read the instructions, here you go!
Look carefully at a photo of a landscape or cityscape, and find the background, middle ground and foreground. The background is furthest away from us, the middle ground is in the middle and the foreground is closest to us.
Select three scraps of material that you like.
Cut them into similar sized rectangles.
On one rectangle, draw the outline of the background. On the next, draw the outline of the middle ground, and draw the foreground on the third rectangle.
Cut the three shapes out.
Layer the shapes in different ways to make your landscape or cityscape. 
Once you're happy, stick the layers together with glue or tape.
Finished!
Credits
This activity was devised by artist Fala Buggy for the National Gallery of Ireland as part of our series of online creative activities for families, adapted from drop-in family workshops that would usually take place in the Gallery's Maples Group Creative Space.