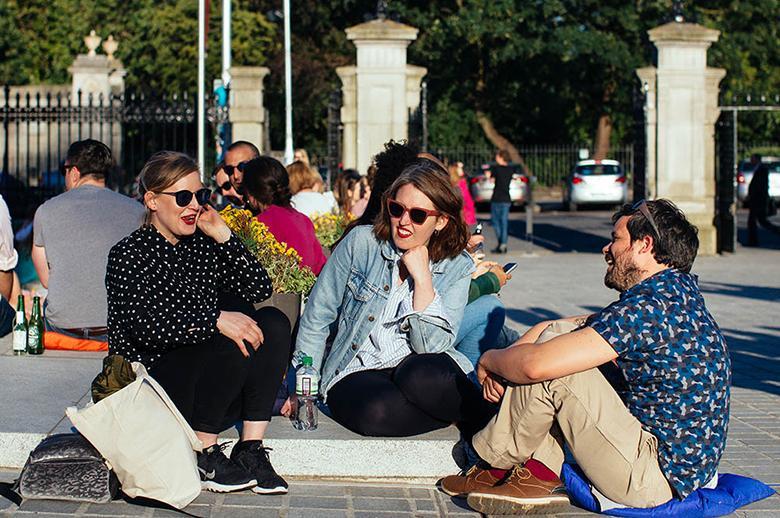 1. It's free!
A visit to the National Gallery of Ireland is free. Since 1864, when the Gallery first opened its doors, the national collection has been available for the nation to enjoy all year round. For 361 days a year the National Gallery of Ireland will inspire, delight and entertain you with tours, workshops, lectures, all for free.
2. Family fun
Is your child a tiny Tintoretto, a mini Monet or a pint-sized Picasso? If so grab a free Family Pack from either of our information desks and explore and create at the National Gallery! They're the perfect accompaniment to one of our Through a Lens tours, or our audio tour for kids. We also have free tours of the collection especially for younger visitors at 12.30pm every Sunday - all very welcome!
3.  World-class exhibitions
The Gallery boasts a rich and varied programme of world class exhibitions throughout the year. Our current exhibition explores the work of the Swiss-artist Alberto Giacometti. Book tickets for Giacometti: From Life.
4. Get creative
It's not all about the children. Adults and teens are encouraged to pick up a pencil and learn or improve your drawing skills with artist-led workshops that take place in blocks throughout the year. Sign up for our newsletter to be the first to hear about them. Have you ever wanted to have your artwork hanging on the walls of the National Gallery? Well now you can (sort of). Our permanent Creative Space, located in our Atrium, has all the materials you need to make your masterpiece and afterwards hang it in the space for all to admire!
5. Learning and thinking
What, when, why and how? Have you ever wondered about the story behind a painting? Is there a reason that it looks that way? Who's who in the picture? Take a free tour of gallery highlights or join a themed tour to gain a deeper insight into your new favourite works of art. You'll find all the upcoming tours listed in our What's On calendar.
6. Peaceful, quiet contemplation
Escape from the city and take some time for yourself. Enjoying great art is good for the soul and a great gallery is good for a stroll. Take time out from your day and enjoy one painting or many. Park yourself on a bench or ruminate in a room: it's your gallery!
7. Shop
Everybody loves a souvenir of a great day out or an adventure. The Gallery Shop offers prints and postcards of your favourite paintings, bookmarks and the books to put them in, as well as all the pens, pencils and pads for new found artistic expression. The Shop is keen to support Irish craft and design and gives space to ceramics, jewellery and textiles by local and national makers. 
8. Community 
Community engagement projects are run in partnership with a variety of organisations every year. Working with people at every stage in life, these projects are either wholly Gallery funded or partially funded with the partner organisation. Projects take place both in the Gallery, working with the permanent collection and current exhibitions, as well as in the wider community. If you would like to find out more about community engagement at the National Gallery contact us at [email protected]