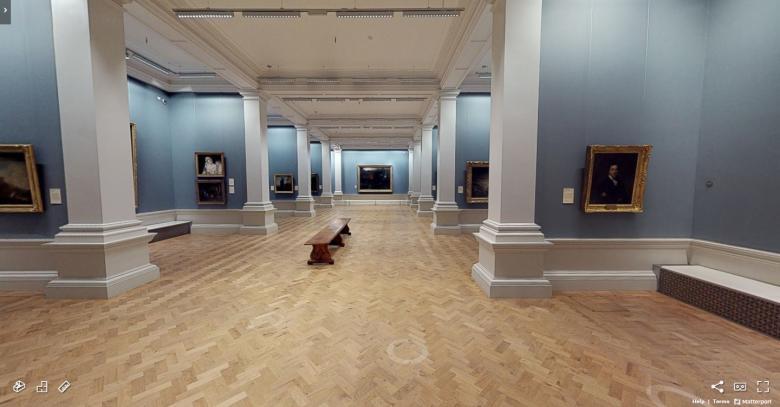 Explore a selection of Irish artworks produced in the period from 1670 to 1835.
Use your cursor to navigate around the space in the window below.
An introduction to art in Ireland from 1670 to 1835
The origins of Irish easel painting are to be found in the seventeenth century. Foreign artists contributed greatly to the refinement of art practice, the stimulation of patronage, and the formalising of education here.
Portraiture and landscape painting, produced for domestic settings (primarily the grand residences of the Protestant Ascendancy), were the dominant genres. Through such artworks, landowning families could demonstrate their taste, ambition, education and preoccupation with lineage. Ecclesiastical patronage was minimal, and historical, religious and classical subjects represented a relatively small proportion of the work produced at this time.
A desire to elevate art in Ireland was made clear in the establishment, in 1746, of the Dublin Society Drawing Schools. These, following a Continental model, provided practical instruction in fine art and design for native artists and artisans.
Relatively few of Ireland's finest practitioners managed to establish themselves successfully and permanently in Ireland, however. Many travelled to England and beyond. Irish artists regularly availed of the greater commercial opportunities provided by London and other large urban centres, followed their patrons on the Grand Tour, and emulated their European counterparts by embracing prevailing aesthetics, from Classicism to Romanticism.
Descriptions of the paintings
The paintings in this room are listed in our online collection where you can browse the paintings and read descriptions.
This project was generously supported by the Annenberg Foundation.