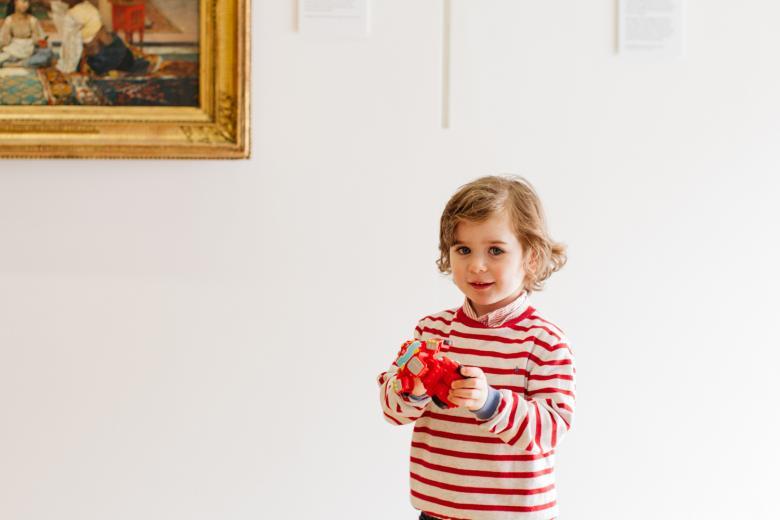 © National Gallery of Ireland
Credit
Ten reasons to visit
1. It's free!
A visit to the National Gallery of Ireland is free. Since 1854, when it opened its doors for the first time, the National Gallery of Ireland has always believed that the National Collection is the nation's collection and as such is available for your pleasure almost all year round. For 361 days a year the National Gallery of Ireland will inspire, delight and entertain you with tours, workshops, lectures and concerts and all for free.
2. Family fun
Is your child a tiny Tintoretto, a mini Monet or a pint-sized Picasso? If so grab an 'art backpack' or a children's audio guide and explore and create at the National Gallery! Come along to our free workshops or join one of our holiday and mid-term courses for children and young teenagers. Check out our What's On calendar for information on upcoming events or follow the National Gallery of Ireland through Facebook, Twitter and Instagram.
3. Get creative
It's not all about the children. Adults and teens are encouraged to pick up a pencil and learn or improve your drawing skills with artist-led workshops that take place in blocks throughout the year. Have you ever wanted to have your artwork hanging on the walls of the National Gallery? Well now you can (sort of). Our permanent Maples and Calder Creative Space, located in our Atrium, has all the materials you need to make your masterpiece and afterwards hang it in the space for all to admire! Please see our Education Programme for information on all events.
4. Learning and thinking
What, when, why and how? Have you ever wondered about the story behind a painting? Is there a reason that it looks that way? Who's who in the picture? Take a free tour of gallery highlights or join a themed tour to gain a deeper insight into your new favourite works of art. Or, give the gift of art to friends and family with a personalised private tour of the gallery. One of our expert guides can tailor your visit to match your interests. Be treated as a V.I.P. at the N.G.I!
5. Peaceful, quiet contemplation
Escape from the city and take some time for yourself. Enjoying great art is good for the soul and a great gallery is good for a stroll. Take time out from your day and enjoy one painting or many. Park yourself on a bench or ruminate in a room: it's your gallery!
6. Explore the Gallery's Library and research services
Learn more about your favourite artist, movement or artwork with the National Gallery of Ireland Library and Research services. Enjoy the peaceful surroundings of our Fine Art Library, Centre for the Study of Irish Art or the Denis Mahon Reading Room. Expert insight is at hand with the National Gallery of Ireland staff of librarians and archivists who can offer their advice and expertise. Visitors have access to our immense collection of journals, online databases, books, catalogues, archival material and rare books. This service is free and available Monday- Friday, 10am-5pm. For more information, please contact [email protected] or call (01) 663 3546. 
7.  Enjoy lunch
Fancy a cappuccino after the Caravaggio? A quiche after the Claude Lorrain? Or how about a Chardonnay after the Chardin? A cup of tea and a slice of cake is a fine art in the Gallery Café, a unique architectural space that is part 18th-century Georgian townhouse and part 19th-century ballroom.
8. Shop
Everybody loves a souvenir of a great day out or an adventure. The Gallery Shop provides prints and postcards of your favourite paintings, bookmarks and the books to put them in, as well as all the pens, pencils and pads for new found artistic expression. The shop is keen to support Irish craft and design and gives space to ceramics, jewellery and textiles by local and national makers. 
9.  Listen and enjoy
The Gallery boasts a rich and varied programme of musical events throughout the year. From piano recitals to choral and orchestral performances each is enhanced by the magnificent surroundings of the gallery spaces such as the Shaw Room, Millennium Wing or the Atrium.
10. Community 
Community Engagement projects are run in partnership with a variety of organisations every year. Working with people at every stage in life, these projects are either wholly Gallery funded or partially funded with the partner organisation. Projects take place both in the Gallery, working with the permanent collection and current exhibitions, as well as in the wider community. If you would like to find out more about Community Engagement at the National Gallery contact us at [email protected]