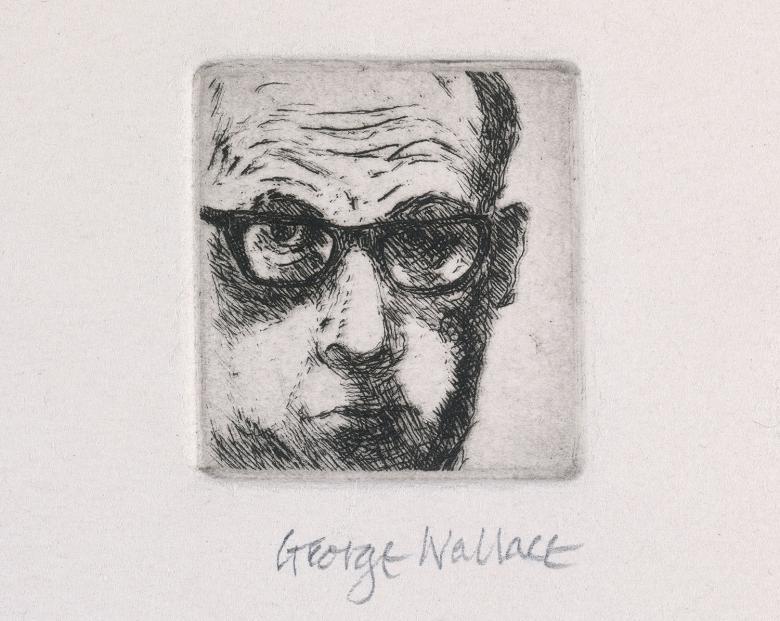 George Wallace (1920 - 2009), Self-Portrait in Horn Rimmed Glasses, 1967. © Estate of George Wallace and CARCC, 2019. Photo © National Gallery of Ireland
Credit
A conversation between the artist's son Kit Wallace and Anne Hodge, Curator of Prints and Drawings.
George Wallace (1920-2009) was an Irish-Canadian artist who specialised in printmaking and sculpture. Through powerful imagery he commented on everything from the boredom of suburban life to human vulnerability and ageing. At times humorous, and always insightful, these works are both personal and universal.
In this podcast, the artist's son Kit Wallace speaks to Anne Hodge, Curator of Prints and Drawings. Their conversation offers a fascinating insight into Wallace's life and how certain themes are manifested in his work. Anne and Kit also discuss the Wallace family's generous gift, of over 250 prints and drawings, presented to the National Gallery of Ireland in 2016.
This podcast was recorded in November 2020 to mark the free exhibition George Wallace: Reflections on Life, which is on view until 29 August 2021.
Note for listeners: Due to new e-privacy measures on our site, you'll need to click on the cookie symbol in the bottom-left corner of this screen and tick the boxes to accept statistics and marketing cookies in order to listen to the podcasts embedded on this page. Alternatively, you can follow the links to listen on Soundcloud instead.
Transcript
Download a PDF transcript of the podcase Reflecting on George Wallace's Life