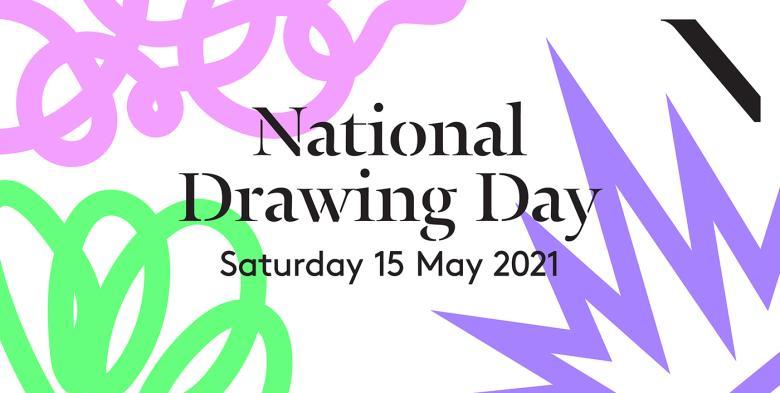 Grab your pencils and get drawing on Saturday 15 May!
Every year, the Gallery—together with dozens of museums, galleries, libraries and cultural organisations all over the island of Ireland—encourages people to get drawing on National Drawing Day. This is the seventeenth annual Drawing Day, and our second year celebrating the day online with activity ideas, workshops, videos, and blogposts.
Share your drawings with us!
Tag your own creations with #NationalDrawingDay
Explore all the different possibilities of drawing from the comfort of your home, garden or the great outdoors. Scroll down for some fun activity ideas for all ages, book into free live online events, and check out our nationwide partners' websites and social media pages for more inspiration!
Follow the hashtag #NationalDrawingDay on Twitter, Facebook and Instagram for all the updates!
If you can visit the Gallery
The Gallery will be open for Drawing Day, so we invite you to call in with your own dry materials, and sketch in the galleries. If you're visiting with young children, you could follow our self-guided Through a Lens tour for some inspiration!
National Drawing Day is supported by the Department of Tourism, Culture, Arts, Gaeltacht, Sport and Media.
Our partners nationwide:
We are very excited to have dozens of partners on board again this year!
All of these wonderful museums, galleries, arts centres, organisations and artists have created video tutorials, activities, talks and workshops for you to enjoy.
Click on the links below to explore our partners' plans for Drawing Day:
Artnet DLR (DLR Artists Network) | Backwater Artists Group | Birr Theatre & Arts Centre | The Butler Gallery | Castletown House | Centre for Contemporary Art Derry-Londonderry | The Chester Beatty | Crawford Art Gallery, Cork | Creative Spark, Louth | DLR Libraries | The Dock, Leitrim | Draíocht Arts Centre | Dublin City Gallery The Hugh Lane | F.E. McWilliam Gallery and Studio | Fota House, Arboretum and Garden | Galway City Museum | Garter Lane Arts Centre, Waterford | Glór, Ennis | The Glucksman | IMMA | Kerry County Museum | Lismore Castle Arts | Mermaid County Wicklow Arts Centre, Bray | Mid-Antrim Museum at The Braid | Monaghan County Museum | Muckross Traditional Farms | National Library of Ireland | National Maritime Museum | National Museum of Ireland, Decorative Arts and History, Collins Barracks | National Museum of Ireland: History and Archaeology | National Museums NI, Ulster Museum | National Print Museum | Northern Ireland War Memorial | Oughterard Courthouse Arts Programme | The Pearse Museum | Presentation Centre, Enniscorthy | Rathfarnham Castle | RHA | Richmond Barracks, Dublin | Russborough House | Schoolhouse For Art, Enniskerry | Science Gallery Dublin | Solstice Arts Centre, Navan | Susie Maloney, artist | Temple Bar Gallery + Studios | Uillinn West Cork Arts Centre | United Arts Club | Waterford Museum of Treasures | Wexford Arts Centre
Drawing activities to try at home