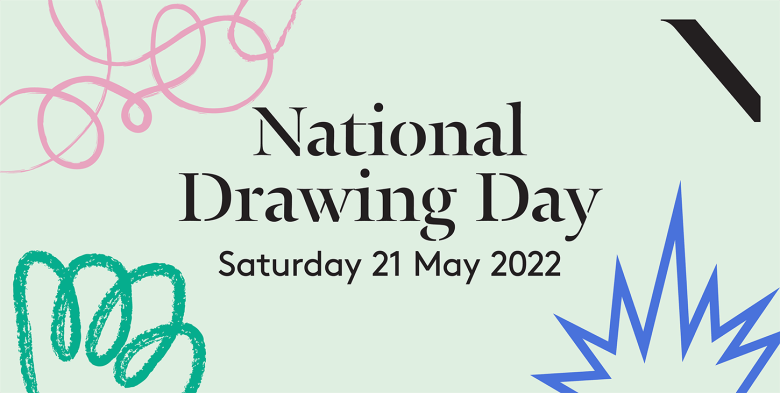 Saturday 21 May
Every year, the Gallery—together with dozens of museums, galleries, libraries and cultural organisations all over the island of Ireland—encourages people to get drawing on National Drawing Day.
This year we invite you into the Gallery to take part in free drawing events, or visit one of our partner organisations around the island of Ireland. Follow the hashtag #NationalDrawingDay on Twitter, Facebook and Instagram for all the updates!
National Drawing Day is supported by the Department of Tourism, Culture, Arts, Gaeltacht, Sport and Media.
In the Gallery
Pop into the Gallery for fun and inspirational free events including a life-drawing session with artist Fintan Mahon, sensory workshops for children and adults, and a chance to contribute to artist and illustrator Kristina Stephenson's Museum of Marvelous Things!
Scroll down this page for full details, or take a look at our What's On calendar.
Visit Giacometti: From Life for free
We're offering free entry into our current exhibition Giacometti: From Life for a selection of time slots in the morning and afternoon on National Drawing Day, 21 May. 
Free-entry time slots available 9.15am–10.45am and 1.15pm–1.45pm on 21 May.
Book your free timed-tickets in advance online as there is a limited capacity in the exhibition space.
You must enter the exhibition at your chosen time slot, but are free to spend as much time as you like in the exhibition. We suggest you allow one hour to view the entire exhibition.
See our ticketing FAQs for more information about tickets for Giacometti: From Life.
Across the island of Ireland
We are very excited to have dozens of partners on board again this year! Click on the links below to explore our partners' plans for Drawing Day 2022.
Artnet DLR (DLR Artists Network) \ Backwater Artists Group \ The Braid: Museum & Arts Centre \ Butler Gallery \ Castletown  House \ Centre for Contemporary Art Derry-Londonderry \ Chester Beatty \ Crawford Art Gallery \ Creative Spark \ The Dock \ Draíocht \ Dublin City Gallery the Hugh Lane \ Dublin City Public Libraries \ Dublinia \ Enniskillen Castle/Fermanagh County Museum \ F.E. McWilliam Gallery and Studio \ Fota House, Arboretum and Garden \ Galway City Museum \ Garter Lane Arts Centre \ Glebe House and Gallery \ Glór \ The Glucksman \ Highlanes Gallery \ IMMA \ International Literature Festival Dublin \ Junior Cycle Graphics Exhibition \ Kerry County Museum \ Limerick City Gallery of Art \ Lismore Castle Arts \ Little Museum of Dublin \ The Luan Gallery \ The Model \ Monaghan County Museum \ Muckross Traditional Farms \ National Library of Ireland \ National Museum of Ireland, Archaeology, Kildare Street \ National Museum of Ireland, Decorative Arts and History, Collins Barracks \ National Print Museum \ Naughton Gallery at Queens \ Northern Ireland War Memorial \ Oughterard Courthouse Arts Programme \ The Pearse Museum \ Rathfarnham Castle \ Richmond Barracks \ Riverbank Arts Centre \ Russborough House \ Schoolhouse For Art \ Solstice Arts Centre, Navan \ Tin Jug Studio \ Tipperary Museum of Hidden History \ Uillinn West Cork Arts Centre \ Ulster Museum \ United Arts Club \ VISUAL – Centre for Contemporary Art \ White Doodle Art