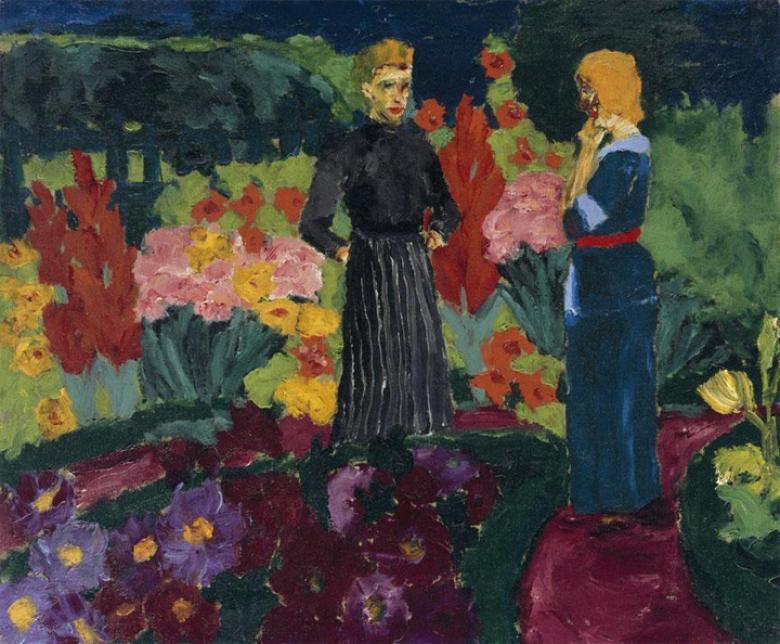 Emil Nolde (1867-1956), 'Two Women in a Garden', 1915. © Nolde Stiftung Seebüll Photo © National Gallery of Ireland
Credit
Entartete Kunst \ Degenerate Art
Our exhibition Emil Nolde: Colour is Life (14 Feb. - 10 Jun. 2018) focused on the work of a complex and contradictory figure in art history. In 1934, Emil Nolde joined the National Socialist German Workers' Party. A fiercely patriotic man, he believed that his art was truly representative of German art. However, Hitler's prejudice against modern art meant that Nolde's Nazi sympathies did not spare him from the Party's campaign against so-called Entartete Kunst (Degenerate Art). 
Beginning in 1937, the National Socialist Party confiscated modernist artworks from public institutions in Germany. The V&A holds the only known copy of a full inventory of the confiscated art—over 16,000 works in total. You can view the full digitised list on the V&A's website.
Some of the confiscated artwork was displayed in a travelling propagandist exhibition which opened in Munich in July 1937. The objective of the exhibition was to vilify and mock modernist artists and this message was communicated through disparaging wall text and through the deliberately haphazard approach to the crowded display.
The Nazis confiscated 1,052 artworks by Emil Nolde: more than from any other artist during this campaign. His painting Women in the Garden, 1915 (illustrated above), which is part of the Gallery's permanent collection, was one of the paintings seized from the Städel, Frankfurt at this time. Thirty-three of the artist's paintings, and a number of his works on paper, were also included in the Munich Entartete Kunst exhibition. However, Nolde successfully petitioned Goebbels for the return of some of his paintings; these were works from his personal collection that had been on loan to public institutions when seized. Additionally, his artworks were not included in the Entartete Kunst exhibition at its subsequent venues.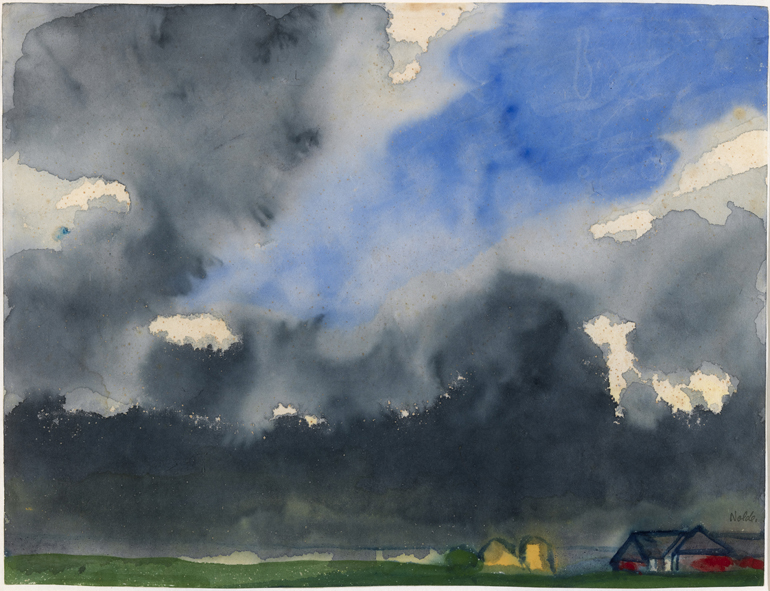 Emil Nolde (1867-1956), 'Rain over a Marsh'. © Nolde Stiftung Seebüll. Photo © NGI.
Credit
In 1941 Nolde was banned from creating, exhibiting and selling his art. Despite this, he continued to create and sell work, but, with limited access to materials his output in oil was severely reduced. Instead, he turned to producing small watercolour compositions—a practice he had been engaged in before the ban. Created between 1938 and 1945, when he retired to the village of Seebüll in northern Germany, these small, immediate images were inspired by the flat, marshy landscape and open skies near his home. He called these pictures 'unpainted' because, being officially banned from practising as an artist, by law they should not have been produced at all. The watercolours were painted in secret and rarely exhibited in his lifetime, and very few sheets passed into other hands.
Nolde painted most of these landscapes on Japanese paper using brushes dripping with colour. Through his skilful use of watercolour he managed to give a very real sense of the rain-heavy clouds offset by the bright colours of the buildings in Rain over a Marsh, c.1938, which is part of the Gallery's permanent collection.
New research, carried out by Dr Bernhard Fulda of Cambridge University and Dr Aya Soika of Bard College Berlin, has revealed that despite the confiscation of his work and the restrictions imposed on him, Nolde continued to support the National Socialist regime until the end of the war in 1945.
Some other artists in the Gallery's permanent collection were affected by the Nazi's campaign against modern art. These include the American artist 
Lyonel Feininger, Swiss German artist Paul Klee, and German artist Karl Schmidt-Rotluff. Read about some others below.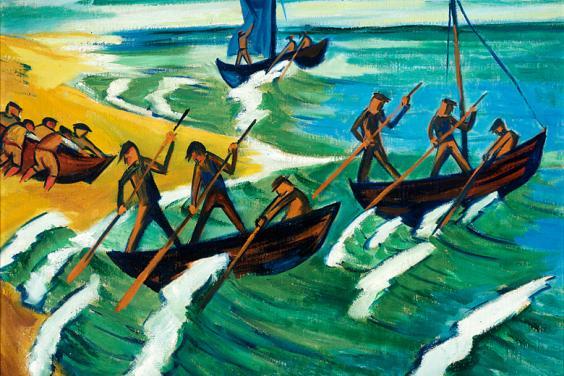 Max Pechstein (German, 1881-1955)
Departing Boats (Nidden), 1920 
In 1933 Pechstein was banned from painting and exhibiting his work, and he was removed from his teaching post at the Hochschule für Bildende Künste in Berlin. His artwork was also confiscated in 1937. 
Gabriele Münter (German, 1877-1962)
Girl with a Red Ribbon, 1908 
In 1937 Münter's exhibition at the Münchner Kunstverein was closed by the Nazi district leader.