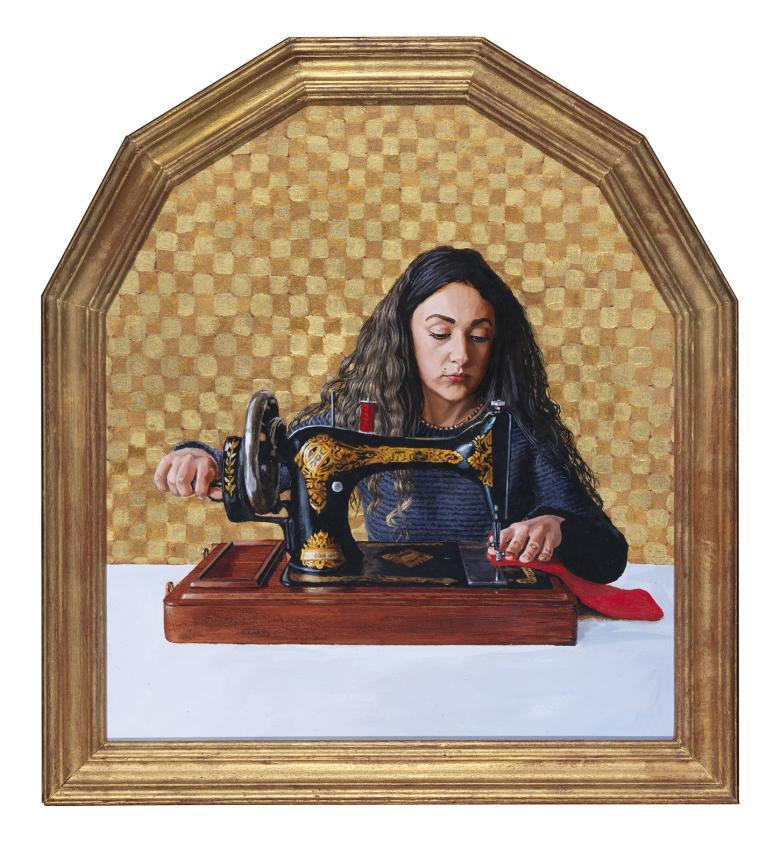 Paul MacCormaic (b.1961), Tania Persechini Sewing, 2018. © the artist. Photo © National Gallery of Ireland, Photographer: Roy Hewson.
Credit
Paul MacCormaic
Tania Persechini Sewing, 2018
Oil and acrylic on board, 50 x 45 cm  
'My mini-series of portraits entitled Domestic Goddesses celebrates traditional women's roles. Many of the tasks that are largely undertaken by women go under-appreciated. It is mostly men who become celebrity chefs, tailors and fashion designers, although there are notable exceptions, and all the celebrity cleaners are women. My niece Tania is a talented seamstress and sat for me. I chose the icon format because the message it traditionally depicted was that a woman's role was in the home as a mother.'
Paul MacCormaic was born in Dublin in 1961 and grew up in Finglas. He has been exhibiting since he was a teenager. He studied History of Art at UCD and went on to study Fine Art at Dún Laoghaire IADT, graduating in 2006. Since then, he has been working as a professional artist. Most of his work is social commentary. He believes that his role is to observe human behaviour. He works in mini-series, where he researches a topic and makes art from his findings. Once the issue is fully explored, he moves on to the next one, never repeating himself.
Go back to the shortlisted works