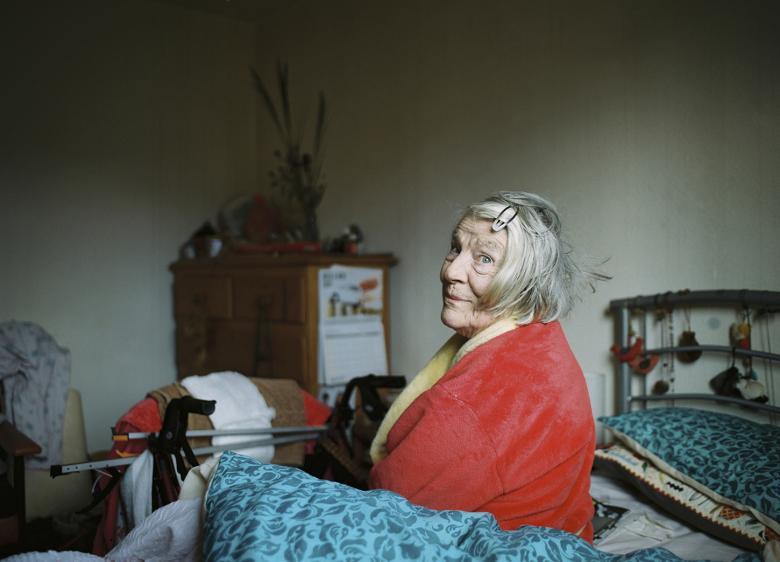 Oisín McFarland Smith (b.1991), Granny Annie, 2019. © Oisín McFarland Smith.
Credit
Oisín McFarland Smith
Granny Annie, 2019
Photograph (Kodak Portra 400 taken on Bronica ETRS), 50.8 x 70.5 cm
'Annie McFarland is an artist, mother and grandmother. She is pictured in her bedroom having just returned from some time in hospital. Her room is a haven of artwork, photographs and sculptures. 120 mm film lends itself to a raw, life-like quality. It was my intention to capture the essence of Annie's character.
Eyes bright with memories of beauty all around, Annie carries each one tenderly and gracefully. Although generous with stories of this world, she can only give a passing glimpse of her loss: parents, grandparents and neighbours, the horses, cows and hens and the river. She tells of fishing and hunting for rabbits and then of how surprising it is to have lived so long and to have lost so much.
A poem by Oona McFarland.'
Oisín McFarland Smith is a filmmaker and photographer who lives and works in Ireland. Using analogue film and medium format photography, his work explores abstraction, everyday life and memory. He recently graduated with a BA (Hons) in Photography from Dublin Institute of Technology. His work has been shown in the Gallery of Photography, Dublin; Galway Arts Centre; and The Chocolate Factory Arts Centre, Dublin.
Go back to the shortlisted works