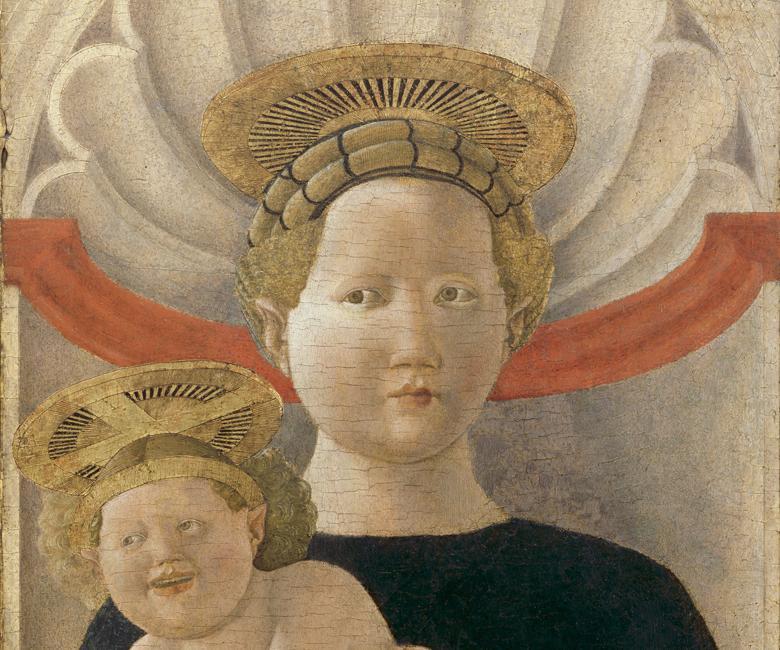 Detail from Paolo Uccello (c.1397-1475), Virgin and Child, 1435-1440. © National Gallery of Ireland
Credit
Learn more about works from your national collection featuring mothers, grandmothers and mother figures, and also artists who were mothers. Read on to discover a small selection.
Self-Portrait as a Jockey, Wearing a Crios by Margaret Clarke (1884–1961)
Margaret Clarke was an ambitious and successful artist, a business woman, and a devoted mother to her three children, Ann (b.1917), Michael (b.1919) and David (b.1920). From 1922, the family (including Margaret's husband Harry) lived at 48 North Circular Road in Dublin. Margaret frequently painted her children, creating an intimate visual record of their young lives from infancy through childhood.
Following her husband's death, in 1931, she became director of the Harry Clarke Studios, determined to maintain the business and her husband's artistic legacy. She strongly believed in the importance of creativity in children's lives, and was an advocate for art education in schools. In an interview, in 1943, she stated, "Children should be encouraged to draw and love the beautiful ... a gift that comes from within, and is independent of the craze for luxurious living and the vulgar necessities after which they are rushing today."
Le Corsage Noir by Berthe Morisot (1841–1895)
Morisot's daughter Julie was born in November 1878, the same year that the artist painted this work, Le Corsage Noir. The picture, which depicts a professional model posed in evening wear, is an Impressionist exercise in light and colour. In the months surrounding her daughter's birth, Morisot would not have been able to paint outdoors with the freedom she had previously enjoyed. This may have prompted her to explore the effects of light and colour within the studio rather than en plein air. Later, Julie owned this painting, and it remained in her possession until 1936.
After the Manner of Perugino (Mary Ryan) by Julia Margaret Cameron (1815–1879)
Victorian photographer Julia Margaret Cameron is best known for her distinctive, atmospheric photographs of women and children. She was an unconventional woman for her time, who took up photography relatively late in life when her daughter gave her a camera as a gift in 1863. While she was successful as a portrait photographer, creating images of influential figures including Charles Dickens, she also roped her family and friends into posing for allegorical and subject photographs. These idealised images, like this one above, are captured in soft focus, the blurred effect lending the photographs a dreamlike quality.
This photographic study features an Irish woman called Mary Ryan, posed in the style of Renaissance artist Perugino. Mary was a servant in the Cameron household on the Isle of Wight; however, Julia was also a mother-figure to her. When Mary was 10 years old, Julia encountered her and her mother begging on Putney Heath. She took the mother and child in, employing them, but also raising and educating Mary with her own children. Mary became one of Julia's muses, regularly featuring in her photographs.
The Virgin and Child by Paolo Uccello (c.1397–1475)
This animated painting of the Virgin and Child is a convincing portrayal of a young mother attempting to protect and keep a tight hold on her boisterous baby. Uccello was deeply interested in theories of linear perspective, and he became obsessed with learning how to create the illusion of a three-dimensional space on the two-dimensional surface of a painting. Here, the Virgin is shown standing in a shell-shaped niche. She holds the lively Christ Child, who appears ready to spring out of the picture space towards the viewer, his knee and toes resting on the edge of a false, painted frame.
The Artist's Studio: Lady Hazel Lavery with her Daughter Alice and Stepdaughter Eileen by John Lavery (1856–1941)
Set in the artist's lofty workroom in London, this huge picture features Hazel Lavery, the artist's wife. Hazel, an American model and society belle, appears in typically fashionable clothes of richly coloured silk and satin, and a feathered turban. She is shown with her daughter Alice from her first marriage, and with the artist's daughter Eileen by his first wife. Aïda, a woman from Morocco who worked as a maid for the family, is shown in the background, to the left.
Lavery based both the painting's overall composition and some prominent details on Velázquez's Las Meninas, placing the family greyhound, for example, in the same spot as that occupied by a dog in the seventeenth-century painting, and including a reflection of himself, holding his palette and brush, in the background.
Boy Eating Cherries by Pierre Bonnard (1867–1947)
This painting, a snapshot of quiet, simple domesticity, is one of many works Bonnard made at his mother's family home in Le Grand-Lemps, in south-east France, during the 1890s. It shows the artist's nephew Jean eating cherries in the company of Elisabeth, the artist's mother. By cropping the composition to focus closely on the two figures, Bonnard enhances the intimacy of this tender, fleeting moment between a grandmother and her grandson. Bonnard's enduring interest in pattern and decoration is revealed through his portrayal of the dish, wallpaper, and Jean's checked smock.