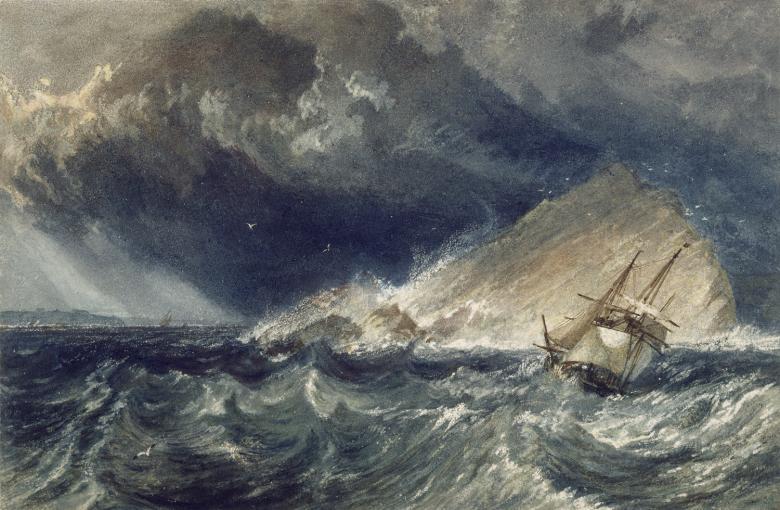 Joseph Mallord William Turner (1775-1851), A Ship against the Mewstone, at the Entrance to Plymouth Sound, c.1814. Photo © National Gallery of Ireland.
Credit
This exhibition is now closed.
For the month of January, we welcome you into the Gallery to see our annual exhibition of watercolours by J.M.W. Turner (1775–1851). This is a winter tradition, for many, to welcome in the new year with old friends.
In 2022, our exquisite collection of light-filled watercolours by Turner is shown alongside a group of topographical drawings by the English artist Francis Place (1647–1728). Read on to discover six interesting things about the Gallery's Turner collection and this year's exhibition.
#1 – Turner's fingerprints are visible on one of the works.
Joseph Mallord William Turner was an English artist who is celebrated for his innovative and experimental approach to landscape painting. His evocative watercolour views capture the drama and intensity of weather effects and the ever-changing nature of light.
To create the hazy watercolour, below, – A Ship off Hastings (1820) – Turner painted wet-on-wet, leaving fingerprints on the left edge as he handled the paper. See if you can spot them if you're able to visit the exhibition in person!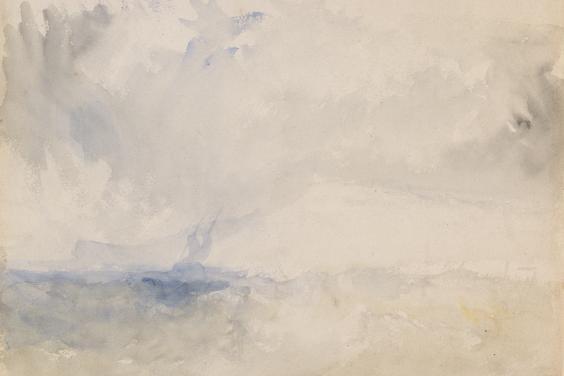 A Ship off Hastings, c.1820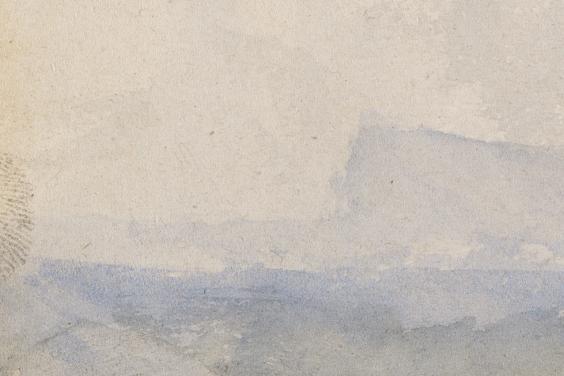 Close-up view of Turner's fingerprint
#2 – The majority of the Gallery's collection of Turner watercolours came from one generous donor.
The Gallery has thirty-six watercolours and drawings by Turner, as well as a complete set of his Liber Studiorum prints. Thirty-one of these watercolours entered the collection in 1900, bequeathed by Henry Vaughan (1809–99), an English art collector and philanthropist. These works, ranging from finished watercolours like Beech Trees at Norbury Park (c.1797) to atmospheric sketches like A Ship off Hastings, give a real sense of Turner's development as an artist, and his enthusiasm for landscape.
#3 – The watercolours are only displayed in January.
Henry Vaughan wanted his art collection to be seen and enjoyed by a wide audience, but he was also keen to follow best practice in displaying and caring for delicate works on paper. In his bequest, he instructed:
The watercolours should be displayed every year, free of charge. 
They should only be displayed for the month of January, one of the darkest months of the year, to protect the watercolours from the damaging effects of daylight.
The works arrived in Dublin in September 1900, in a custom-made wooden cabinet, and went on show in the Gallery for the first time in January 1901. 
Today, the Print Gallery – the space where we display the exhibition - is completely blocked off from natural light. However, the Gallery continues to follow Vaughan's wishes – with the exception of January 2021, when the Gallery was closed during a Covid lockdown.
#4 – This year, you can compare the work of two English artists working centuries apart: Turner and Francis Place.
The exhibition this year features the Vaughan Bequest of Turner watercolours alongside a collection of rare Irish topographical drawings by Francis Place (1647–1728). Both of these prominent English artists viewed the landscape at first hand. However, their resulting artworks were radically different.
The jewel-like colours and experimental effects in Turner's watercolours are atmospheric and evocative. While the precision of Place's views of Ireland, made with ink and wash, encourage close inspection of the intricate details.
An artist and collector, Place visited Ireland in the summer of 1698, making detailed panoramic studies of settlements in the east and southeast of the country.
#5 – Place's drawings are among the earliest accurate recordings of the Irish landscape.
Landing at the port of Drogheda, Francis Place travelled south through Dublin, Castledermot and Kilkenny, before sailing home from Waterford sometime in 1699. His drawings offer us a rare glimpse of seventeenth-century Ireland. Recording the transition from medieval to modern times, his carefully observed landscape studies are important visual records of towns and their buildings, many of which have long since disappeared.
Unlike Place, Turner never visited Ireland, although a view of Clontarf Castle by him, probably after a sketch by another artist, exists in a private collection.
#6 – You can explore the exhibition online.
If you are unable to visit the Gallery, or just want to spend more time enjoying these beautiful works, you can enjoy a virtual version of the Turner exhibition on our website. We have extended the availability of this tour by a few extra weeks, so enjoy it while you can!
Turner & Place: Landscapes in Light and Detail is on display in the Print Gallery 1–31 January 2022.