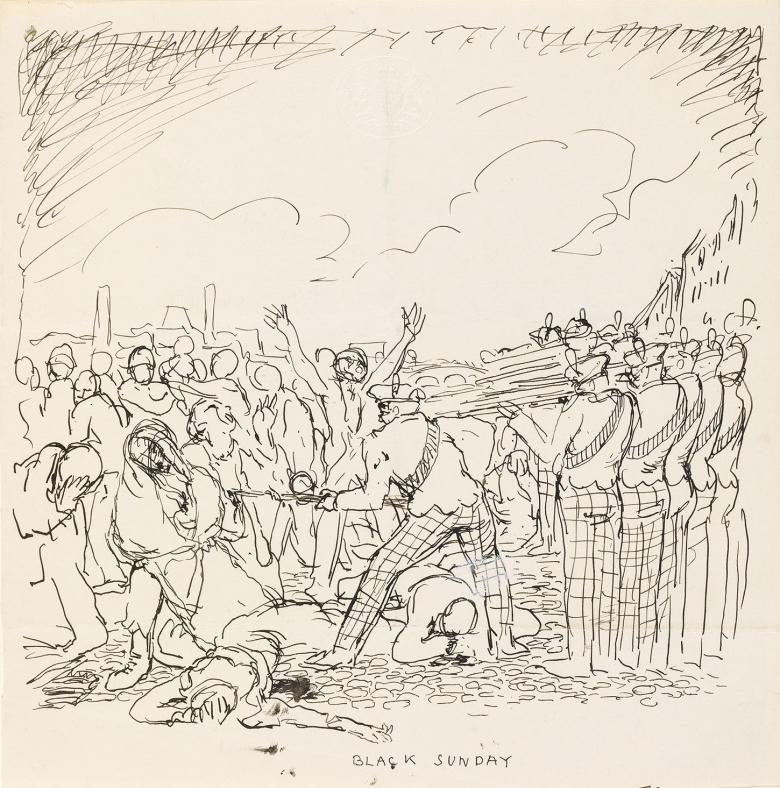 William Orpen (1878-1931), 'Black Sunday', an illustrated letter from William Orpen to Mrs St George.Presented, Mrs Vivien Graves, 1974. Photo © National Gallery of Ireland.
Credit
15 October 2022 – 17 September 2023
Room 11 | Admission free – no booking required
The Decade of Centenaries commemorates one of the most turbulent and transformative periods in modern Irish history. Between 1912 and 1923, a series of pivotal events unfolded in Ireland, including revolution, civil war and the foundation of an independent state.
Through a selection of historical archives and artworks from the National Gallery of Ireland collections, this exhibition highlights the diverse experiences of six Irish artists who contributed or bore witness to the social, cultural and political developments of the period: Grace Gifford, Sarah Cecilia Harrison, Aloysius O'Kelly, William Orpen, Sarah Purser and Jack B. Yeats. A variety of narratives emerge from the assembled sketchbooks, letters, drawings, memoirs, scrapbooks and ephemera, ranging from witty and irreverent to deeply poignant. These archival objects and drawings offer a fresh insight into the artists' daily lives, working conditions, political interests, and their individual reactions to the extraordinary events of the time.
Curators: Andrea Lydon, Marie Lynch, Donal Maguire
This exhibition is supported by the Department of Tourism, Culture, Arts, Gaeltacht, Sport and Media under the Decade of Centenaries Programme 2012-2023.

Memento Civitatem
Memento Civitatem is a new work by artist Alice Maher and designer Jamie Murphy, commissioned on the occasion of the exhibition Roller Skates & Ruins. Find out more about Memento Civitatem.