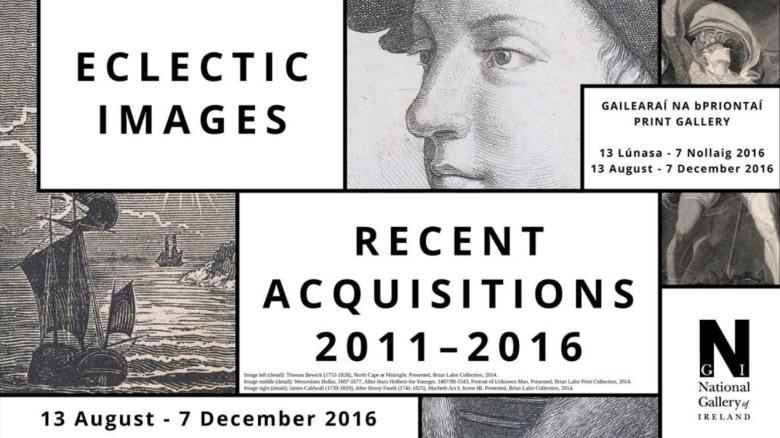 Photo © National Gallery of Ireland
Credit
Eclectic Images: Recent Acquisitions 2011-2016
13 August – 7 December 2016
Print Gallery | Admission free
This exhibition presented highlights of prints and drawings acquired by the Gallery over the previous five years. A generous donation of over 160 prints received from Brian Lalor in 2014 underlined how the national collection continues to benefit from the generosity of private donors.
Part of the exhibition comprised 60 prints and illustrated books from the Brian Lalor Collection. As a whole, the collection functioned as a time-line charting developments in printmaking through the centuries from the early reproductive prints of Maerten van Heemskerk (1498–1574) to Christopher Le Brun's (b.1951) mysterious Four Riders series of etchings. Other notable sub-groups included the portrait in print; early twentieth-century printmaking; Biblical Palestine; and works inspired by Whistler.
Also part of the display, were some of the most beautiful and unusual watercolours, drawings and prints acquired by the Gallery, by purchase or gift, since 2011. This part of the exhibition featured drawings by Fernand Lèger, Walter Osborne and Kyffin Williams, as well as prints by Berthe Morisot, Frank Brangwyn and Micheal Farrell.
Curator | Anne Hodge, National Gallery of Ireland