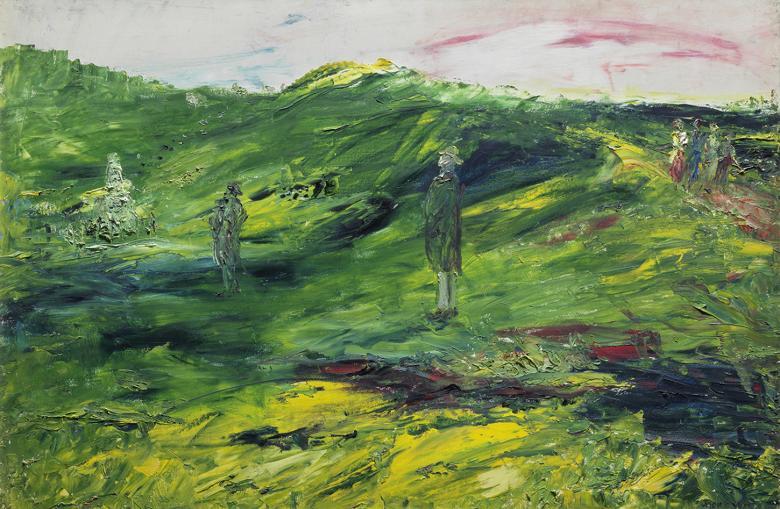 Jack B. Yeats, Donnelly's Hollow, 1936.
Private Collection.
© Estate of Jack B. Yeats, DACS London, IVARO Dublin, 2021. Image courtesy of Bonhams 1793.

Credit
Jack B. Yeats: Capturing the essence of memories
Experiences from the artist Jack B. Yeats's memory are the subjects of his paintings in oil from the mid-1920s onwards. Through the prism of memory, banal scenes such as train journeys and fair days are transformed into sensual, rich-coloured spectacles .
In this podcast, Dr Brendan Rooney and Professor Ruth Byrne discuss how Yeats captures the essence of memory in these works and how retrieving ideas from memory was vital in Yeats's creative process.
Ruth Byrne is the Professor of Cognitive Science at Trinity College Dublin, University of Dublin, in the School of Psychology and the Institute of Neuroscience. Her research expertise is in the cognitive science of human thinking, including experimental and computational investigations of reasoning and imaginative thought.
Brendan Rooney is Head Curator and Curator of Irish Art at the National Gallery of Ireland.
This podcast is inspired by our recent Jack B. Yeats exhibition, Jack B. Yeats: Painting & Memory, which was on display until 6 February 2022.  
Note for listeners: Due to new e-privacy measures on our site, you'll need to click on the cookie symbol in the bottom-left corner of this screen and tick the boxes to accept statistics and marketing cookies in order to listen to the podcasts embedded on this page. Alternatively, you can follow these links to listen on Soundcloud, Spotify or Apple Podcast instead.
Listen now
Listen on other platforms
Podcast transcript
Download a PDF transcript of the Jack B. Yeats podcast.
Happily supported by Key Capital