Annette Giacometti, Yanaihara posant pour Alberto Giacometti dans son atelier, Paris, 1960. © Succession Alberto Giacometti / ADAGP Paris, 2022.
Credit
Our summer exhibition, Giacometti: From Life, is the first display of Alberto Giacometti's work held at the National Gallery of Ireland. It includes over 50 of the artist's works, many of which were made in his Paris studio, described as a symbol of post-war Parisian artistic life. Read on to find out more about the space he lived and worked in for almost 40 years.
Alberto Giacometti moved into his Parisian studio at 46 rue Hippolyte-Maindron, in the Montparnasse area, in December 1926. The studio was tiny – just 24 square metres – and had no running water until the 1950s. Giacometti himself said of it, "I planned on moving as soon as I could because it was too small – just a hole". However, this simple space would be where the artist worked and lived for most of the rest of his life.
As well as a working studio, it was also where the artist and his wife Annette lived, in an adjacent room, and visitors (friends, acquaintances, sometimes even strangers!) were almost always welcome. Some of Giacometti's famous circle of friends who spent time there included writers Samuel Beckett and Jean Genet, philosophers Jean-Paul Sartre and Simone de Beauvoir, and many fellow artists. If you're visiting the exhibition, you'll see the portraits of lots of these visitors on display, and you can read some of their candid impressions of the distinctive space below.
Giacometti's studio has been faithfully reconstructed at the Institut Giacometti at 5, rue Victor Schœlcher. The artist's widow, Annette, carefully conserved all the elements of the studio after her husband's death, and it has been faithfully recreated and is well worth visiting the next time you find yourself in Paris.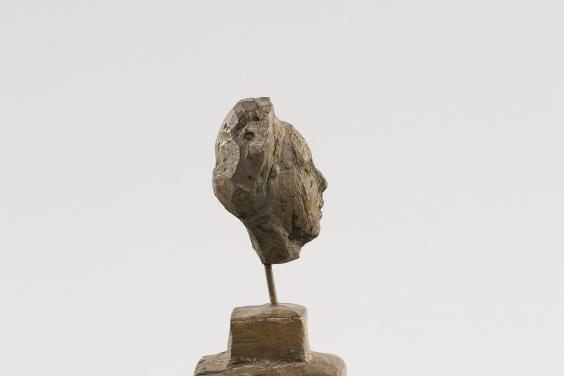 Alberto Giacometti Simone de Beauvoir, 1946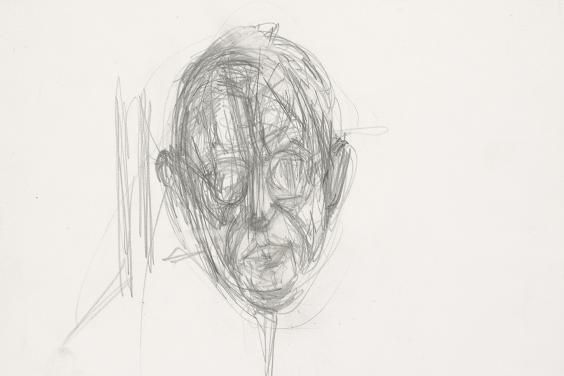 Alberto Giacometti Tête de Jean Paul Sartre, c.1949
Friends describe Giacometti's studio
Simone de Beauvoir, philosopher:
"In a charming little forgotten garden he has a studio, submerged in plaster, and he lives next to this in a kind of hangar, vast and cold, with neither furniture nor food. He works very hard for fifteen hours at a stretch, above all at night: the cold, his frozen hands – he takes no notice, he works."
Jean Genet, writer:
"This ground floor studio ... is going to cave in at any moment now. It is made of worm-eaten wood and grey powder ... Everything is stained and ready for the bin, everything is precarious and about to collapse, everything is about to dissolve, everything is floating ... And yet it all appears to be captured in an absolute reality. When I leave the studio, when I am outside on the street, then nothing that surrounds me is true."
James Lord, writer:
"The studio is ... in a sort of complex... the whole place looking as if it had been thrown together with a few old sticks and a lot of chewing gum ... In short, a dump. Anyway he said come in when I knocked, and if the outside is surprising, the inside is amazing ...He turned and glanced at me, holding out his hand which was covered in clay, so I shook his wrist ... He immediately resumed work, running his fingers up and down the clay so fiercely that lumps fell onto the floor."
Giacometti: From Life continues here until 4 September 2022.
The exhibition is co-organised by the National Gallery of Ireland and the Fondation Giacometti.