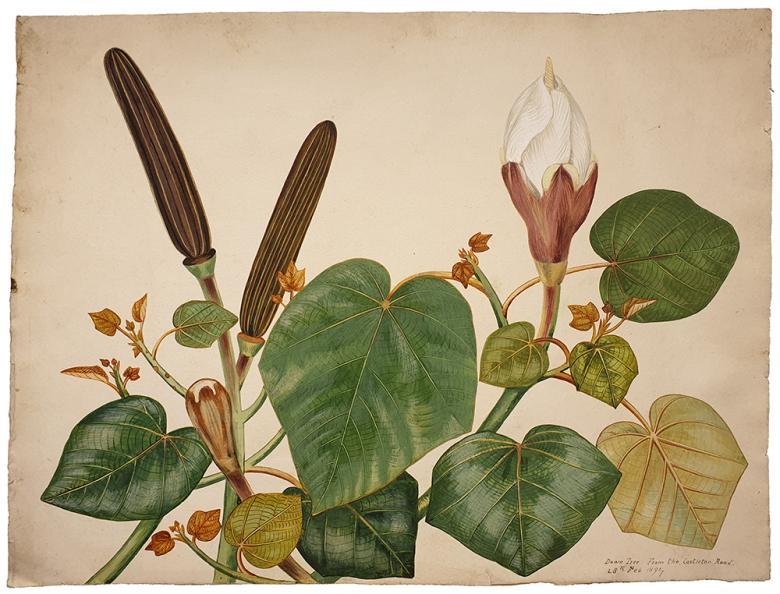 Private Collection. Photographer: Pat McBride


Credit
Edith Blake (1846-1926)
Ochroma pyramidale; balsa, 1894
Watercolour and gouache on paper
Private collection
Edith Blake was a botanical artist, writer, and linguist. She grew up at Newtown Anner House, near Clonmel, Co. Tipperary. In 1874, she eloped with Henry Arthur Blake, a county inspector for the Royal Irish Constabulary. From 1884 to 1907, the Blakes lived abroad following Henry's appointments as Governor of the Bahamas, Newfoundland, Jamaica, Hong Kong, and Ceylon. During this time Lady Blake made hundreds of watercolour studies of plants and insects.
The Blakes were knowledgeable about native plants and acutely aware of their importance to local economies. They founded numerous agricultural societies and were involved in organising the Jamaica Exhibition (1891). Bauhinia Blakeana (the Hong Kong orchid tree) was named in honour of their support for Hong Kong Botanical Gardens. Its flower is the emblem on the official flag of Hong Kong.
The Museum of Science and Art in Dublin held an exhibition of Blake's work in 1894. A large collection of her drawings of plants and Jamaican lepidoptera (moths and butterflies) is held by the Natural History Museum, London.
Blake's watercolour, above, depicts balsa, also known as the down tree, and corkwood. Blake notes that this example was from the Castleton Road, Jamaica. Balsa wood is among the lightest commercial woods. Before the early-twentieth century it was often used to make rope and fishing-net floats.
Edith Blake (1846-1926)
Acorus calamus; Artemisia vulgaris; Euphorbia; Odontosoria chinensis, 1898
Watercolour and gouache on paper
Private collection
Blake made this drawing in Hong Kong. She notes that these plants were hung over doors at Chinese New Year as charms 'to keep out the devil'.