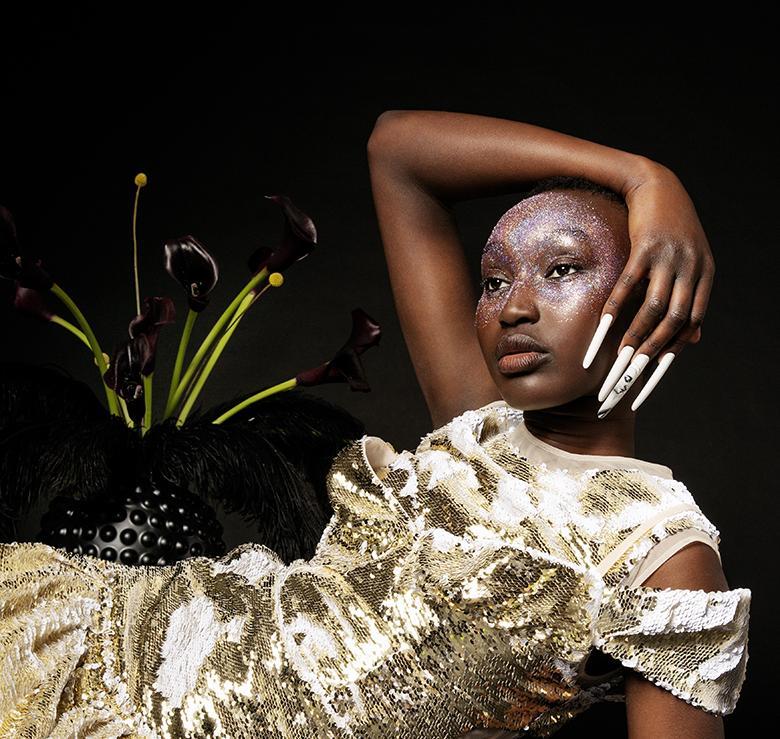 Photo © Eilish McCormick
Credit
R E N A I L S S A N C E
18 July – 12 September 2019
Millennium Wing Studio
Tropical Popical and the Gallery are delighted to launch R E N A I L S S A N C E: a display celebrating a yearlong creative partnership which saw the nail bar responding to both the permanent collection and temporary exhibitions at the Gallery. 
R E N A I L S S A N C E will see the Millennium Wing Studio transformed into a tropical paradise, featuring an Irish fashion showcase from stylist and creative director Aisling Farinella and fashion photographer Eilish McCormick; detailed images of the multiple artistic responses; mixed media installations; real nail art, and more! 
The seeds for this collaboration began in 2017, when the Gallery's Education team connected with Tropical Popical on the internationally renowned exhibition Vermeer and the Masters of Genre Painting: Inspiration and Rivalry. The result was 'Dutch Golden Details'—a contemporary response to the seventeenth-century masterpieces, which created wearable art, provoked dialogue around high and low art forms, and connected new audiences with both the Gallery and the nail bar. The relationship bloomed and, in June 2018, a yearlong creative partnership was announced. The partnership was designed to make collections and exhibitions more accessible, for historic artworks to provide rich inspiration for new creative practices, and to continue the conversation on culture, critique, aesthetics and taste. 
A full public programme of activities and events, to support R E N A I L S S A N C E, has been devised for all ages and abilities. Including live fine art printing and wearable art creation by dynamic design duo Jill & Gill; nail art classes for kids and adults; a very special evening event with contributors from the international world of fashion; talks, tours and workshops–there is something for everyone. Plus, for the duration of the display, the talented Tropical Popical team will work live in the studio, on selected days, doing what they do best… utilizing the smallest of canvases to bring art to everyone's fingertips.
Scroll down for the full programme of events.
For all nail appointments, see tropicalpopical.com
R E N A I L S S A N C E and the accompanying public programme are co-curated by Andrea Horan, CEO, Tropical Popical & Sinéad Rice, Head of Education, National Gallery of Ireland.
IMPORTANT :  R E N A I L S S A N C E will be open during Gallery hours, except at the following dates and times when the space is being used for our programme of events:
| | |
| --- | --- |
| Saturday 3 August  | closed 1.30pm-4pm |
| Saturday 7 August | closed 2pm-4pm |