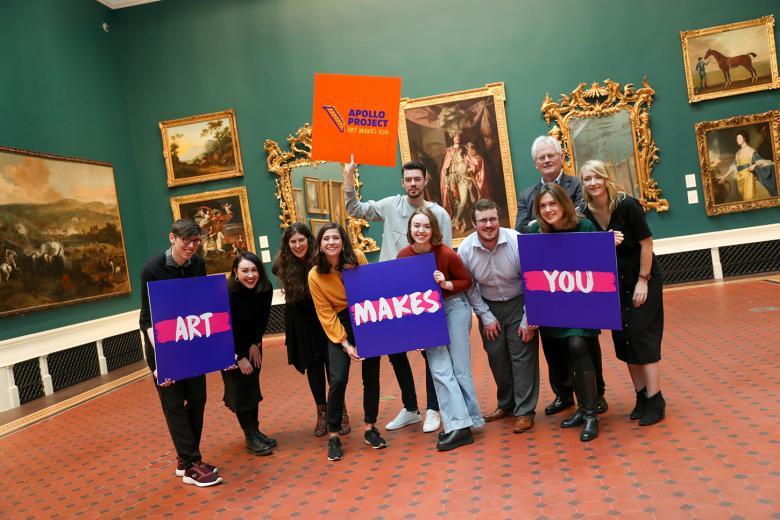 Apollo Project participants with Sean Rainbird, Sinead Rice and Jessica Supple of the National Gallery of Ireland and Clare Mason and Peter Tim Lynch of DesignWorks. Photo: Maxwell Photography
Credit
Apollo Project brings people aged 16-25 and their art together
The National Gallery of Ireland is delighted to launch Apollo Project, a new programme designed by young people for young people. Placing people aged 16-25 at its core, the initiative will include a dynamic series of workshops and events at the Gallery in the coming months.
With a focus on education, creativity and wellbeing, Apollo Project will provide an opportunity for young people to develop creative skills. Supported by the Apollo Foundation, the initiative is co-produced by young people of all abilities, the National Gallery of Ireland, and Russborough House. One strand of programming, Creative Careers, is supported by the Coca-Cola Thank You Fund.
Apollo Project will enable young people to connect with artists, designers, makers and creatives at monthly events at the Gallery. Award-winning actor, photographer and filmmaker Hugh O'Conor shares his story at the next event inspired by portraiture and photography exhibitions at the Gallery.
Sean Rainbird, Director of the National Gallery of Ireland, commented: "We're excited to amplify the role that young people play here at the Gallery with Apollo Project. We hope to empower this age group and inspire them as they continue to make an impact on culture and art in Ireland."
Ellen Kane, Apollo Project participant, commented: "I think the key to the success of this project is the Gallery's belief in young people and the things that they can achieve. When you're young and finding your way in the world sometimes it's hard to see how things will work out, and what options are out there. But the fact that the Gallery is showing the doors that can be opened, it makes you feel important and it makes you feel that you can achieve whatever you want to achieve."
Booking is now open for Apollo Project events and workshops. See the What's On calendar for full details.
About the Apollo Foundation:
The Apollo Foundation was established in 1984 to benefit the fine arts in Ireland. The Charity benefits the Alfred Beit Foundation, which supports and maintains Russborough House. The Apollo Project is co-ordinated by the Apollo Fellow at the National Gallery of Ireland, Jessica Supple.
About Russborough House:
Russborough House is an ornate, eighteenth-century Palladian villa with collections of porcelain, furniture and art masterpieces, in Blessington, Co. Wicklow. The Alfred Beit Foundation owns and operates Russborough House & Parklands. Its mission is to promote education in the fine arts in Ireland, and to preserve and make accessible to the public the house, collections and estate.
Coca-Cola Thank You Fund:
Creative Careers is an educational programme run through Apollo Project at the National Gallery of Ireland. It is part-funded by the Coca-Cola Thank You Fund. Now in its ninth year, the Coca-Cola Thank You Fund was set up in 2011 to mark the 125th anniversary of the company. In 2019, the Fund theme focused on working with communities to inspire and support young people.