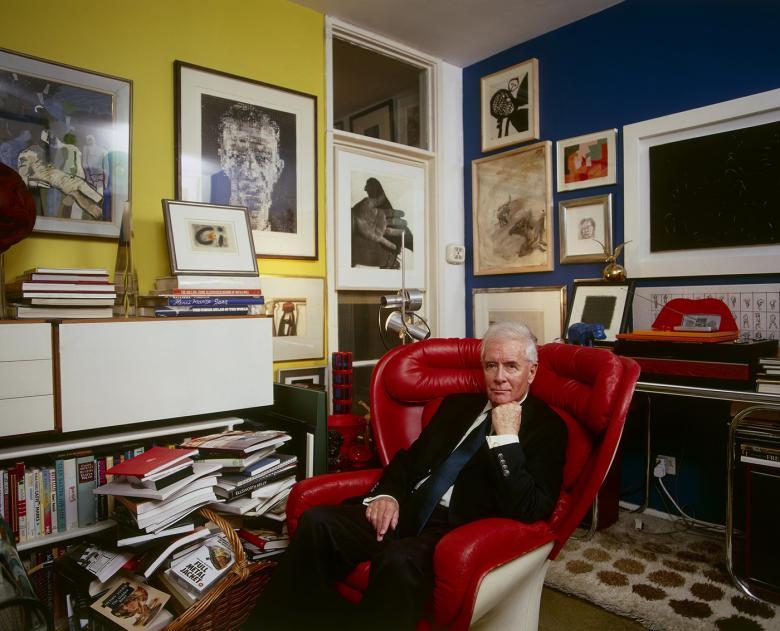 Alexander Walker in his Maida Vale apartment surrounded by his collection, 2002. Photo © Rob Carter.
Credit
Living with art features highlights from collection of film critic Alexander Walker.
Prints and drawings by artists including Pablo Picasso, Henri Matisse, Lucian Freud and Bridget Riley are on display in a new exhibition at the National Gallery of Ireland, opening on 10 May 2021. Spanning almost 100 years of modern art, the British Museum touring exhibition Living with art: Picasso to Celmins showcases a selection of works on paper from the collection of renowned film critic Alexander Walker, which he bequeathed to the British Museum in 2003.
London's Evening Standard newspaper's longstanding film critic Alexander Walker (1930–2003) was an enthusiastic collector of modern and contemporary prints and drawings, filling his modest West London flat – including his kitchen and bathroom – with artworks. This free exhibition comprises 30 prints and drawings from Walker's wide-ranging collection by diverse artists including Picasso, Juan Miró, Philip Guston, David Hockney, Paula Rego and Vija Celmins.
Alongside Living with art, the National Gallery of Ireland is delighted to open a complementary display of prints by Irish artist Brian O'Doherty. Created in collaboration with Stoney Road Press, the eleven prints underline the dialogue between mind and body that has fascinated the artist throughout his long career. Many are inspired by Ogham script, an ancient Irish translation of the Roman alphabet. These works highlight the National Gallery of Ireland's growing collection of modern and contemporary print. A poignant portrait of Jack B. Yeats in old age, drawn by O'Doherty in 1957, rounds off the display.
Anne Hodge, Curator of Prints and Drawings at the National Gallery of Ireland, commented: 
"I am delighted to be involved in bringing this British Museum touring show to Irish audiences. It provides us with an opportunity to see amazing works on paper by key twentieth-century artists alongside prints by contemporary artists including Paula Rego and Peter Doig. Irish-born Alexander Walker's collection, which was built up over forty years, shows how it's possible to build a magnificent collection of works on paper on a relatively modest budget."
An online engagement programme will run alongside Living with art. For those who would like to learn more about the exhibition, printing demonstrations, a paper masterclass, and online talks will take place online. Entry to all exhibitions year-round is free for Friends of the National Gallery of Ireland. 
At the National Gallery of Ireland Shop, a fully illustrated catalogue – Living with Art: the Alexander Walker Collection, by Catherine Daunt, Curator of Modern and Contemporary Graphic Art at the British Museum – will be available for purchase.
Exhibition listing:
Living with art: Picasso to Celmins, A British Museum touring exhibition
Opens: 10 May 2021 
Closes: 7 June 2021
Print Gallery, National Gallery of Ireland
Curator: Anne Hodge
Free admission 
This exhibition is generously supported by the Dorset Foundation in memory of Harry M Weinrebe.
Visitor information at the National Gallery of Ireland:
Visitors must book a free ticket to visit the Gallery, see nationalgallery.ie. Entry via Merrion Square entrance only. Sanitising facilities at all entry points and throughout Gallery. Tours and audio guides are not available but online versions of Gallery initiatives will be online. Lifts available but for single use or disability access only. Cloakrooms are closed.
Gallery Opening Hours:
Mon: 11am – 5.30pm
Tues to Sat: 9.45am – 5.30pm
Sun: 11.30am – 5.30pm
About the National Gallery of Ireland:
The National Gallery of Ireland is one of the country's most popular visitor attractions housing the nation's collection of European and Irish art from about 1300 to the present day, and an extensive Library & Archive. Entry to the collection is free for all to enjoy, learn and be inspired.
National Gallery at Home:
For those who are unable to visit the National Gallery of Ireland at the moment, there are many ways to engage with the national collection online. 'National Gallery at Home' includes videos, Mindfulness and Art, and at-home activities connected to the national collection. Virtual tours of iconic spaces such as the Shaw Room and the Grand Gallery, as well as the exhibition Murillo: The Prodigal Son Restored, can also be explored from home. Find out more at www.nationalgallery.ie 
The British Museum's National Programmes:
The British Museum has a national presence, working with hundreds of partner organisations across the UK each year through its wide-ranging National Programmes. This includes single-object Spotlight Loan tours, touring exhibitions, Partnership Galleries, as well as both short-term and long-term loans, with the lead support of the Dorset Foundation in memory of Harry M Weinrebe. In 2018-19, over 2,800 objects were loaned to 147 venues in the UK, reaching 10.5 million people outside London. The British Museum also facilitates knowledge exchange programmes and trainee schemes to provide opportunities to help young people to build their careers in the museum sector. The Museum will continue to develop partnerships across the UK as part of its commitment to sharing the collection as widely as possible.