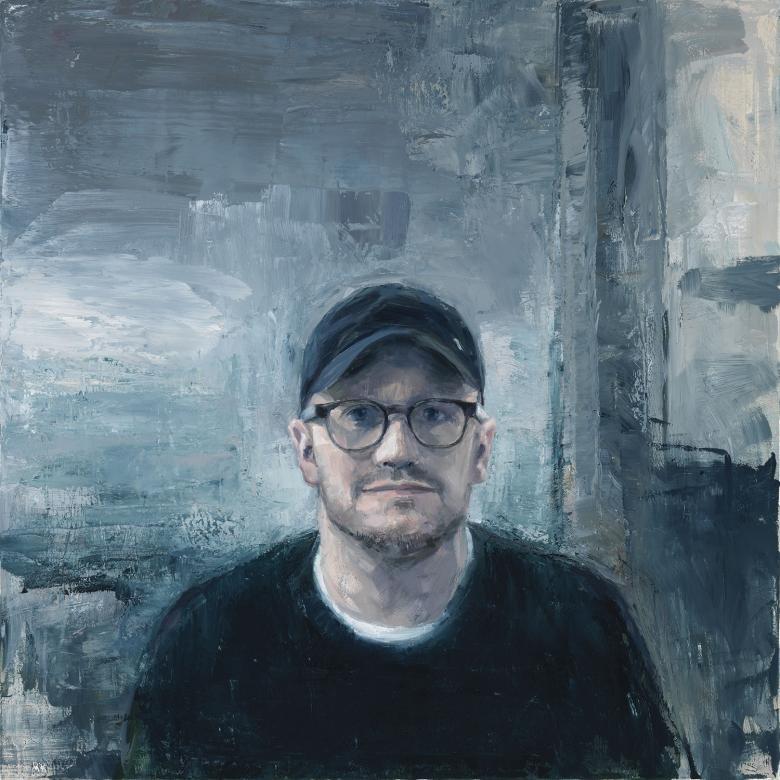 Donald Teskey (b.1956), Lenny Abrahamson (b.1966), filmmaker. 2018. Photo © National Gallery of Ireland. Commissioned by the National Gallery of Ireland, 2018.


Credit
The National Gallery of Ireland today unveils a portrait of Oscar-nominated Irish film director Lenny Abrahamson.
The painting by renowned Irish artist Donald Teskey is the latest addition to the Gallery's National Portrait Collection. It goes on public view in Room 23 from Tuesday 18 September 2018. The commission, awarded to Donald Teskey in 2018, is generously funded by a private benefactor.
 
Dr Brendan Rooney, Head Curator of the National Gallery of Ireland says: "This portrait marks Lenny Abrahamson's status as a filmmaker of international standing, and coincides (serendipitously) with the release of his sixth feature film The Little Stranger, which stars Domhnalll Gleeson and Charlotte Rampling. It is also the first work in oil by Donald Teskey, one of Ireland's most accomplished and highly regarded painters, to be acquired by the Gallery."
 
The Gallery has sought through recent commissions to showcase contemporary art practice and, in keeping with the nineteenth-century origins of the National Portrait Collection, to acknowledge individuals who have made major contributions to Irish life. Recent sitters have represented such areas as social justice (Sr Stanislaus Kennedy), design (John Rocha), theatre (Garry Hynes), sport (Henry Shefflin) and music (Donal Lunny). 

Notes to editors:
Digital images for media use are available from the Gallery's Press Office - [email protected]  
The work:
Artist: Donald Teskey (b.1956, Co Limerick)                 
Title: Lenny Abrahamson (b.1966), filmmaker
Date:  2018
Medium: Oil on canvas
Dimensions:  80 x 80 cm                                            
Provenance: Commissioned by the National Gallery of Ireland, 2018. 
 
The artist:
Donald Teskey, a graduate of Limerick School of Art and Design, came to prominence in the 1980s, and is best known for his paintings of the rugged landscape of the western seaboard. He has won many awards from, among other bodies, the RHA and RUA, and has served prestigious residencies in France and the United States. His work is represented in major public and private collections throughout Ireland and abroad. Teskey is a member of the Royal Hibernian Academy and Aosdána.
 
The sitter:
Born in Dublin, Lenny Abrahamson is one of Ireland's most celebrated and decorated filmmakers. His works include Adam and Paul (2004), Garage (2007), What Richard Did (2012), Frank (2014), and The Little Stranger (2018). Abrahamson directed the critically-acclaimed film Room (2015), for which Brie Larson won the Academy Award for Best Actress. The movie received three other Academy Award nominations, including Best Director. Abrahamson's four one-hour films for RTÉ, Prosperity, won the Best Director for TV award at the 2008 Irish Film and Television Awards.
 
National Portrait Collection at the National Gallery of Ireland:
Established in 1854 by an Act of Parliament, the National Gallery of Ireland houses the nation's collection of European and Irish fine art spanning the early Renaissance to the present day, with over 16,300 works of art. The Gallery is also home to the National Portrait Collection (established 1875). The National Portrait Collection was established by Henry Doyle (director of the Gallery 1869-92) to recognise 'eminent Irishmen and Irish women… whose lives serve in any way to illustrate her history or throw light on her social or literary or artistic records'. Initially much of the display was made up of prints and engravings, a significant number of which were purchased from the Chaloner Smith Collection in 1887. The National Portrait Collection continues to expand in the spirit of Doyle's vision, and includes eminent Irish individuals who have contributed to the civic, social, cultural and artistic life of the nation. Since 1998, the National Portrait Collection has been enhanced by commissioned works which reflect both a more contemporary engagement with the affairs of the nation and a broader range of subjects. 
 
Portrait commissions for the National Portrait Collection from 1998 to present:
Gerry Davis, Henry Shefflin (2017)
Vera Klute, Garry Hynes (2017)
Gareth Reid, Graham Norton (2017)
Nick Miller, Dónal Lunny, Playing (2015)
Vera Klute, Sr Stanislaus Kennedy (2014)
Kevin Abosch, Olwen Fouéré, Bob Geldof and Brian O'Driscoll (2013)
Colin Davidson, Michael Longley (2012) 
Jackie Nickerson, Seamus Heaney (2012)
Mick O'Dea, Brian Friel (2010)
Maeve McCarthy, Maeve Binchy (2005)
Louis le Brocquy, Bono (2003)
Thomas Ryan, TK Whitaker (2002)
John Kindness, Gay Byrne (2000)
James Hanley, Ronnie Delany (2000)
Mark Shields, Mary and Nicholas Robinson (1998)