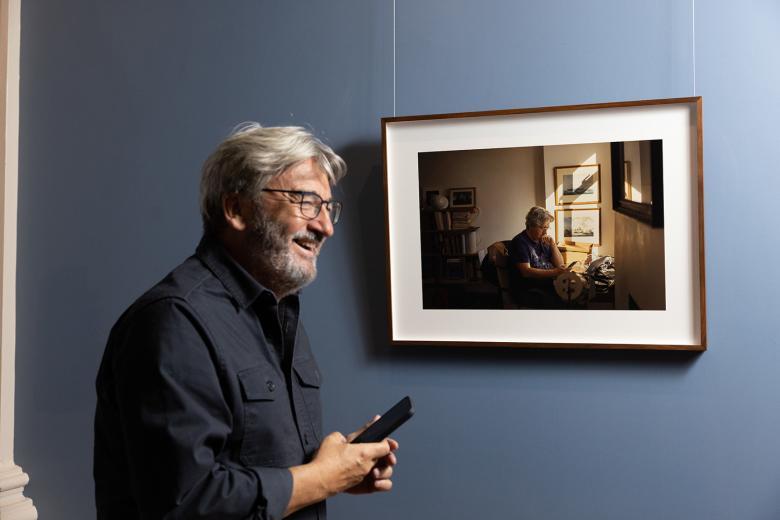 A new portrait of award-winning journalist and author Fergal Keane was today unveiled at the National Gallery of Ireland. The work is a commission by artist and photographer Enda Bowe, winner of the Zurich Portrait Prize in 2019 for his photograph Cybil McCaddy with Daughter Lulu.
Carlow native Bowe describes himself as 'concerned with storytelling and the search for light and beauty in the ordinary'. His work has been influenced by writers Carson McCullers and John McGahern, and filmmakers Lynne Ramsey, Eve Arnold and Lenny Abrahamson. He has worked closely with Abrahamson several times, most notably as unit stills photographer on the acclaimed TV adaptation of Sally Rooney's novel Normal People and more recently on another adaptation of a Rooney novel, Conversations with Friends. He has shown his work at, among other venues, the Douglas Hyde Gallery, Dublin: the Victoria & Albert Museum, London and the Red Hook Gallery, New York. He has published four books: Coast, Kilburn Cherry, At Mirrored River and This Thing I Want, I Know Not What.
He was awarded the Taylor Wessing Portrait Second Prize (National Portrait Gallery, London) in 2018 and 2019, and the Zurich Portrait Prize (National Gallery of Ireland) in 2019.
Fergal Keane worked for the Limerick Leader, the Irish Press and RTÉ before moving, in 1989, to the BBC, for whom he has served as Special Correspondent all over the world, including South Africa, Iraq, Hong Kong and, most recently, Ukraine.
Keane has received numerous honorary degrees and awards for both radio and television broadcasting, including overall winner of the Amnesty International Press Awards (1993), the Voice of the Viewer and a Listener awards for his BBC Radio 4 'From Our Own Correspondent' despatch, Letter to Daniel (1996), a One World Television award (1999), the Edward R. Murrow Award for foreign reporting, and a Peabody Award and an Emmy for his role in BBC's reporting of the refugee crisis in 2015. He remains the only person to have won the Royal Television Society Journalist of the Year Award and Sony Radio Reporter of the Year in the same year, 1994. He has published several books, among them The Bondage of Fear: A Journey through the Last White Empire (1995); Wounds. A Memoir of Love and War (2017); and Season of Blood (1996), an account of the Rwandan genocide, for which he won the Orwell Prize. He published in 2012 his first historical volume, Road of Bones: the Siege of Kohima 1944, an account of the battle that halted the Japanese invasion of India, and collaborated with BBC Northern Ireland and RTÉ on a five-part documentary The Story of Ireland in 2011.
Dr Brendan Rooney, Head Curator at the National Gallery of Ireland, said, 'the National Gallery of Ireland is delighted to add Enda Bowe's outstanding study of Fergal Keane to the National Portrait Collection. Fergal has reported on many of the world's most challenging and brutal conflicts over the last three decades and with skill, compassion and an innate sense of balance, brought the human consequences of these to the attention of a global audience'.
Neil Freshwater, CEO of Zurich Insurance plc, said 'Enda Bowe's portrait of Fergal Keane is an important addition to the Gallery's portrait collection, displayed alongside writers, poets, playwrights and journalists. This is the lasting legacy of the Zurich Portrait Prize, and we at Zurich Insurance plc are very proud to support this work.'
The commission is on display at the National Gallery of Ireland in Room 23. Admission is free. This year's Zurich Portrait Prize and Zurich Young Portrait Prize exhibitions will run from 26 November 2022 – 2 April 2023.
Media contact
Ciara Mooney, Communications, National Gallery of Ireland [email protected] / 086 267 0574  
Notes to Editor:
Head Curator at the National Gallery of Ireland, Dr Brendan Rooney, is available for interview
Images are available on request  
Opening hours:
Monday: 11am – 5.30pm
Tuesday and Wednesday: 9.15am – 5.30pm 
Thursday: 9.15am – 8.30pm
Friday and Saturday: 9.15am – 5.30pm 
Sunday: 11am – 5.30pm
About the National Gallery of Ireland:
The National Gallery of Ireland is one of the country's most popular visitor attractions housing the nation's collection of European and Irish art from about 1300 to the present day, and an extensive Library & Archive. Entry to the collection is free for all to enjoy, learn and be inspired. 
About Zurich Insurance Group:
Ireland is Zurich's location of choice for its pan-European company Zurich Insurance plc (ZIP). Since the beginning of 2009, ZIP has been headquartered in Dublin and it is the main risk carrier for Zurich's general insurance business in the EU. Neil Freshwater is the CEO of Zurich Insurance plc. In terms of domestic business, Zurich focuses on two key business areas in Ireland – General Insurance and Life. In Ireland, Zurich employs over 1,250 people.