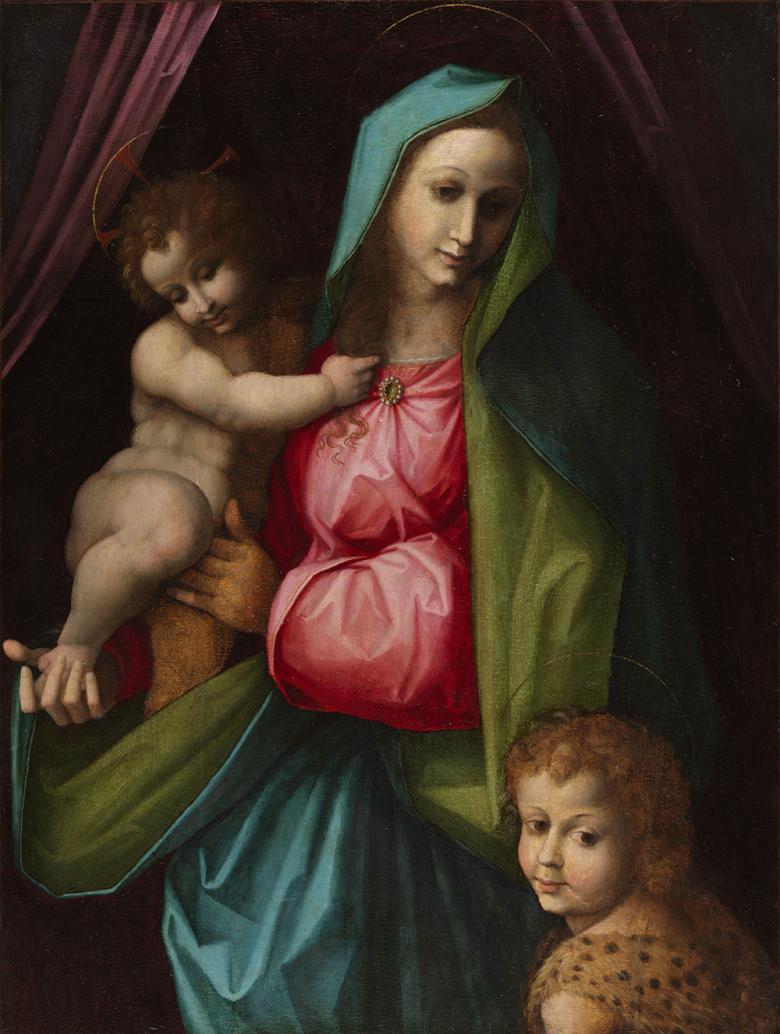 Bacchiacca (1494-1557), The Virgin and Child with Saint John the Baptist. Photo © National Gallery of Ireland.
Credit
A magnificent series of dramatically restored Renaissance works will go on display in a new, free exhibition at the National Gallery of Ireland this month. Showcasing eight little-known sixteenth-century Italian paintings, Christ & His Cousin: Renaissance Rediscoveries opens on 29 January 2022.
For over a decade, the Gallery's Head of Conservation, Simone Mancini, has carefully treated these paintings to reveal quality that was previously unrecognised. This colourful display of sixteenth-century Renaissance works will hang in the Sir Hugh Lane Room at the Gallery, depicting scenes of the Madonna and her infant child, Jesus Christ, together with his cousin Saint John the Baptist.
Exploring natural portrayals of human behaviour, such as warm and playful moments between the infants and the Madonna, these paintings tell the story of an imaginary encounter between a young Christ and his cousin, a meeting not referenced in the bible.
According to the Bible, the two cousins did not meet until later in life, however, their relationship as children was described by later texts which proved incredibly popular and inspired many Italian artists to represent the two infant cousins in their works during the Renaissance period.
Tying in with the exhibition, the eight paintings will be accompanied by four rare volumes drawn from the Gallery's Library & Archives, some of which were instrumental in defining the development of sixteenth-century art.
A number of online events will run in conjunction with Christ & His Cousin, including a talk with curator Dr Aoife Brady about the art of conservation and the exhibition.
Curator of Italian and Spanish Art at the National Gallery of Ireland, Dr Aoife Brady, commented: "The eight paintings in this exhibition have been truly transformed by conservation. Together, they will challenge visitors to look a little harder at what are often dismissed as conventional, religious images, and to think about the traditions and cultures that underpin these lively and quirky compositions."
Head of Conservation at the National Gallery of Ireland, Simone Mancini, added: "Conservation treatments and analysis generated a considerable amount of information on Renaissance pictorial practices and processes. These treatments also revealed the excellent quality of the materials used and confirmed experimented techniques on building supports, preparing grounds and using paint layers into soft but perceptive, continuous transitions."
Christ & His Cousin: Renaissance Rediscoveries opens at the National Gallery of Ireland on 29 January 2022 and runs until 8 May 2022. Admission is free. See the Gallery's website for more details.
This exhibition is generously supported by a private donor.
Details for media:
Media Contact:
Ciara Mooney, Communications, National Gallery of Ireland: [email protected]
Notes to Editor:
Images are available on request
Exhibition Listing:
Christ & His Cousin: Renaissance Rediscoveries 
Opens: 29 January 2022
Closes: 8 May 2022
Hugh Lane Room (Room 31), National Gallery of Ireland
Admission: FREE
Visitor information at the National Gallery of Ireland:
Visitors must book a free ticket to visit the Gallery, see nationalgallery.ie. Entry via Merrion Square entrance only.  
Opening hours:
Mon: 11am–5.30pm / Tues to Sat: 9.45am–5.30pm / Sun: 11.30am–5.30pm
About the National Gallery of Ireland:
The National Gallery of Ireland is one of the country's most popular visitor attractions housing the nation's collection of European and Irish art from about 1300 to the present day, and an extensive Library & Archive. Entry to the collection is free for all to enjoy, learn and be inspired.