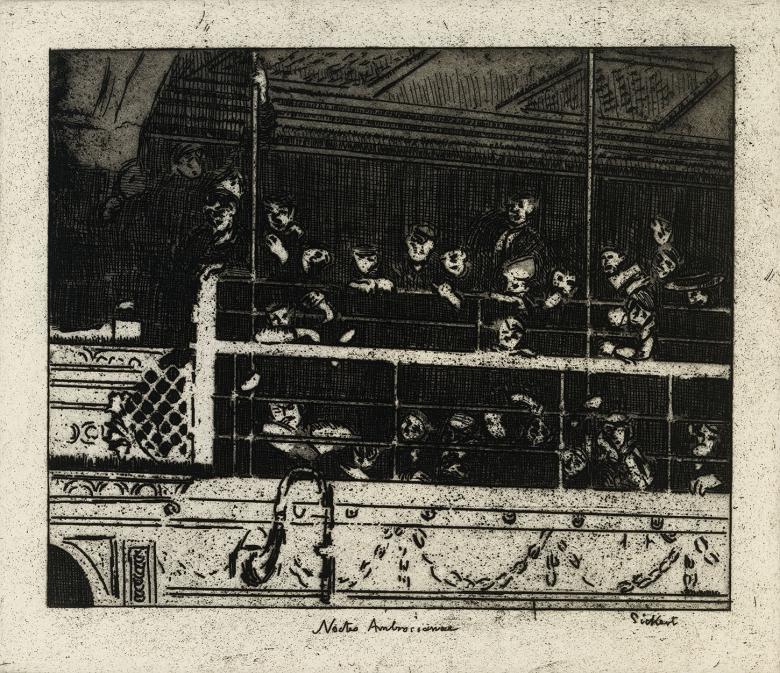 Walter Richard Sickert (1860-1942), 'Noctes Ambrosianae', 1906. Photograph © National Gallery of Ireland.
Credit
Making their Mark: Irish Painter-Etchers & the Etching Revival
2 March – 30 June 2019
Free admission
Revival and reinvention are at the heart of a brand new exhibition opening at the National Gallery of Ireland this March celebrating the work of Irish painter-etchers and engravers. Making their Mark offers a rare opportunity to discover artists who made a significant contribution to the international Etching Revival from the 1880s. 
Celebrating the art of etching, the exhibition will comprise approximately 50 original prints by artists such as Edward Millington Synge, Estella Solomons and Myra Hughes. The exhibition will include a recent acquisition, Figures in a Boat, 1883, by John Lavery: his only known print. Another recent acquisition featured in this exhibition is Shipbuilding at Viareggio, Tuscany, early 1900s, by Robert Charles Goff. Prints by influential artists such as Walter Sickert, Francis Seymour Haden, Francis Walker and James Abbott McNeill Whistler will contextualise the Irish artists' work. 
Commenting, co-curator Anne Hodge of the National Gallery of Ireland said: "This historic display of etchings by both Irish artists and inspirational members of the Etching Revival including James Abbott McNeill Whistler and Francis Seymour Haden brings a relatively unknown aspect of Irish art to light. The prints will be shown to great effect in the newly refurbished Print Gallery. The exhibition is the result of close collaboration between the National Gallery of Ireland and Trinity College Dublin. Works from the Gallery's collection are complemented by loans from public institutions such as the Hugh Lane Gallery, Crawford Art Gallery, The Hunterian: University of Glasgow and The British Museum, providing a treat for those interested in print."
Co-curator Angela Griffith of Trinity College Dublin said: "This is the first exhibition of its kind to be held in Ireland. It tells the story of a small but dedicated and talented group of Irish artists who worked in the medium of etching. Each of those represented in this exhibition gained recognition for their contribution to Irish and international printmaking, critically and institutionally, in their own lifetime. Although the exhibition includes etchings by Whistler, Sickert, Lavery, Osborne, Roderic O'Conor and Estella Solomons, many of the exhibitors have since been forgotten and neglected by national collections and cultural historians. This exhibition is a result of a fruitful and rewarding collaboration between the National Gallery of Ireland and the Department of the History of Art and Architecture, Trinity College Dublin. It offers new, previously unpublished research and it seeks to (re)introduce Irish audiences to a vibrant and exciting aspect of Irish visual culture."
This exhibition is supported by TRIARC at Trinity College Dublin, and the exhibition catalogue is supported by the Friends of the National Gallery of Ireland. 
Making their Mark: Irish Painter-Etchers & the Etching Revival opens at the National Gallery of Ireland on Saturday, 2 March 2019 and runs until 30 June 2019. Admission is free.