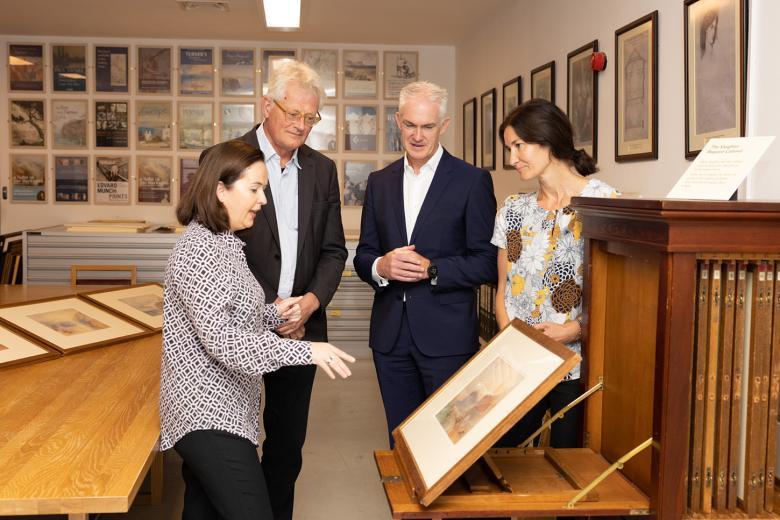 The National Gallery of Ireland is pleased today, Wednesday, 31 August, to announce a new corporate partnership with Grant Thornton. Over the next three years, the Gallery will collaborate with the global organisation on a number of exciting exhibitions.
Grant Thornton Ireland will sponsor a series of shows by world-renowned artist J.M.W Turner, beginning with Turner: The Sun is God, which opens 8 October 2022. On display in Ireland for the first time, this stunning collection of work includes over 80 paintings from Tate's impressive collection.
Over a three-year period, Grant Thornton Ireland will also provide a vital funding platform for the Gallery's much loved annual exhibition of Turner's work which runs during the month of January each year and is a highlight on the cultural calendar. Displaying the entire national collection of watercolours by Turner, Turner: The Henry Vaughan Bequest opens on 1 January 2023 in the Print Gallery.
National Gallery of Ireland Director, Sean Rainbird said: "The National Gallery of Ireland is delighted to embark on a brand new partnership with Grant Thornton, our key sponsor for the upcoming exhibition Turner: The Sun is God. Grant Thornton will also support the Gallery's celebrated annual Turner show during each January for the next three years. The support of our corporate partners is very important to the Gallery, allowing us to expand our programmes and reach a wider audience." 
Grant Thornton Partner and Head of Financial Services Audit, Colin Feely said: "Grant Thornton are immensely proud to partner with the National Gallery of Ireland on its Turner exhibitions. The 31 exquisite Turner watercolours in the national collection, which have been displayed annually for over 100 years, are beloved by the people of Ireland. We are very pleased to support the display of these works, along with remarkable works from Tate this autumn."
Corporate partnerships with the Gallery offer the opportunity to work with Ireland's premier cultural institution and its range of exhibitions and programmes. This partnership with Grant Thornton follows similar collaborations with ESB, Zurich Insurance plc, SMBC Aviation Capital and more. The Corporate Partnership programme offers companies a range of benefits from tickets to exhibitions and openings, behind the scenes tours, exhibition sponsorship opportunities and exclusive access for corporate events to the Gallery's spectacular spaces.
For more information about the Gallery's Corporate Partnership programme, contact Claire McDonagh, Fundraising and Sponsorship Manager, at [email protected]
Notes to the editor: 
Opening hours:
Monday: 11am – 5.30pm
Tuesday and Wednesday: 9.15am – 5.30pm
Thursday: 9.15am – 8.30pm
Friday and Saturday: 9.15am – 5.30pm
Sunday: 11am – 5.30pm
About the National Gallery of Ireland:
The National Gallery of Ireland is one of the country's most popular visitor attractions housing the nation's collection of European and Irish art from about 1300 to the present day, and an extensive Library & Archive. Entry to the collection is free for all to enjoy, learn and be inspired.
About Grant Thornton:
Grant Thornton Ireland has over 2,000 people in 8 offices across Ireland and the Isle of Man, and a presence in over 130 countries around the world. We bring you the local knowledge, national expertise and global presence to help you and your business succeed, with a breadth of financial and business services delivered innovatively and to the highest standards.