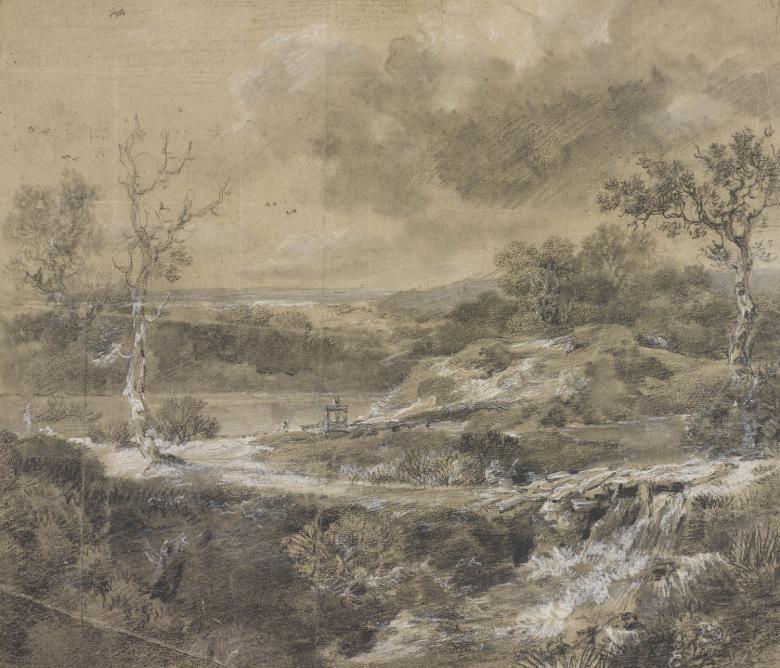 Thomas Gainsborough (1727–1788), Landscape beside a lake, c.1746–1748. Royal Collection Trust / © Her Majesty Queen Elizabeth II, 2022.
Credit
On Saturday 5 March 2022, the exhibition Young Gainsborough: Rediscovered Landscape Drawings opens at the National Gallery of Ireland.
Twenty-five landscape drawings from the Royal Collection – recently attributed to English artist Thomas Gainsborough – will go on display for the first time in Ireland. Produced in the late 1740s, when Gainsborough was in his early twenties, the drawings offer an intimate glimpse into the early career of this master of portraiture and landscape. To place the works in context, the exhibition will feature other paintings and drawings from Gainsborough's early years, along with works by the Dutch landscape painters who influenced him. This touring exhibition is a collaboration between Royal Collection Trust; York Museums Trust; the National Gallery of Ireland, Dublin; and Nottingham Castle. Additional works have been generously loaned by The National Gallery, London; The Fitzwilliam Museum, Cambridge; The Whitworth Art Gallery, Manchester; and Colchester and Ipswich Museums.
The youngest son of a cloth merchant, Thomas Gainsborough displayed artistic promise from a young age, and much of his youth was spent producing landscape views of his home county of Suffolk, England. He later excelled in the more fashionable and lucrative genre of portraiture, becoming official court painter to George III. Although portraiture brought Gainsborough wealth and fame, his preference for landscape remained a constant throughout his life. He famously wrote in the 1760s: 'I'm sick of Portraits and wish very much to take my Viol da Gamba and walk off to some sweet Village where I can paint Landskips and enjoy the fag End of Life in quietness and ease.' Indeed, Gainsborough went on to develop a style of portrait where he integrated his sitter into the landscape.
Anne Hodge, curator of the exhibition, commented: "The 25 drawings at the heart of this exhibition represent an exciting new addition to Thomas Gainsborough's known oeuvre. Rediscovered recently within the Royal Collection at Windsor, they give a sense of Gainsborough's youthful enthusiasm for nature. The chalk drawings have an immediacy that allows us to imagine the young artist, sitting on a sandy bank, quickly sketching the trees and vistas near his home in rural Suffolk. The exhibition provides a rare opportunity for us to see his early drawings beside the famous landscape painting Cornard Wood that they inspired.''
The re-discovered Gainsborough drawings were previously believed to be by the painter Sir Edwin Landseer, having been acquired by Queen Victoria from his studio in 1874. In 2013, art historian Lindsay Stainton identified one of the drawings as a study for Gainsborough's most celebrated landscape painting, Cornard Wood (c.1748), leading to the reattribution of the drawings to Gainsborough. In this touring exhibition, the study for Cornard Wood will hang alongside the finished painting, newly conserved and loaned by The National Gallery, London, uniting the painting with its preparatory drawing for the first time since they were last together in Gainsborough's studio. 
Martin Clayton, Head of Prints and Drawings, Royal Collection Trust, added: "We're delighted to be working with the National Gallery of Ireland on this exhibition - the third show in Dublin from the Royal Collection in recent years. These drawings were a remarkable discovery at Windsor and add immeasurably to our understanding of the young artist, when he was exploring both the countryside around him and his own artistic personality. I'm sure that visitors to the exhibition will be as enchanted by these drawings are we were when they came to light."
Young Gainsborough: Rediscovered Landscape Drawings is on display at the National Gallery of Ireland from 5 March 2022, closing on 12 June 2022. A programme of events to complement the exhibition will include a talk by Rosie Razzall, former Curator of Prints and Drawings, Royal Collection Trust, on 3 March 2022; a Talk and Tea session; and a free introductory curator's talk on 8 March 2022.
This exhibition has been organised in collaboration with Royal Collection Trust, York Museums Trust, National Gallery of Ireland and Nottingham Castle.
Find out more at www.nationalgallery.ie. 
Exhibition listing:
Young Gainsborough: Rediscovered Landscape Drawings 
Opens: 5 March 2022 
Closes: 12 June 2022
Print Gallery, National Gallery of Ireland | Free admission 
Curator: Anne Hodge
Touring Venues:
York Art Gallery, York 1 October 2021 – 13 February 2022 
National Gallery of Ireland 5 March – 12 June 2022 
Nottingham Castle, Nottingham 2 July – 25 September 2022
Programme:
Advance booking required, see nationalgallery.ie
Thursday 3 March, 6pm: free advance talk by Rosie Razzall, former Curator of Prints and Drawings, Royal Collection Trust,
Tuesday 8 March, 1pm: free introductory talk with exhibition curator Anne Hodge 
Visitor information:
No booking required –the permanent collection and many temporary exhibitions are free for all to enjoy.
Tickets are required for some temporary exhibitions. Next up, Giacometti: From Life which opens on 9 April.
Please do not visit the Gallery if you are experiencing any symptoms of COVID-19.
Hand sanitiser is available throughout the Gallery.  
For opening hours see nationalgallery.ie
About:
National Gallery of Ireland:
The National Gallery of Ireland is one of the country's most popular visitor attractions housing the nation's collection of European and Irish art from about 1300 to the present day, and an extensive Library & Archive. Entry to the collection is free for all to enjoy, learn and be inspired.
Royal Collection Trust:
Royal Collection Trust, a department of the Royal Household, is responsible for the care of the Royal Collection and manages the public opening of the official residences of The Queen. Income generated from admissions and from associated commercial activities contributes directly to Royal Collection Trust, a registered charity. The aims of The Trust are the care and conservation of the Royal Collection, and the promotion of access and enjoyment through exhibitions, publications, loans and educational programmes. Royal Collection Trust's work is undertaken without public funding of any kind. The Royal Collection is among the largest and most important art collections in the world, and one of the last great European royal collections to remain intact. It comprises almost all aspects of the fine and decorative arts, and is spread among some 15 royal residences and former residences across the UK, most of which are regularly open to the public. The Royal Collection is held in trust by the Sovereign for her successors and the nation, and is not owned by The Queen as a private individual.
York Art Gallery:
York Art Gallery's collection of paintings spans more than 600 years and works range from 14th century Italian panels and 17th century Dutch masterpieces to Victorian narrative paintings and 20th century works by LS Lowry and David Hockney. The Gallery also holds the most extensive and representative collection of British Studio Ceramics, thanks to the acquisition of collections from Dean Milner–White, WA Ismay and Henry Rothschild and the recent long term loan of Anthony Shaw's collection. Highlights are on show in the Centre of Ceramic Art (CoCA). The Gallery and its collections are cared for by the charity York Museums Trust, established in 2002. For more information visit www.yorkartgallery.org.uk 
Nottingham Castle:
Nottingham Castle, operated by not-for-profit charity Nottingham Castle Trust, is the must-see heritage attraction for 2021. Situated on the historic "Castle Rock", visitors can step into the epic retelling of Robin Hood and experience 1,000 years of history of the rebellious city in a more accessible and revealing way than ever. The historic landmark has undergone a £30m conservation, renovation, and redevelopment, which includes the creation of new art galleries housing permanent collections of fine-art and touring exhibitions, new mixed reality games, a new visitor centre and an outdoor family adventure playground, Hood's Hideout. Nottingham Castle's Temporary Exhibitions space welcomes prestigious touring exhibitions throughout the year, where visitors can see an ever-changing variety of must-see pioneering works from a range of international artists. www.nottinghamcastle.org.uk 
The National Gallery, London:
The National Gallery, London is one of the greatest art galleries in the world. Founded by Parliament in 1824, the Gallery houses the nation's collection of paintings in the Western European tradition from the late 13th to the early 20th century. The collection includes works by Bellini, Cézanne, Degas, Leonardo, Monet, Raphael, Rembrandt, Renoir, Rubens, Titian, Turner, Van Dyck, Van Gogh and Velázquez. The Gallery's key objectives are to enhance the collection, care for the collection and provide the best possible access to visitors. Admission free. More at www.nationalgallery.org.uk