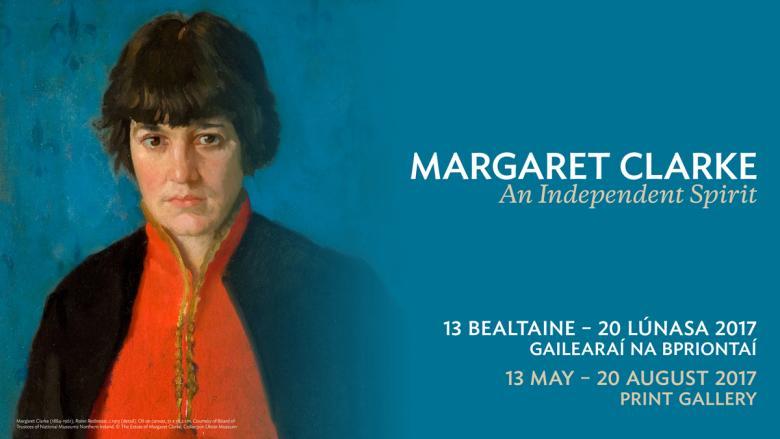 Margaret Clarke: An Independent Spirit.
Credit
Margaret Clarke: An Independent Spirit
13 May – 20 August 2017
National Gallery of Ireland | Print Gallery | Free admission
This exhibition will re-evaluate the work of this once well-regarded member of the artistic establishment, whose reputation has faded from view. The exhibition will examine the development of Margaret Clarke's style, from her time at the Dublin Metropolitan School of Art through to her later period when she produced a number of striking works based on diverse themes. Immediate likenesses of Clarke's family and close friends, attesting to her skill as a sensitive, perceptive portraitist, will be shown alongside commissioned portraits. The artist's varied interests and influences, together with her facility as a painter and draughtsperson, will be presented through a broad range of works including paintings, drawings, sketchbooks, photographs and archival material.  The challenges she faced as an artist, balancing family life and the management of the Harry Clarke Studios after her husband's death in 1931, will also be addressed.
"Here we have sincerity of technique, feeling and lovely brushwork. It is regrettable that we do not see more of this artist's work, she is one of the finest this county has produced.'
A.J Leventhal, 'The Living Art Exhibition', Irish Art: a volume of articles and illustrations (Parkside Press, 1944), 90.
Curator: Niamh MacNally, Assistant Curator, Prints & Drawings, National Gallery of Ireland
Other Venues: F.E. McWilliam Gallery & Studio, 15 September  - 18 November 2017
This exhibition will also be shown at the F.E. McWilliam Gallery & Studio in Banbridge, close to Margaret Clarke's birthplace in Newry