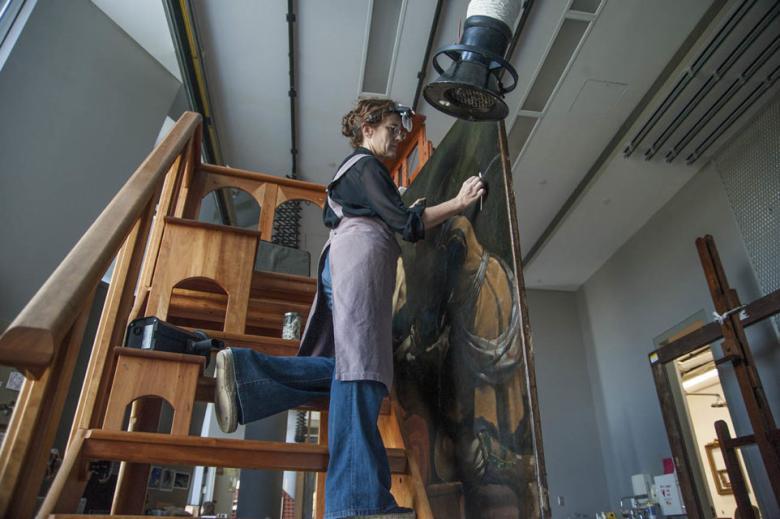 Getty Paintings conservator Devi Ormond cleans Guercino's 'Jacob Blessing the Sons of Joseph', c. 1620. Photo © Getty Museum
Credit
Guercino research and conservation project
The Paintings Conservation Department at the J. Paul Getty Museum has embarked on a collaborative conservation treatment and research project centred on one of the National Gallery's masterpieces, Jacob Blessing the Sons of Joseph by Guercino (Giovanni Barbieri, 1591-1666). Whilst the painting is at the Getty Centre in Los Angeles, a team comprising conservators, curators, and scientists from both the Getty and the National Gallery will attempt, through careful restoration and research, to revive the striking qualities of this painting. Art historical study into the painting will be facilitated by both the Denis Mahon archives in Dublin, and the library at the Getty Research Institute. In conjunction with the results of analyses carried out by scientists at the Getty Conservation Institute, a richer and deeper insight into the painting materials and techniques of this renowned Baroque artist will be attained. Art lovers on both sides of the Atlantic will be able to stay up to date with our discoveries and follow the progress of the treatment on a blog dedicated to the project. 
"Through all of this, the painting is holding court at the end of our studio, intriguing all who see it despite its current condition." Yvonne Szafran, J. Paul Getty Museum.
The National Gallery of Ireland acknowledges the generous support of the Guercino project by the Paintings Council of the Getty Museum. Established in 2002, the Council's mission has been to provide generous support for the study and restoration of major works of art from an international array of museums and cultural institutions such as the Rijksmuseum in Amsterdam, the Museum of Fine Arts in Budapest, and the National Museum in Warsaw. 
Guercino Varnish Removal
Play