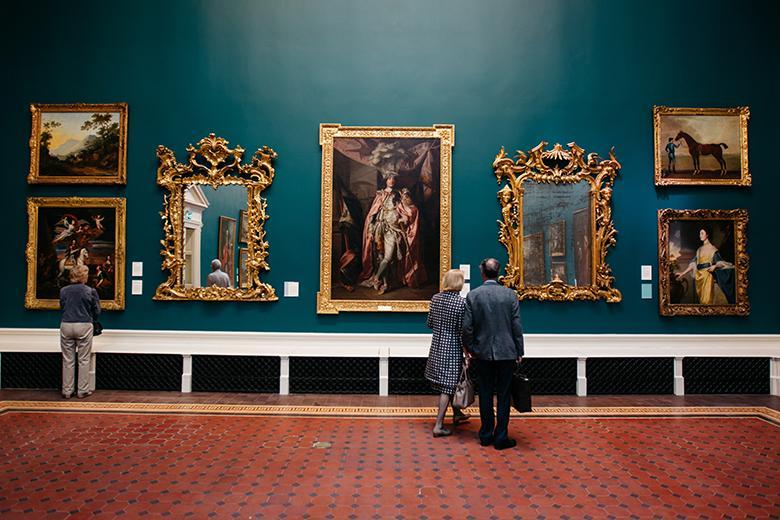 Photographer: Jack Caffrey, The Pimlico Project, 2017. Photo © National Gallery of Ireland
Credit
Two weeks of inspiring virtual events exclusively for members. Become a member of the Friends today to be a part of it!
We are excited to announce that Friends Fortnight, our annual festival for members, begins next week on 3 February 2022. This year, we focus on conservation, materiality and techniques in artworks and practices. The series of online events, centred on the theme 'up close, from afar' can be enjoyed from the comfort of home, as the Gallery brings art to members across the globe.
How to take part
All events are exclusively for members of the Friends of the National Gallery of Ireland. Anyone can become a Friend of the Gallery in minutes, online, over the phone, or in person in the Gallery. Become a member of the Friends today!
All events are free for Friends – no booking required.
The virtual talks will be delivered live via ZOOM, and the ZOOM links will be emailed to members.
Friends will also receive a special 15% discount in the Gallery Shop for the duration of the festival!
Calendar of events
Week 1 | 3–9 February 2022 
Thursday 3 February, 3pm
Director's Lecture, with Sean Rainbird: Our annual lecture with the Director of the National Gallery of Ireland.
Friday 4 February, 1pm
From the Conservation Studio: Paintings Conservator Maria Canavan invites us behind the scenes in the Gallery's Conservation Studio to discuss her current work conserving a unique folding screen painted by Irish artist Mainie Jellett.
Saturday 5 February, 12pm
Turner's Palette: Anne-Marie Clarke, a Gallery tour guide, discusses J.M.W. Turner's painting techniques and materials.
Sunday 6 February, 1pm
Mindfulness: Maria Broderick, a Gallery tour guide, explores the practice of mindfulness through engaging with artworks. This talk is an opportunity to sit with an artwork and experience it on a deeper level.
Monday 7 February, 1pm
Return of the Marquis: Adrian Le Harivel, Curator of British Art, discusses Le Marquis de Vaudreuil (1724–1802), a painting by Alexander Roslin (1718–1793). This portrait of a young French aristocrat will go on display in the Grand Gallery next month, for the first time in over thirty years, after much-needed conservation.
Tuesday 8 February, 1pm
Research and the Materiality of Paintings: Leah Benson, Archivist, and Muirne Lydon, Paintings Conservator, speaking about the use of archives, special collections and conservation projects in the Gallery's provenance studies, with a special focus on Caravaggio's The Taking of Christ and Murillo's Prodigal Son series.
Wednesday 9 February, 12pm
Young Gainsborough: Anne Hodge, Curator of Prints & Drawings, examines the early work of Thomas Gainsborough in anticipation of the forthcoming exhibition Young Gainsborough: Rediscovered Landscape Drawings, a collaboration with Royal Collection Trust, York Museums Trust and Nottingham Castle, which opens in the Gallery on 5 March 2022.
Week 2 | 10–17 February 2022
Thursday 10 February, 1pm
Giacometti: From Life: Janet McLean, Curator of European Art 1850–1950, discusses the forthcoming blockbuster exhibition Giacometti: From Life which opens in the Gallery on 9 April, co-organised by the National Gallery of Ireland and the Fondation Giacometti.
Friday 11 February, 6pm
Jewellery in the Gallery's paintings: A discussion between fine-jewellery specialist at Sotheby's London, Jemima Chamberlain-Adams F.G.A, and Joanne Drum, National Gallery of Ireland, about jewellery worn by sitters in some of the Gallery's portraits.
Saturday 12 February, 2pm
Rebel Women: From suffrage, to Irish independence to abstract art, the story of each rebellion is linked to some extraordinary Irish women artists. This talk, with art historian Jessica Fahy, will explore artworks by these rebel women including Grace Gifford, Estella Solomons, Mainie Jellett, Evie Hone and Mary Swanzy.
Sunday 13 February, 1pm
LGBTQ+ tour: Aoife Convery, a Gallery tour guide, will lead this virtual tour of the Gallery, examining artworks through an LGBTQ+ lens.
Monday 14 February, 1pm
Themes of Love: Mags Harnett, a Gallery tour guide, will look explore works from the Gallery's collection through the theme of love and friendship. This light-hearted talk will investigate the symbols and iconography historically associated with love.
Tuesday 15 February, 2pm
Anne and the Abbey: Anne Yeats's Theatre Designs for the Abbey Theatre 1936–1941: Dr Elaine Sisson, cultural historian and Senior Lecturer in IADT, considers the role of Anne Yeats in the professionalisation of scenic design at the Abbey. This talk will explore Yeats's sketchbooks and drawings held in the Gallery's Yeats Archive and in the archives of the Abbey Theatre.
Wednesday 16 February, 6pm
Sculpture and the Gallery: Discover the historical and innovative techniques used in the practice of sculpture. Looking at a selection of sculptures from the Gallery's collection, Gallery tour guide Aisiling Dunne will explore the unique approaches, theories and methods specific to the discipline of sculpture.
Thursday 17 February, Recorded video
Conservation and Christ & His Cousin: An opportunity to hear from the Gallery's Head of Conservation, Simone Mancini, who will speak about his work on a selection of sixteenth-century Italian paintings that are on display in the exhibition Christ & His Cousin: Renaissance Rediscoveries. This pre-recorded video will be sent to members via email on 17 February to close Friends Fortnight 2022.
About the Friends
Friends support the work of the National Gallery of Ireland, including exhibitions and acquisitions. Annual membership starts at €35, with Individual, Joint, Concessionary, Patron and Student categories available. Become a member of the Friends.
Contact us 
If you have any questions please contact the Friends team at [email protected]