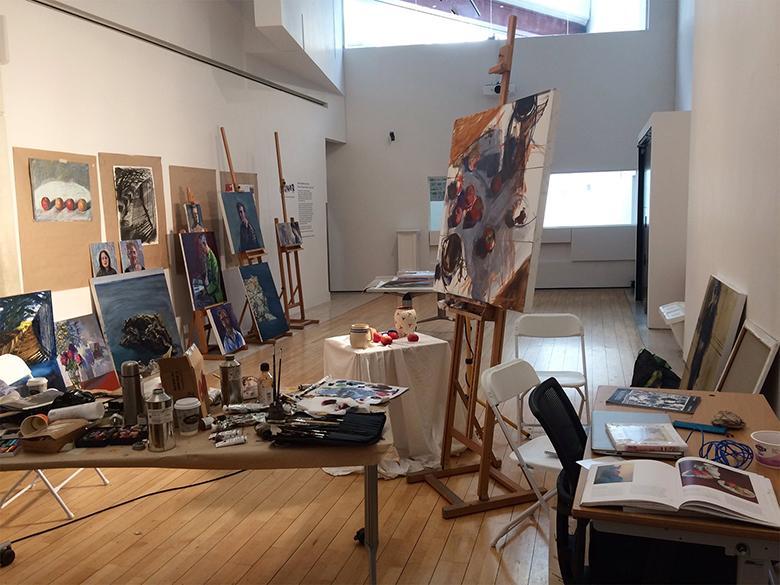 Artist-in-residence \ Una Sealy
15 August–16 September
Millennium Wing Studio
Una Sealy RHA, is an Irish artist based in north Co. Dublin who has had an enduring interest in the work of Roderic O'Conor. This intense artist residency will see Sealy create new work in direct response to Roderic O'Conor and the Moderns. Between Paris and Pont Aven. Immediately before she takes up her residency at the Gallery, Sealy will have experienced an artist colony akin to Pont Aven as part of the 'Inishlacken Project' where 20 artists decamp to Inishlacken, an island off the coast of Connemara.
Public engagement with the project will be supported by a range of public activities including open studio sessions, painting demonstrations and talks.
Una Sealy will hold an Open Studio on the following dates:
Saturday 8 September / 10.30am - 4.30pm 
Tuesday 11 September / 2pm - 4pm 
Thursday 13 September / 2pm - 7pm
Saturday 15  September / 10.30am - 4pm
Sunday 16 September* / 11am - 5pm
*The artist will not be present on Sunday 16 September, but all the works will be on display.
 
A graduate of Dún Laoghaire College of Art and Design (IADT), and University College Dublin, Una Sealy was elected an Associate of the Royal Hibernian Academy in 2010, and a full member in 2016. She is the recipient of many awards and bursaries for her painting and her work features in many public and private collections. Additionally, throughout her career, Sealy has been a key figure in the wider fields of community arts, arts education and arts management. Sealy paints domestic interiors, streetscapes, landscapes and portraits. Painting directly from observation she allows her compositions to evolve organically.