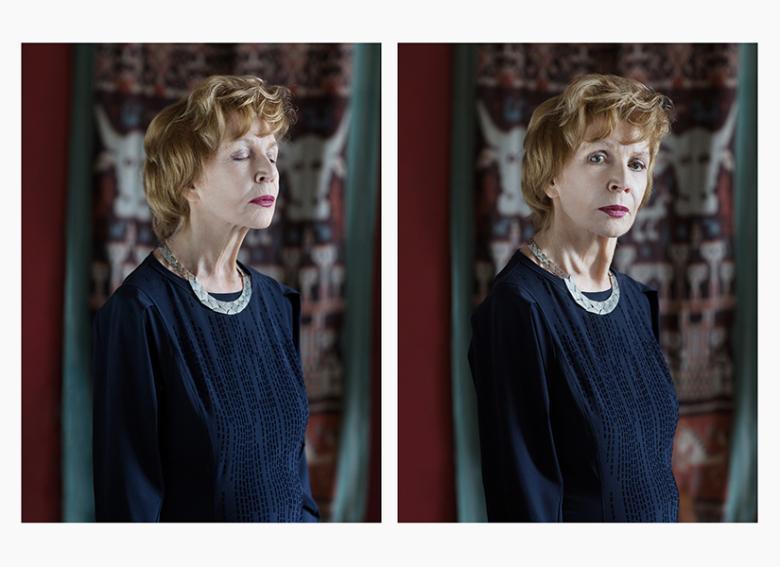 Mandy O'Neill, Edna O'Brien (b.1930), author, poet, memoirist, 2020.
Credit
Edna O'Brien (b.1930), author, poet, memoirist, by Mandy O'Neill
| | |
| --- | --- |
| Year | 2020 |
| Size | Diptych |
| Medium | Hahnemühle Fine Art Photographic Print |
| Provenance | Commissioned, National Gallery of Ireland, 2020 |
| Number | NGI.2020.47 |
Born in Tuamgraney, County Clare, Edna O'Brien is regarded as one of Ireland's most accomplished and significant writers. She moved to London in 1959, and published The Country Girls, the first of many novels, the following year. Her frank treatment of sexuality, relationships and life in rural Ireland has been the subject of lively discussion and, at times, controversy. She has won several awards, most recently the prestigious David Cohen Prize for Literature (2019), and was elected a Saoi of Aosdána in 2015. 
Mandy O'Neill is a Dublin-based artist, who in recent years has focused her attention on themes of youth, adolescence, community, environment and institutions. Winner of the Zurich Portrait Prize 2018, she has exhibited in Ireland and abroad. Her work is represented in both public and private collections.
Commissioned by the National Gallery of Ireland as part of the Zurich Portrait Prize 2018
Mandy O'Neill, speaking about making this portrait:
"Edna moved incrementally in the natural light, and I told her when I would press the shutter. It was at this point that I noticed she clenched her fists and closed her eyes to ready herself for the picture to be taken. She told me that this was her way of composing herself. As I was taking this set of images there was a sudden change in the light, her face lit up for a moment as she closed and opened her eyes and I knew at that moment that something magical had happened."