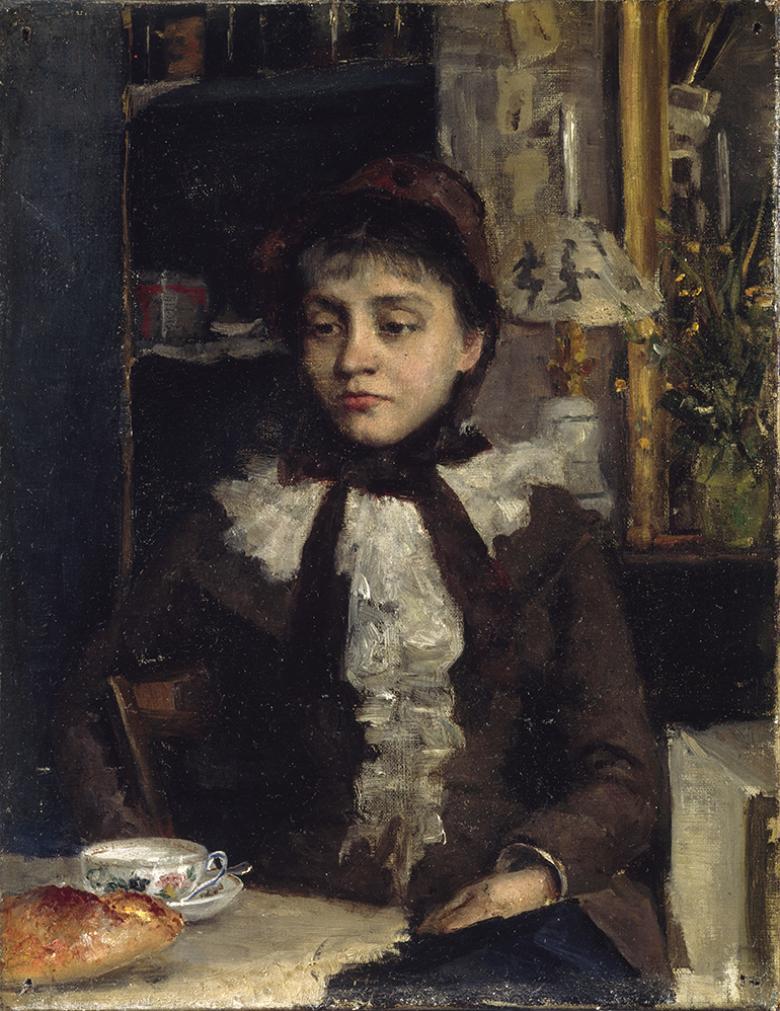 Sarah Henrietta Purser (1848-1943), 'Le Petit Déjeuner'. © National Gallery of Ireland.
Credit
Le Petit Déjeuner by Sarah Purser (1848-1943)
| | |
| --- | --- |
| Year | 1881 |
| Size | 35 x 27 cm |
| Medium | Oil on canvas |
| Provenance | Bequeathed, Mr R. I. Best, 1959 |
| Number | NGI.1424 |
Sarah Purser was born in Dun Laoghaire, Co Dublin, in 1848. Having studied art in Switzerland and Dublin, in 1878, she moved to Paris to study at the Académie Julian. In Paris, her friends included the Swiss artist Louise Breslau and the Italian musician Maria Feller, who was the model for this picture. Feller, the daughter of an Italian count, was teaching music at the time. She had earlier sat for a painting by Breslau entitled Tout passe, which featured at the Paris Salon. 
Although Purser went on to become an established portrait painter in her native Ireland, this picture is not a portrait. The title, meaning The Breakfast, indicates that it is intended to be viewed as a depiction of an everyday moment. The subject matter and the woman's distant expression may have been inspired by pictures of contemporary women by Edgar Degas and Berthe Morisot, both of whom Purser knew in Paris.
On her return to Dublin, Purser established herself as a much sought-after portrait painter and champion of the arts.