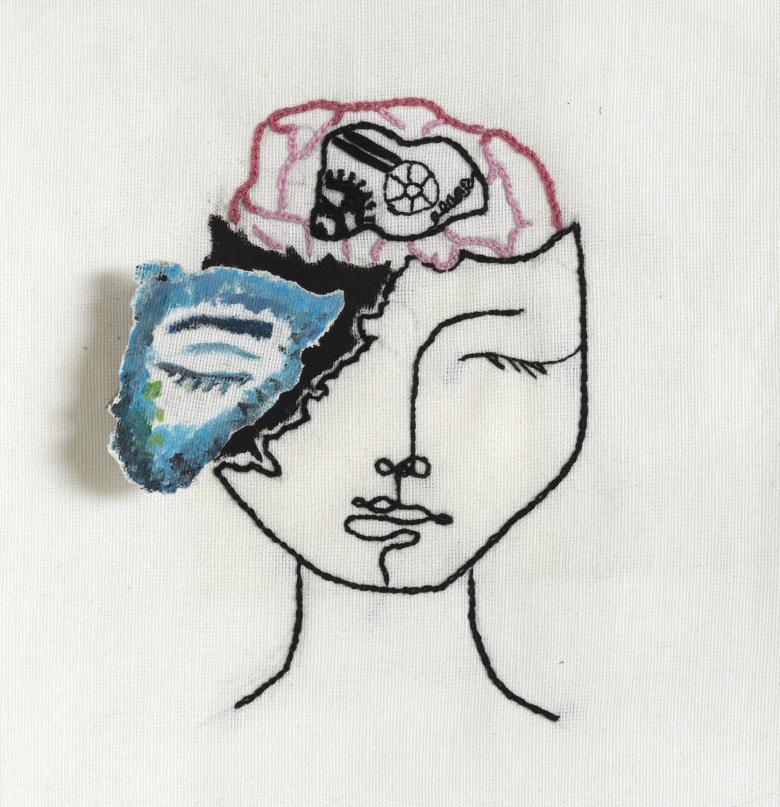 Eibhlín Murphy (Mayo, b. 2003), The life of a thought from conception to expression, 2021. © Eibhlín Murphy
Credit
The life of a thought from conception to expression
2021
Acrylic paint, embroidery and fabric
This piece (above) demonstrates the different strata of a person's face. The outer layer that the world sees is contrasted with the feelings and emotions under the surface represented by the fragment of the face. This appears to come from an opening in a chasm under the skin. These two layers are contrasted with the most internal layer, the mind, whose contents resemble something familiar but incomprehensible.
A Stitch in Time
2019
Embroidery and fabric
Embroidery is commonly seen as a craft for older generations of women, creating 'traditional' pictures. I, as a queer young person doing embroidery, don't really fit into the 'normal' box. This space is important for me, because I love embroidery but I can't really show queer embroidery in school due to fear of judgement. People here understand and accept it.