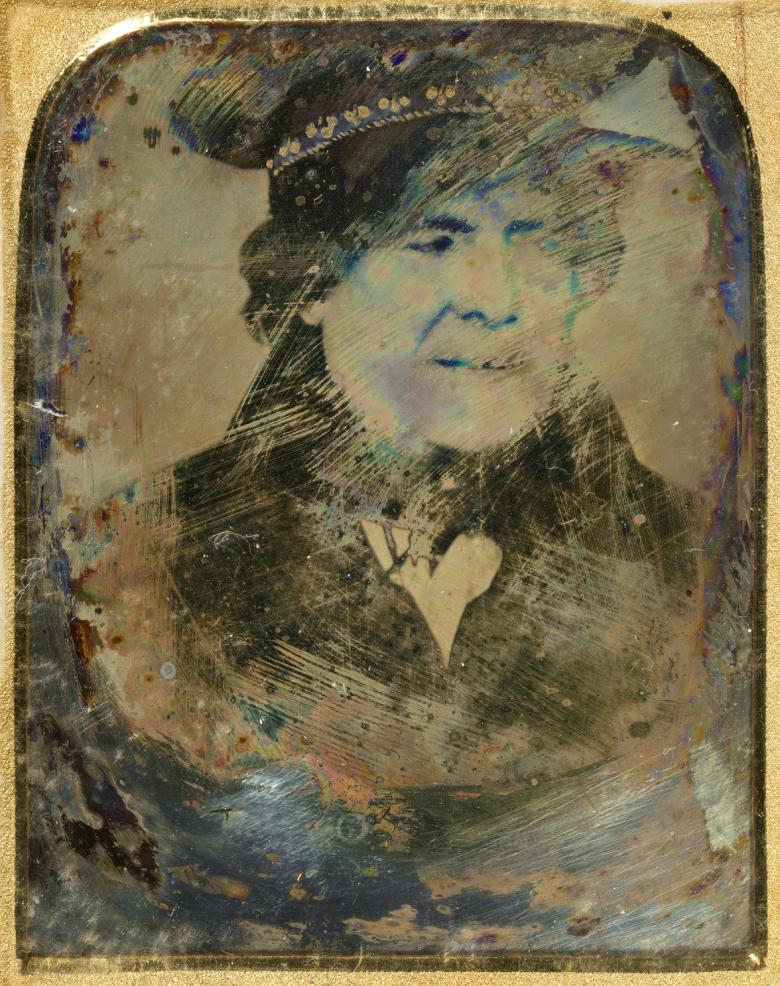 Alexander Doussin Dubreuil (fl. 1842-1845), Daniel O'Connell. Photo © National Gallery of Ireland
Credit
Daniel O'Connell (1775–1847)
Our 2019 exhibition View of Ireland: Collecting Photography showcased a selection of images from the Gallery's growing photography collection, including a rare daguerreotype portrait of Daniel O'Connell, acquired in 1905.
In 1843, O'Connell, a hugely popular nationalist, was working to repeal the Act of Union (1801) which he saw as being the cause of much oppression and injustice in Ireland. In this portrait, he is shown wearing his famous 'Repeal Cap', a green velvet cap embroidered with golden shamrocks. The edges of the daguerreotype have tarnished, and the abraded surface indicates that it was improperly 'cleaned' at some stage.
This image forms part of a set of daguerreotypes of O'Connell and the so-called 'Repeal Martyrs', including Thomas Matthew Ray, secretary of the Repeal Association, and Charles Gavan Duffy, one of the founders of The Nation and a member of O'Connell's Repeal Association.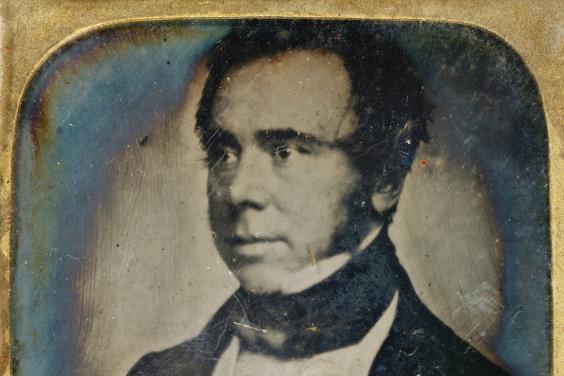 Portrait of Thomas Matthew Ray (1801–1881)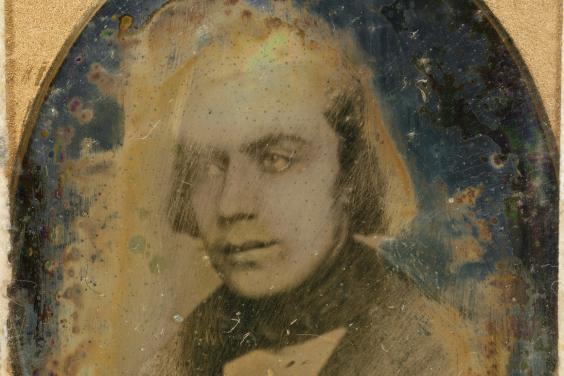 Portrait of Charles Gavan Duffy (1816–1903)
These striking likenesses were taken while the men were incarcerated in the Richmond Bridewell prison (today Griffith College) in Dublin in 1844. In his memoir, Young Ireland: a fragment of Irish history 1840-45, Charles Gavan Duffy wrote: 'An artist's studio and a daguerreotypist's camera were set up within the precincts to multiply likenesses of the prisoners, and the caricaturists made more amusing ones without the trouble of a sitting.'
"An artist's studio and a daguerreotypist's camera were set up within the precincts to multiply likenesses of the prisoners..."
A commercial photographer called Alexander Doussin Dubreuil was granted access to the prison to take the daguerreotypes. He operated from a studio on the roof of the Rotunda buildings, at the top of Sackville Street (now O'Connell Street), and created these rare photographic images just five years after the new daguerreotype process was announced to the world.
Louis-Jacques-Mande Daguerre (1787–1851) invented the process in France in 1839. They were produced by exposing a thin, highly polished silver plate to various chemicals to make it light sensitive, inserting it into a large, cumbersome daguerreotype camera to take the photograph and, finally, developing and fixing the image using mercury fumes. Depending on available light, the sitter would have to remain perfectly still for up to ten minutes while the plate was being exposed.
The Gallery's daguerreotype of O'Connell is very rare, and is the only surviving photographic image of him, that we are aware of. Richard Beard also took a daguerreotype of the political leader, but it is only known through a lithograph copy.
Further reading
Hodge, Anne and Harbison, Peter. 'A gilded cage?'. Irish Arts Review, vol. 31, no. 2, 2014, p.120.
Walsh, Peter. 'Dublin's First Look into the Camera: Some Daguerreotype Portrait Studios of the 1840s." Dublin Historical Record, vol. 62, no. 1, 2009, pp.36–61.
Daniel, Malcolm. 'Daguerre (1787–1851) and the Invention of Photography.' Heilbrunn Timeline of Art History. New York: The Metropolitan Museum of Art, 2000.