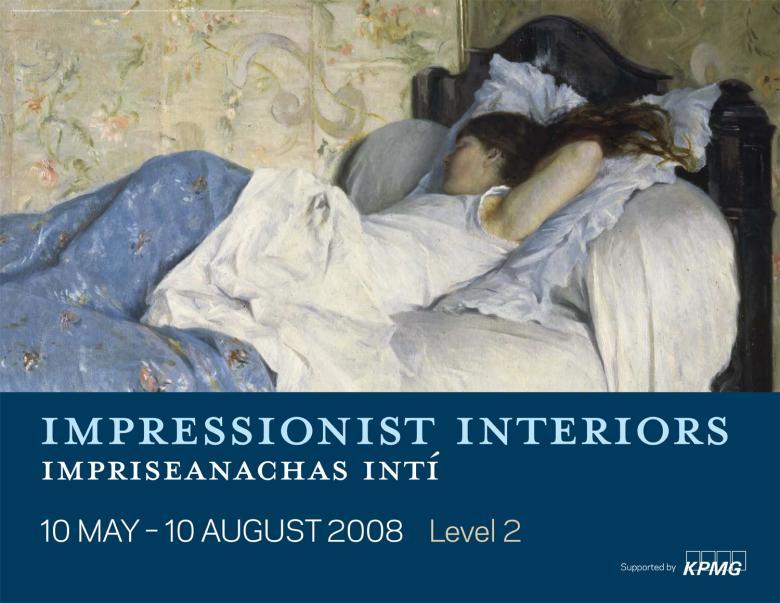 Impressionist Interiors. Photo © National Gallery of Ireland
Credit
Impressionist Interiors
10 May – 10  August 2008
Millennium Wing
This exhibition brought together over 45 wonderful paintings and drawings by Manet, Monet, Renoir, Morisot, Degas, Cassatt, Gauguin and Pissarro, on loan from public and private collections throughout Europe and the United States of America. It was the first serious survey of this particular dimension of Impressionism, and showed some of the many and varied ways in which Impressionists and artists within their circle engaged with interior spaces both public and private, domestic and social.
Janet McLean, curator of the exhibition and editor of the accompanying catalogue said: "Artists associated with Impressionism did not just aspire to be painters of light and air but aimed to be modern artists and thereby painters of modern life."
Impressionist Interiors featured 12 paintings and pastels by Edgar Degas, among them, Portraits in a Cotton Office (Museum of Fine Arts, Pau), The Convalescent (J. Paul Getty Museum, Los Angeles); After the Bath (Philadelphia Museum of Art) and Café Concert at Les Ambassadeurs (Museum of Fine Arts, Lyon). There were also some fine examples by Paul Gauguin: The Painter's Home, rue Carcel (National Museum, Oslo), Nude Study/ Woman Sewing (Ny Carlsberg Glyptotek, Copenhagen), and The Little Dreamer (Odrupgaard, Copenhagen).
Édouard Manet, like Edgar Degas was essentially a painter of the modern interior. He said to Berthe Morisot: "you can do plein-air painting indoors, by painting white in the morning, lilac during the day and orange-toned in the evening". Manet's oil studies, A Bar at the Folies-Beregère and The Ball at the Opéra (Private Collection), were included in this exhibition, as well as Interior at Arcachon (Sterling and Francine Clark Art Institute, Massachusetts).
The exhibition also included a number of works by women artists associated with Impressionism: Berthe Morisot, The Artist's Sister at a Window, (National Gallery of Art, Washington); Eugène Manet, On the Isle of Wight (Musée Marmottan Monet, Paris), and Mary Cassatt, Lydia at a Tapestry Frame (Collection of the Flint Institute of Arts, Flint, Michigan). Also featured were Camille Pissarro, Minette (Wadsworth Atheneum Museum of Art); Claude Monet, Interior, after Dinner (National Gallery of Art, Washington) as well works by Pierre Bonnard and Edouard Vuillard. Featured too were some lesser-known artists who engaged with interior views: Zacharie Astruc, Henri Gervex, Frédéric Bazille and Federico Zandomeneghi.
Curator: Janet McLean, National Gallery of Ireland
\ Back to view all past exhibitions
Supported by KPMG