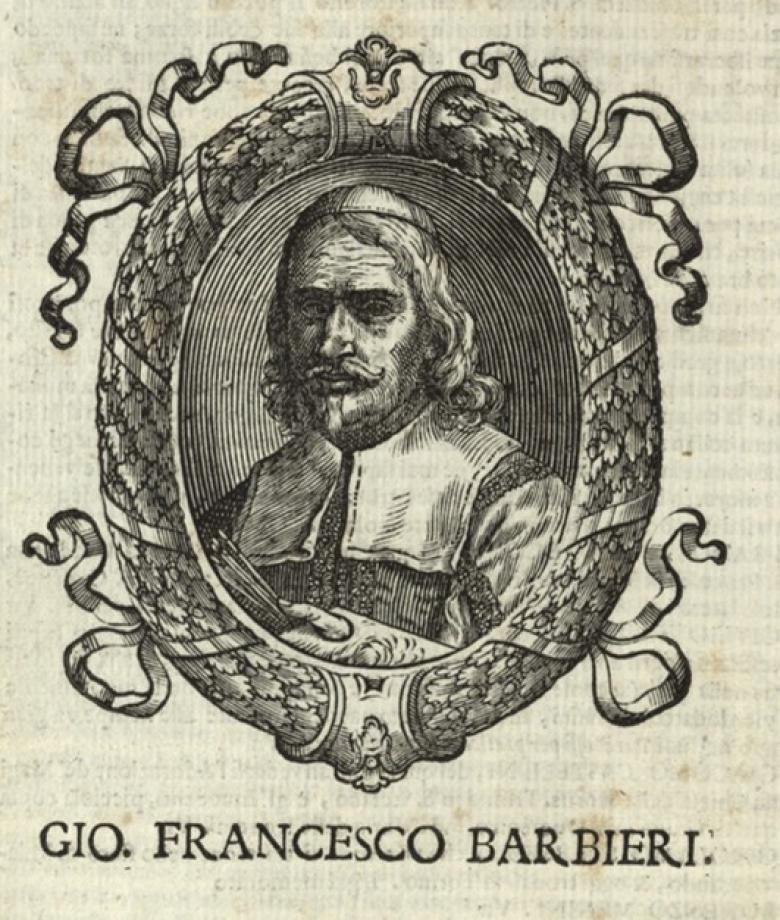 Guercino from Felsina Pittrice, 1678.
Credit
Giovanni Francesco Barbieri, (called) Il Guercino  (1591-1666)
A native of the Italian town of Cento, near Bologna, Giovanni Francesco Barbieri, called Il Guercino (or the 'squinter', on account of an eye condition) was a self-taught artist and follower of Caravaggio. He began his career as a mural painter in Rome and Bologna and is best known for his ecclesiastical subjects, chiefly of biblical figures. One of his greatest works is his Jacob blessing the sons of Joseph, donated to the National Gallery of Ireland in 2008 by Sir Denis Mahon (1910-2011), who was the foremost expert on the artist.
Although his most celebrated works utilise a 'soft' chiaroscuro style, there is no evidence that Guercino knew Caravaggio, but he was undoubtedly exposed to 'tenebrism' while working in Rome. Guercino's career varied greatly in terms of stylistic experimentation and contemporary sources provide evidence that these changes were in part a consequence of reacting to the whims of his clients. Mahon's research has been highly significant in establishing Guercino's biography, career and patronage through close analysis of seventeenth-century Italian literature, notably Malvasia's Felsina Pittrice (1678), one of many rare books and archives generously donated to the library of the National Gallery of Ireland by Mahon.
Mahon identified six styles of the artist. The early works were defined by oil paintings using a 'hard' edge, that is closely modelled figures, which he returned to intermittently during his life, suggesting the long lasting influence of Domenichino and Guido Reni. Mahon praised Guercino's third period in particular (c.1620), with this period characterised by figures painted with blended gradations of skin tone, or soft edge painting (sfumato).The Mystic Marriage of Saint Catherine (1620), held in Berlin, and his Incredulity of Saint Thomas (1621), held in the National Gallery, London, display these characteristics.
Contemporary authors recognised Guercino's skill in conveying 'pathos', or sentiment as befitted Tridentine doctrine. Later stylistic changes, after the 1630s, included a lightening of the palette, with a change of background from black to a sky blue. The author Francesco Scannelli, writing in 1657, stated that the artist decided to reduce and cancel the tenebrist palette because patrons complained that painted figures were not recognisable as their faces were cast in shadow. Other contemporaries, Pasari and van Sandart, wrote that Guercino's change in style illustrated a decline in quality.
The artist's drawings and watercolours are also highly prized. He specialised in tonal contrasts through shading and blurring. So esteemed were Guercino's drawings that later artists reproduced his works, notably the London-based engraver Francesco Bartolozzi.