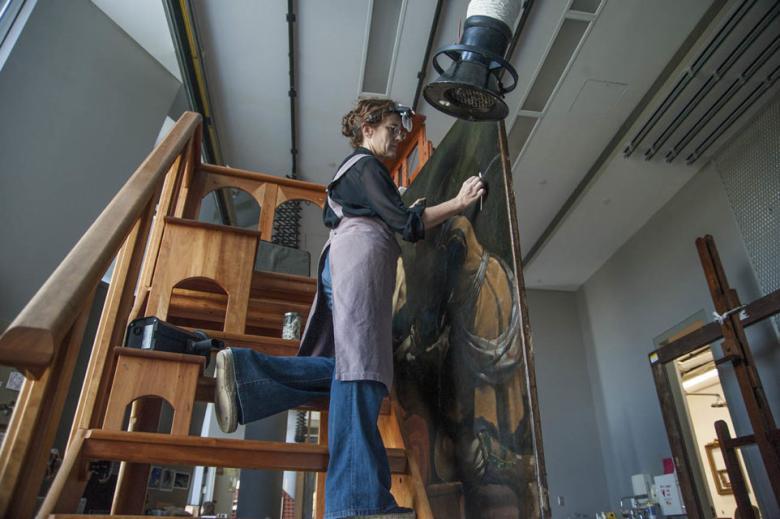 Getty Paintings conservator Devi Ormond cleans Guercino's 'Jacob Blessing the Sons of Joseph', c. 1620. Photo © Getty Museum
Credit
Guercino: Journey of a Masterpiece
14 March- 31 May 2018
Hugh Lane Room (Room 31) | Free admission
The National Gallery of Ireland and the J. Paul Getty Museum, Los Angeles, carried out a two-year long conservation and research project of Guercino's Jacob Blessing the Sons of Joseph (NGI.4648), one of the masterpieces from our collection. Now returned from the Getty Museum, the fully restored painting is on display in the Hugh Lane Room on level two of our historic wings, alongside detailed information charting the restoration process, and insights into the painting's subject and history.
This in-focus exhibition celebrates the journey of this baroque masterpiece which, over its lifetime, moved from Italy via Spain, and the UK to Paris, to become the first old master painting to be purchased by Sir Denis Mahon (1910-2011), one of the most important art historians and collectors of the twentieth century. Admired by popes and Medicis, but neglected for almost three centuries, Guercino became Sir Denis's research focus in the 1930s. While on a study trip to Paris in 1934, Mahon recalled being 'electrified' to discover the painting in an art dealer's window in Saint-Germain-des-Prés. Sir Denis presented Jacob Blessing the Sons of Joseph to the British Fund for the National Gallery of Ireland in 2008. In 2016 it journeyed once more - to the J. Paul Getty Museum in Los Angeles, where curators, scientists and conservators worked collaboratively for nineteen months in the Getty Museum's painting conservation studio to restore the painting to its current condition. 
Curators: Simone Mancini and Adrian Le Harivel, National Gallery of Ireland
Acknowledgements
The National Gallery of Ireland acknowledges the generous support by the Paintings Council of the Getty Museum. Established in 2002, the Council's mission has been to provide generous support for the study and restoration of major works of art from an international array of museums and cultural institutions such as the Rijksmuseum in Amsterdam, the Museum of Fine Arts in Budapest, and the National Museum in Warsaw. 
Particular thanks go to the following individuals for their work on the project: Davide Gasparotto; Devi Ormond; Yvonne Szafran; Douglas MacLennan; Gene Karraker and Aoife Brady (J. Paul Getty Museum and J. Paul Getty Conservation Institute); and Ele von Monschaw (National Gallery of Ireland).
Guercino Varnish Removal
Play