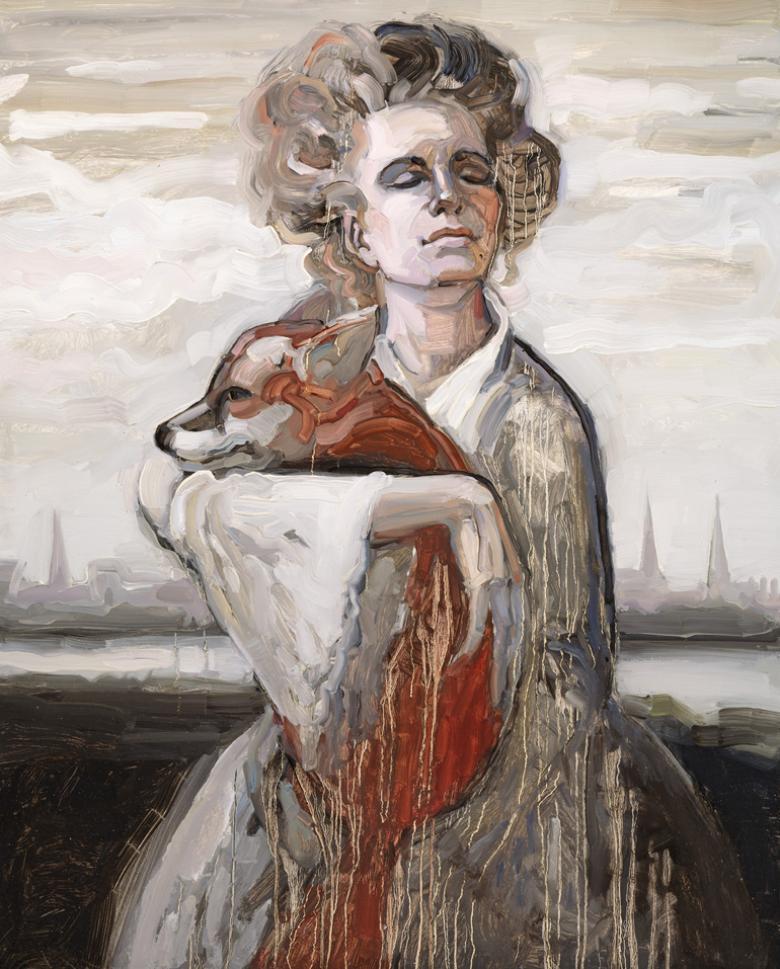 Zane Sutra (b.1964), 'Dun Laoghaire Fox', 2017. © the artist. Photo © National Gallery of Ireland.

Credit
Zane Sutra
Dun Laoghaire Fox, 2017
Oil on canvas, 100 x 80 cm
"My current work is about women, death, religion and sex. It portrays contradiction and conflict between grace and ruthlessness, modesty and brutality, innocence and crime, which are inherent in our pre-apocalyptic world. The image elements of my recent work like water, smoke, war planes… are codes, belonging to my personal history. They are factually absurd fragmented memories turned into autonomous story lines. They are symbols pointing to dangerous pleasures (like war crime, sex crime) and confronting horror, femininity and mortality. My painted women are taken out of the time, pointing to the misleading illusory imaginations that control human obsessions and phobias through the historical disasters. I question ideas of the physical and spiritual. Synthesizing the human and divine, my work is collaging the dark mystery of the current and timeless. Dun Laoghaire Fox is a portrait of my daughter Margarita in an outfit created by Irish fashion designer Claire Garvey. I enjoy the play around the ambiguity of the real world, real people and the painted image – between truth and fiction. By blurring the boundaries between the current and timeless, I'm erasing the tension between the human and the divine."

Originally from Riga, Latvia, Zane Sutra (b.1964) has been living in Wexford for eighteen years. She studied art in Riga before earning her BA (Hons) in Arts from IT Carlow Wexford Campus School of Art and Design, where she had the opportunity to have such mentors as Oliver Comerford, Anthony Lyttle, as well as guest artists Diana Copperwhite and Michael Maguire. Sutra's practice involves monochrome figurative oil paintings inspired and informed by the work of Irish fashion designers, photographers and her model daughters.