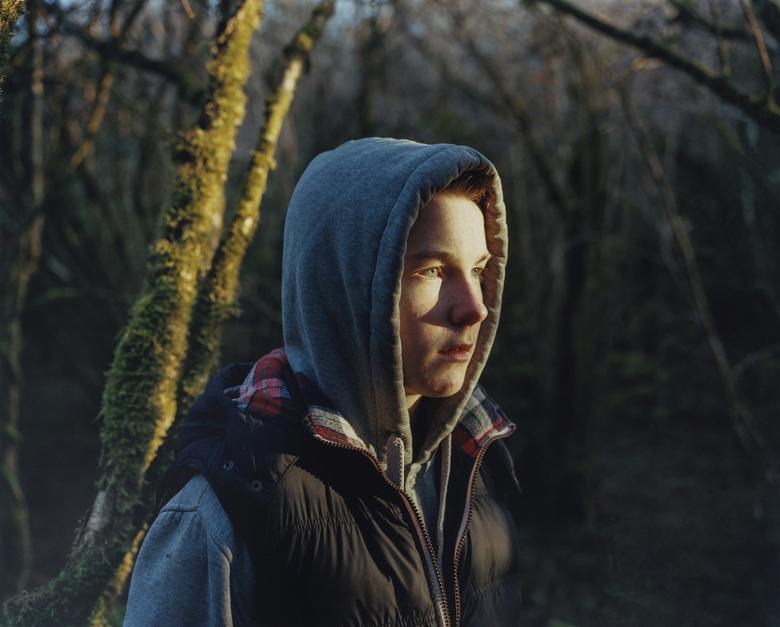 Yvette Monahan, (b. 1977), Ten thousand year old boy, © Yvette Monahan.

Credit
Yvette Monahan
The thousand-year-old boy, 2015
Photograph, 70 x 82 cm
"In 2006, some cavers made exciting archaeological discoveries in the Burren. Among the findings was the 3,000-year-old skeleton of a child. They were able to extract DNA from these Bronze Age remains. Archaeologists tested this DNA against children from a local school. One boy was an exact match. It turns out that he lives in a house less than one mile from the cave. This story captivated me and I wondered whether a landscape could hold the individual and collective stories of those that pass over it. In this work, I used the writer Tim Robinson's idea of the 'adequate step', where each step in the landscape takes note of geology, biology, myths, history, and politics of that landscape. It allows an allegorical landscape full of the intangible to exist. I used Tim's map of the Burren as a guide to mark out my own adequate step.
The thousand-year-old boy explores the Burren as an ancient place, a landscape that acts as a silent witness to the lives of those who have gone before, holding their memories and stories."
Yvette Monahan is an Irish photographic artist. She creates visual narratives, which reveal stories hidden deep in living places. In 2015, her project 'The thousand year old boy' won the Solas Ireland Award. It was also exhibited in Dublin and Salzburg and as part of BX Futures, PhotoLondon, London Art Fair, and New Irish Works. It was nominated for the Savills prize and the Prix Pictet award 2016. Yvette holds a MFA Photography from the University of Ulster and an MA in Geography from Trinity College Dublin.