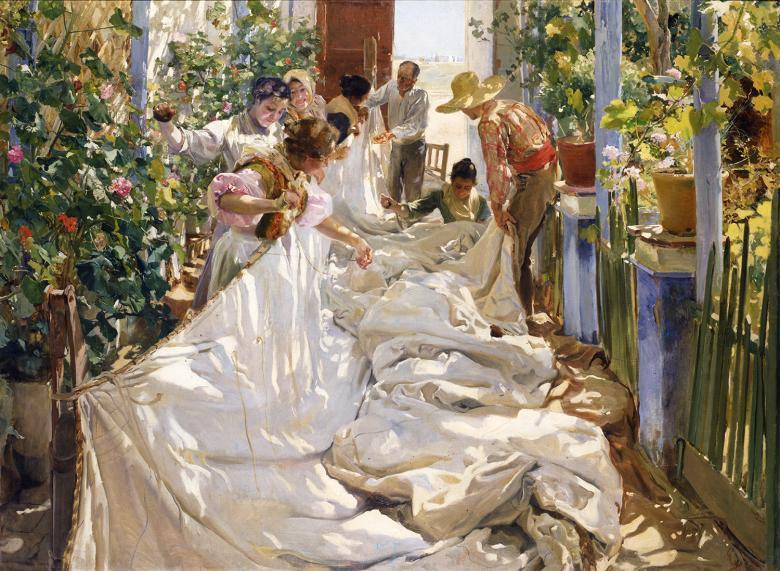 Joaquín Sorolla y Bastida (1863-1923), Sewing the Sail, 1896. 2019 © Photo Archive – Fondazione Musei Civici di Venezia

Credit
The 'Master of Light' holds the record for Spain's most popular art exhibition
Visitors to the National Gallery of Ireland can discover the work of one of Spain's most popular artists when its latest exhibition Sorolla: Spanish Master of Light opens on 10 August 2019. Joaquín Sorolla (1863-1923) is often referred to as 'Spain's Impressionist', and the exhibition of his work that toured Spain in 2008 remains the country's most popular exhibition ever.
Sorolla is particularly well-regarded for his technically accomplished depictions of water and light. His approach involved painting quickly from observation, often outdoors and directly onto his canvases, many of which are monumental in size. Comprising a total of 52 paintings, the exhibition presents a wide range of quintessentially Spanish scenes, spanning gardens and landscapes, seascapes, costume and fashion, portraiture, and snapshots of daily life and culture. This is the first exhibition of Sorolla's work in Ireland, organised with the National Gallery, London, in collaboration with the Museo Sorolla, Madrid. The exhibition was first displayed at the National Gallery in London, where it closed in July 2019. The Dublin exhibition is set to include 14 works that were not on display in London.
Highlights of this exhibition include Sewing the Sail (1896), which depicts a group of people sewing a bolt rope into a sail on a beach in Valencia, Spain, and illustrates the artist's ability to realistically convey dappled light, vivid colours and lifelike textures. Meanwhile, The White Boat, Jávea (1905), a painting of children dangling from an anchored boat in a turquoise sea, represents the most bold exploration of colour of Sorolla's 'sea and rocks' works, which were painted in Jávea, a small town on the Costa Blanca, over several summers in the early 1900s.
Commenting, Dr Aoife Brady, Curator of Italian and Spanish Art at the National Gallery of Ireland, said: "While Sorolla is rightly recognised as a titan in his native Spain, and in North America, where he enjoyed great success, his popularity is much more limited in Britain and Ireland. With that in mind, this exhibition – the first ever exhibition of Sorolla's work on Irish shores – represents a unique and invaluable opportunity to discover this exceptionally skilful Spanish talent. An exhibition of this type is not going to happen again for a long time, and I would encourage everyone who is interested in immersing themselves in this wonderful Spanish art to pay a visit."
Head Curator at the National Gallery of Ireland, Dr Brendan Rooney added: "This has been over two years in the making, and it has been a pleasure to work with the National Gallery, London and the Museo Sorolla, Madrid in bringing it to Ireland. We do not have any of Sorolla's work in our collection so this exhibition represents a chance not only to appreciate this Spanish master's virtuoso skill, but to escape into the light and warmth of Spain, particularly as we approach the end of summer, and as the shorter days close in. I would encourage all those with an interest in Spanish culture and life, to pay a visit and escape into Sorrolla's luminous canvases."
Sorolla: Spanish Master of Light opens at the National Gallery of Ireland on Saturday, 10 August 2019 and runs until Sunday, 3 November 2019. Tickets cost €15/€10/€5 and Friends of the National Gallery of Ireland and children under 18 go free. A programme of events for all ages, featuring lectures, workshops, tours, music, talks and outdoor painting courses will complement the exhibition.
About Sorolla:
Born and raised in Valencia, Joaquín Sorolla showed artistic promise at an early age. Following his initial training in his home town, the young painter spent time in Italy and France before moving to Madrid in 1890 with his wife and muse, Clotilde García del Castillo. Sorolla gained a reputation in the final years of the nineteenth century for painting large-scale works with social subjects, several of which were awarded prizes at international expositions. But the character and atmosphere of the Valencian seaside remained in the artist's blood, and it was his sun-drenched depictions of the life, leisure, landscapes and traditions of Spain that sealed his lasting fame.