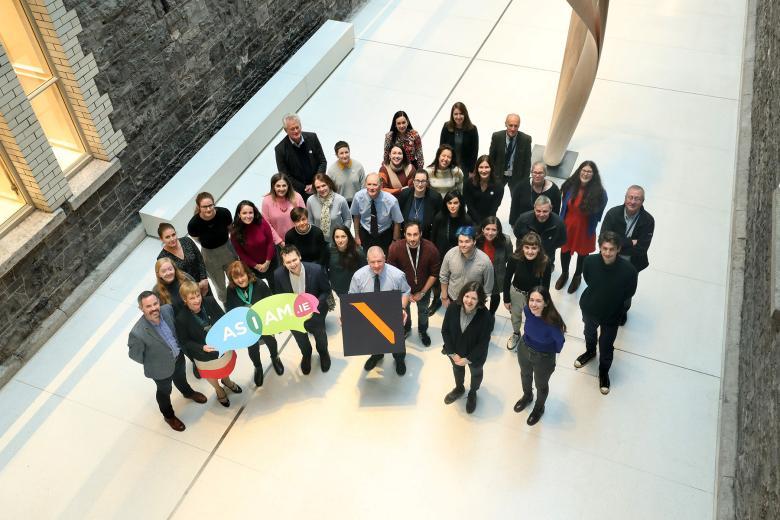 Members of the National Gallery of Ireland and AsIAm teams mark the Gallery becoming the first autism-friendly National Cultural Institution, November 2019.
Credit
National Gallery of Ireland becomes first autism-friendly national cultural institution. 
Gallery recognised by AsIAm as leader in autism inclusion and accessibility.
 
The National Gallery of Ireland has received AsIAm Approved Autism Friendly Accreditation. Nationally recognised as the trusted standard in autism inclusion and accessibility, the Gallery is Ireland's first national cultural institution to receive this accreditation. 
The Gallery has worked with AsIAm in recent months on areas including comprehensive staff training. In addition, an environmental evaluation report was conducted by AsIAm in collaboration with young people. Commitments made by the Gallery include to identify and incorporate quiet spaces throughout the building; to review its Accessibility Map; and to introduce an Autism Champions programme. The Gallery will also review its Social Guide, a valuable resource which explains what to expect on a visit to the Gallery. 
Committed to providing a fully accessible experience for all visitors, current initiatives at the Gallery include sensory-friendly workshops for children who may struggle with their sensory environment. Ear defenders and ear plugs are available for children and adults respectively.
Sean Rainbird, Director of the National Gallery of Ireland, commented: "One of the Gallery's core values is openness: we are always aiming to approach our work with fresh ideas. We are dedicated to providing an outstanding experience for all of our visitors, and our work with AsIAm – which has resulted in this autism-friendly accreditation – has helped us immeasurably on that journey."
About the National Gallery of Ireland:
The National Gallery of Ireland is one of the country's most popular free visitor attractions housing the nation's collection of European and Irish art from about 1300 to the present day, and an extensive Library & Archive. Nominated for European Museum of the Year (2018), and winner of the Royal Institute of the Architects of Ireland Culture-Public Building award (2018), the Gallery continues its mission of serving our visitors in their enrichment and enjoyment of visual art. Entry to the collection is free for all to enjoy, learn and be inspired. Find out more at www.nationalgallery.ie. 
About AsIAm:
AsIAm aims to provide a one-stop shop for the Autism community in Ireland. From providing the public and those with the condition to a portal of information about Autism, to serving a platform for people affected by Autism to share their stories and views, to providing a strong voice for the concerns of the community. AsIAm sums up its aims under 4 key headings: Educate; Empower; Advocate; and Community. Find out more at www.asiam.ie.