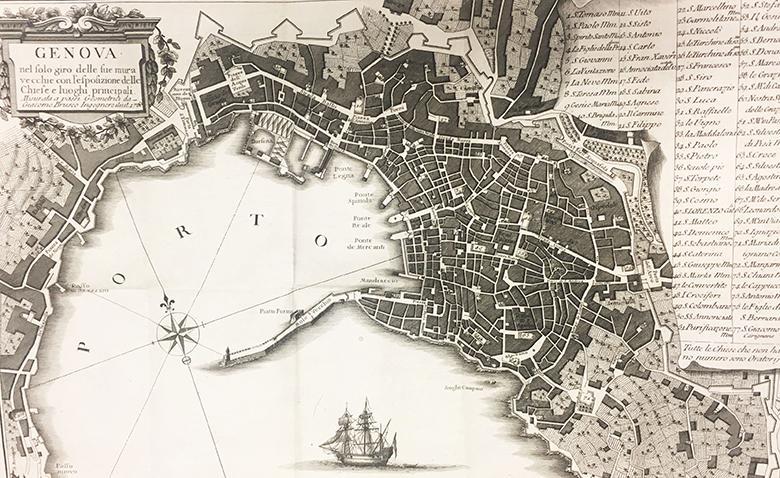 Description des beautés de Gênes et de ses environs : ornée de differentes vuës, de tailles douces, et de carte topographique de la ville (A Genes : Chez Yves Gravier, 1781). Sir Denis Mahon gift collection.
Credit
Celebrating a landmark moment in the cataloguing of the Mahon Bequest, the National Gallery of Ireland presents a selection of rarely-seen books in The Voyage of Italy: 200 Years of Travel Guides. 
In the early sixteenth century, travel guides to Italy became popular across Europe as armchair tourists and grand tourists alike began to explore the riches of historic Italian cities. Including maps of and books about cities such as Rome, Naples, Venice and Bologna, the exhibition highlights iconic Italian stops on the route of the Grand Tour. Interestingly, travel writer Richard Lassels first coined the phrase 'the Grand Tour' in a book that will be on display as part of the exhibition: The voyage of Italy, or : A compleat journey though Italy : in two parts. Visitors to the Gallery will have the chance to see images of well-known Italian landmarks including the Trevi Fountain and the Vatican.
Including travelogues as well as travel guides, the books in the exhibition record the changing streetscapes of significant towns and cities, while offering insights into matters of taste. Descriptions and annotations reveal works of art and architecture that were admired at the time.
Commenting, exhibition curator Catherine Sheridan said, "The books in this display are not only beautiful objects in their own right, they are also vehicles of Italian cultural history and scholarship. The allure of Italy has persisted over time and it is interesting to note that places well known to the modern traveller were also of interest to visitors to Italy over three hundred years ago. Showcasing a selection of Italian travel guides from the 17th and 18th centuries, beautifully illustrated with fold-out maps and engravings of places of importance, we hope to showcase the significance of these guides within the arena of art scholarship. Gifted to us by the art connoisseur, scholar and collector of Italian Baroque art, Denis Mahon, this display marks the completion of an extensive cataloguing project to record his generous gift. Used extensively by Mahon in his research, these books also served as an essential blue print for the modern guidebook as we know it today."
The Voyage of Italy: 200 Years of Travel Guides
16 March – 1 September 2019
Free admission
About the Sir Denis Mahon Project
Sir Denis Mahon (1910-2011) was one of the foremost scholars and collectors of his generation. Born in London of Anglo-Irish descent, he had a long and close association with the National Gallery of Ireland. In 2010, Sir Denis Mahon presented his library and archive to the Gallery. The books and documentation represent decades of research and scholarship. This remarkable gift greatly enhances the research resources relating to European art available in Ireland. Processing and cataloguing of the library collection began in 2014. The publications include books, catalogues, journals, conference proceedings, guide books and pamphlets. Highlights of the collection include first and second editions of Giorgio Vasari's Vite (1550; 1568), Lassel's Voyage of Italy (1670), and a rare first edition of Annibale Carracci's Diverse Figure (1646).